Luther, Series 5, BBC One review - welcome return for Idris Elba's maverick 'tec |

reviews, news & interviews
Luther, Series 5, BBC One review - welcome return for Idris Elba's maverick 'tec
Luther, Series 5, BBC One review - welcome return for Idris Elba's maverick 'tec
A psychotic killer, a sneering shrink, Dermot Crowley and Ruth Wilson - it's like he's never been away
Wednesday, 02 January 2019
Thin blue line: Idris Elba as Luther, Dermot Crowley as DSU Martin Schenk
"Can you breathe?' "Yeah." "Shame, that". Another ne'er-do-well is being banged to rights after a chase through container stacks in the dark. Luther is back, and he hasn't upgraded his Volvo or changed his tweed coat – but we don't really mind, do we?
It's a bit like Columbo,
Miss Marple
or Christmas dinner, the familiar ingredients are what we crave. Before the title sequence rolls, two distinct storylines have been set up and we'll doubtless spend the four
episodes
working out how they intertwine (or not); but mostly, we're waiting for Ruth Wilson to appear.
There's a perverted serial killer out there who likes to turn his victims into porcupines and remove their eyeballs while dodging the CCTV, not just with a mask but with a halo of LED lights. It's all very much out of the Thomas Harris playbook, especially when we see the killer with his arms outstretched in front of a projector spewing out grisly images (hello, Michael Mann's Manhunter). Cue Hermione Norris reprising her ice maiden persona as Dr Vivien Lake, the sneering psychiatrist with something to hide. She's not exactly Hannibal Lecter but she's definitely one of those intellectually dazzling shrinks who likes to torment the police, and must have an impressive client base to afford a glass-and-concrete architectural showcase nestled in North London's Highgate cemetery which last sold for just south of £5 million.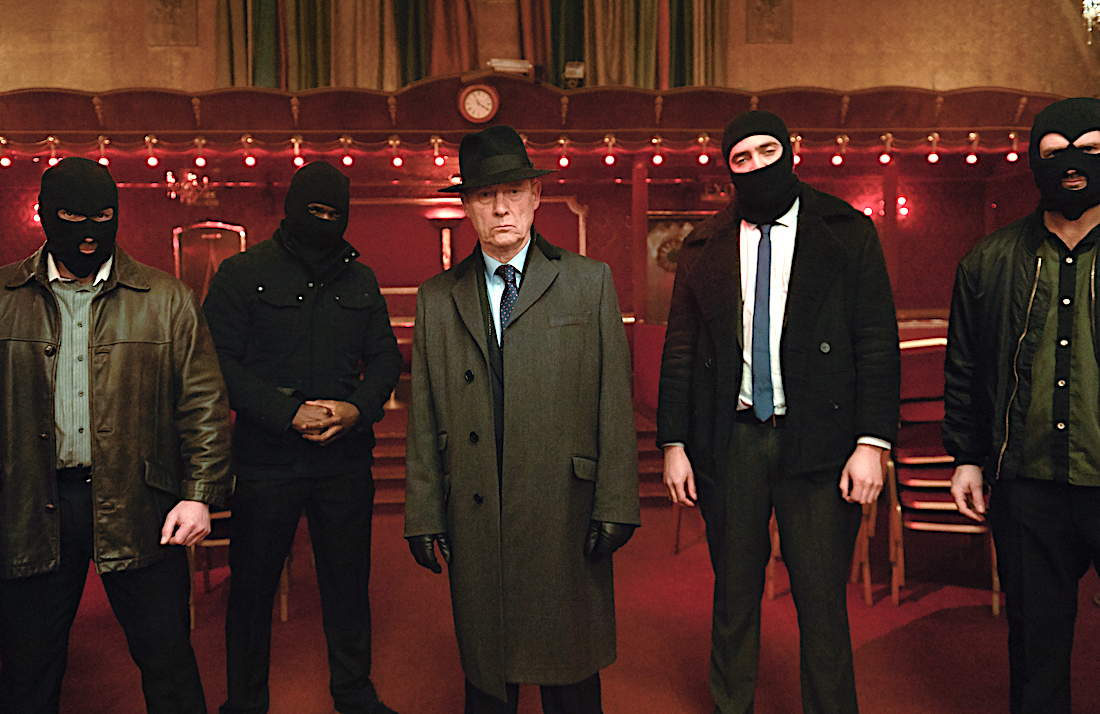 But let's just change the scene to sarf London's Rizzoli ballroom, where Luther is being held for interrogation. His old crime lord pal, George Cornelius (Patrick Malahide, pictured above in hat), is pretty miffed that his beloved son and heir has been kidnapped. Cornelius has the footage on his phone but not a clue where the lad is being held. Perhaps Luther can throw some light on the matter? It's not quite clear why that entails Cornelius's goons from central casting knocking the detective out, bagging him up, and plonking him down on the gloomy dance floor.
Never mind, despite being heavily outnumbered and nursing concussion, Luther fights off the leering thugs and gets back home to his sordid flat, which looks as ramshackle as a squat from the 1970s. There's a bit of pump-action shotgun shenanigans at a deserted lido with colourful cubicle doors and a nouveau-riche mansion for Cornelius to rough up a Judas in his midst. It must be fun being the location scout for Luther – is there one of those specialist tours to go on? And where is Ruth Wilson?
Oh just be patient, she's got to turn up sometime, and while we're waiting we've got a new woman on the squad upon whom Luther can practise his sensitive side. Weary DSU Martin Shenk (the ever dependable Dermot Crowley) warns Luther about his new colleague, "Don't show her how it's done, show her how it's supposed to be done." New detective Catherine Halliday is not only a woman being fast-tracked from some civilian position up the police ranks, she's also black. Which other actor could they cast but Wunmi Mosaku (pictured below), now playing her fourth or fifth detective in her short career?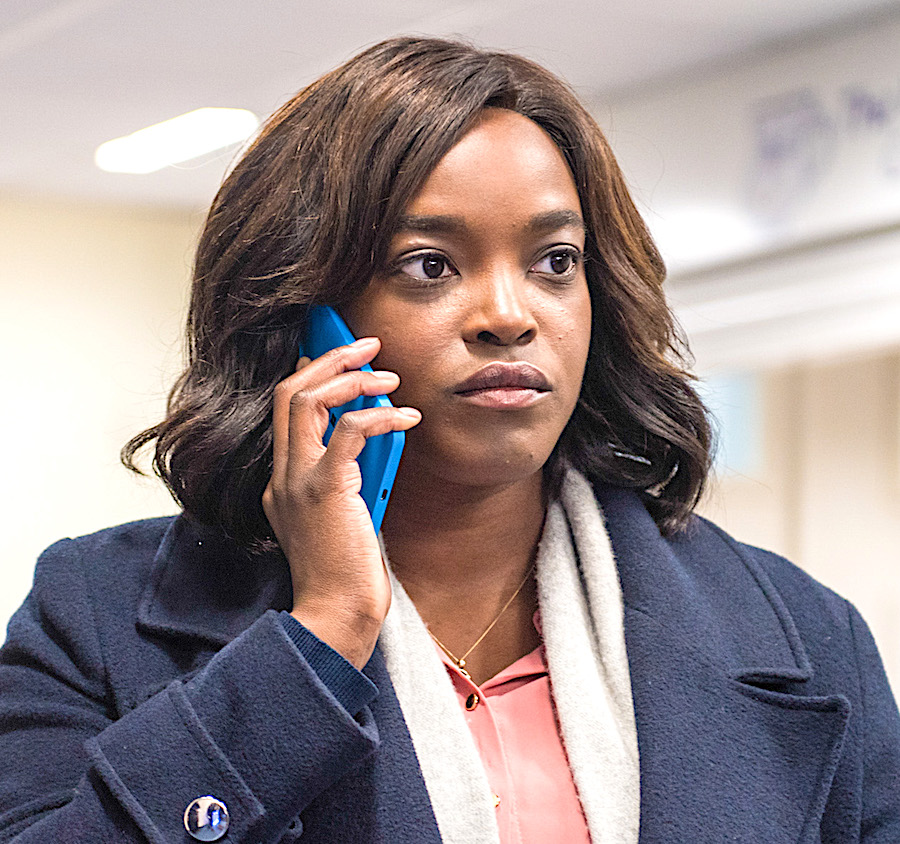 She's a bit different from her eagle-eyed copper in Kiri, there's a soft cardigan in constant attendance. There's also a touch of naivety (is it faux?) when Halliday asks frosty Dr Lake to define paraphilia and she flinches at the perverse details in the response. It's going to be fun seeing how Luther manages working alongside Halliday. Her privileged ingenue status will doubtless grate on his macho nerves, but it's good to see two excellent black actors playing alongside each other as detectives rather than the usual salt-and-pepper combination. Still, where's Ruth Wilson?
Oh well, here's that serial killer again. He really isn't very nice, is he? There's a young woman waiting alone at a gloomy docklands bus stop. Phew, here comes the crowded night bus. That's alright then, except she dozes off and the top deck empties and there's someone slithering down the aisle. Another grisly killing, those dodgy LED lights and what a surprise, Dr Lake is being even more unhelpful about the whereabouts of her patient, the abuse victim turned psychopath. Good thing that fancy house has several entrances and four ensuite bathrooms.
There's a flash of insight from Detective Halliday looking at the crime scene photos and some hope that the scriptwriter is going to let her character be more than an irritation for Luther's less than ethical police methods. And finally, here's Ms Wilson! Hurrah. Can't wait for the next episode...