Imagine - Jeanette Winterson: My Monster and Me, BBC One |

reviews, news & interviews
Imagine - Jeanette Winterson: My Monster and Me, BBC One
Imagine - Jeanette Winterson: My Monster and Me, BBC One
An unusual life touched upon episodically delivers a remarkably full portrait
Wednesday, 05 December 2012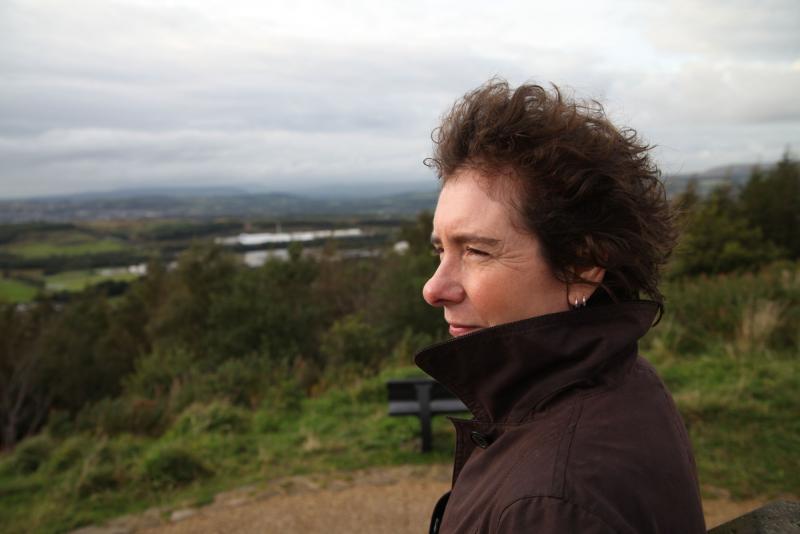 Face in a landscape: Jeanette Winterson above her childhood home, Accrington
You could hardly wish for a better subject for Imagine than Jeanette Winterson. When we see her at the Edinburgh book festival, promoting her recent autobiography Why Be Happy When You Can Be Normal?, she's got the audience eating out of her hand: they get the full "experience".
Elsewhere, though, she's quieter, reflecting on a short enough life - born in 1959, she's only just over the half-century mark – that has been so full that Roger Parsons' immaculate 80-minute programme took a 25-year intermission in the middle.
We jumped from the end of her Oxford years, culmination of that strangest of childhoods, and her move from passionate reader to published writer, through to the last five years, when Winterson's life took a severe downtown, and her inimitable energy seemed to leave her.
How well we seem to know that early story from her first novel Oranges Are Not the Only Fruit, published in 1985, and its 1989 BBC adaptation (below right). Born to a Manchester single mother who worked in the city's then flourishing garment trade (we see the visual details of that world, but don't meet the woman whom Winterson herself only decided to look for after her breakdown), she was adopted by an Accrington couple. That may sound innocent, but the home world she was moving into looks now a bit like a crazy all-year-round panto, though its fervent pentecostalism clearly didn't feel at all funny at the time.
Dominating the stage was Jeanette's "magnificent monster" mother, referred to throughout as Mrs Winterson (her name was Constance), a character right out of the Old Testament whose idea of home entertainment was reading the Bible aloud from beginning to end. In the Oranges film we've seen the travails of the writer growing up, and starting relationships with, shockingly, girls. Here we saw Winterson sitting on the narrow outside doorstep to which she was frequently banished, or explaining to Alan Yentob how convenient a Mini was for living in (as she did for two months after being thrown out of home). The steering-wheel side was ideal for writing and reading, the other one for meals; the petite Winterson must have bedded down in the back quite snugly.
What saved her was the public library, and immersion in books - she started reading the fiction section alphabetically, reaching "m" by the time she left for Oxford - and the great outdoors, the chance to climb up above Accrington and look down on it. The final time she braved home she was accompanied by college friend Vicky Licorish, who remembers how Mrs Winterson had done her homework - black girls liked pineapple, so there was a choice of pineapple dishes, and always felt the cold, hence five hot water bottles in bed. That visit ended with Mrs Winterson's revolver coming out of the sewing drawer. It would be the last mother and daughter would ever see of each other.
Until the end of this Imagine, that is, when Jeanette went to the grave she had never visited in the 22 years since her mother's death. As finales go, it could hardly have been scripted better (and you feel sure Jeanette must have known it was going to end this way, before she agreed to do the programme). "Forgiveness unblocks the future", she has written, and here it was: instead of the missionary to the heathen she'd been meant to be, she'd become a "missionary for the power of the word". With Yentob thankfully well out of picture, it was as close to reconciliation as it'll get, raw feeling caught alone on camera: "I was the wrong package. I got the right mother. I'll leave her now."
You feel Winterson could have made this 'Imagine' on her own, and she was firmly in chargeSo strong an ending inevitably overshadowed what had come before, though the events which led to a suicide attempt at the beginning of 2008 were no less dramatic for the writer. Director Parsons moved the action to Paris, where Winterson found temporary sanctuary with her friend Sylvia Whitman at the famous Shakespeare & Co bookshop.
Though she has many bonds to cities, Winterson seems most rooted in the English countryside, and it was there that her survival strategies stopped working for her: she may have described herself as a "bare-knuckled fighter" but it's the claws of a scratching cat we have to thank for her being around today, rousing her from the exhaust fumes of a closed garage. Religious overtones keep cropping up in this life - here it was rebirth indeed (a rare earlier moment of innocence, pictured below).
You feel that Winterson could have made this Imagine on her own, and it's she who was firmly in charge, placing emphases and holding back details where she chose. Alan Yentob proved a much more sympathetic travelling companion than he often seems in this slot, and the images - including some lovely slow-motions - excelled. One day someone will have to do a fuller, straighter biographical take on this fascinating life, but this more elliptical glance works just great for now.
The home world she moved into looks now like a crazy all-year-round panto, though its fervent pentecostalism didn't feel funny at the time
Explore topics
Share this article