How Do You Solve a Problem Like Lolita?, BBC Four |

reviews, news & interviews
How Do You Solve a Problem Like Lolita?, BBC Four
How Do You Solve a Problem Like Lolita?, BBC Four
Documentary asks if Nabokov really did thank heaven for little girls
Lolita (Sue Lyon) as Humbert Humbert first sees her in Stanley Kubrick's 1962 film
A penny for the author's thoughts. An opening montage makes it quite clear that Vladimir Nabokov had no truck with witless modernity. Yet here nonetheless is a documentary on his infamous bestseller, and they've gone and named after a TV talent show about the hunt for an actress to play a singing nun in a West End musical. Why? Was the idea to interest Sound of Music fans in Lolita?
If they were going for a song, that dodgy one from
Gigi
would have been rather more apposite: "Thank Heaven for Little Girls".
Perhaps Nabokov would have chuckled. After a lifetime of wandering, he did spend his last years among the selfsame hills hymned by Julie Andrews. In 1962, the year Stanley Kubrick's film of Lolita was released, he was filmed by the BBC in the shadow of the Matterhorn, an old man in shorts indulging a lifelong passion for chasing delicate creatures with a large net. In this case butterflies.
Nabokov was perhaps the first great writer to be seduced by the siren wail of television. He allowed himself to be interviewed frequently down the years, in German, French and English. The BBC would always send their best men. James Mossman grilled him in London in 1969, then Robert Robinson met him in Montreux on Valentine's Day 1977, the year of the author's death. It's a rich archive for documentary makers to plunder, which at least partly explains why there have been at least three British television documentaries since then, including 20 years ago an Omnibus about the creation of Lolita.
It wasn't just Nabokov who profited from Humbert Humbert's illicit desires
Here was another, timed to coincide with the publication of Nabokov's last unfinished work, The Original of Laura. Not that there was much on that here. Stephen Smith, who wrote and presented this latest documentary, did recently report on it for Newsnight. But among modern viewers, there's only one thing they mention about Nabokov at the water cooler: that he wrote a saucy book about interfering with an underage girl.
It's a function of the age of invasive moral protection that the book needs rescuing again. "I want to be able to feel comfortable with it," said Smith, "and yet I can't." On the very weekend How Do You Solve a Problem Like Lolita? was broadcast, the government announced a climbdown on its plans to make more or less anyone who comes into contact with children prove they're not a nonce. Even so, had Nabokov been alive today they still probably wouldn't have let him read in schools. Hence the premise of this film. Smith set himself the task of proving once and for all that Lolita is indeed a moral book.
This entailed a good deal of travel. It's good to know that the BBC will still spend money on literary investigation. Smith's itinerary reads like a 007 location recce: Lake Geneva, St Petersburg, Cambridge, Berlin, New York. What resulted was as much a film about the merits of literary pilgrimage as a pilgrimage itself. In the abandoned family pile now crumbling in state ownership in the Russian countryside Smith thought he could discern a Nabokovian hint of "black comedy cemented into the frame of the place". He got very excited standing in a garden in upstate New York where the manuscript of Lolita – the incriminating evidence - was very nearly incinerated.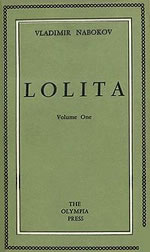 But what finally does it tell us that, for an extortionate tariff, Lolita's devotees can book themselves into the very Swiss hotel room where its creator lived out his days? That the proximity of genius is intoxicating? "That's his desk," said Smith, putting down his suitcase. Above hung a photograph of Nabokov working at it. It wasn't just Nabokov who profited from Humbert Humbert's illicit desires.
As usual Martin Amis was on hand to comment on the troublesome business of reading books about fancying pubescent girls. "I'm afraid this does distort the corpus," he drawled. "It's an embarrassment. He liked the idea of it too much." Not every interviewee had so much to contribute. The barman in Montreux reckoned Mrs Nabokov did half the work anyway. The academic who occupies Nabokov's old faculty office in Cornell noted that, about twice a year, one pilgrim or another will knock on his door and burst into tears. No sign of that from Smith, mind, although he seemed highly chuffed when the literary editor of Playboy noted a resemblance between him and his subject.
In fact the person the programme made him look like was Michael Palin - and just in the nick of time, given what we know now what the BBC thinks of its globetrotting presenter. This was a literary film for our times. There was much grammatical monkey business to do with getting into cabs and onto bikes and, in homage to Smith's goalkeeping subject, putting on football kit and playing between the sticks.
These days we must grin and bear these moronic tropes even from Newsnight reporters. But the accumulation of all those air miles did have point: it helped to show how Nabokov's nostalgia for an irrecoverable youth might have mutated on the page into the wrong kind of yearning. And all these years later that glorious archive material is not just for decoration. Asked by an interviewer if he'd ever known a girl like Lolita, the old man's lizard eyes flickered, and just for a second the body language spoke as eloquently as anything Nabokov ever wrote in his adoptive tongue.
Watch a clip from Kubrick's Lolita on YouTube: