Doctor Who: Deep Breath, BBC One |

reviews, news & interviews
Doctor Who: Deep Breath, BBC One
Doctor Who: Deep Breath, BBC One
Capaldi's eyebrows steal the show as a new era begins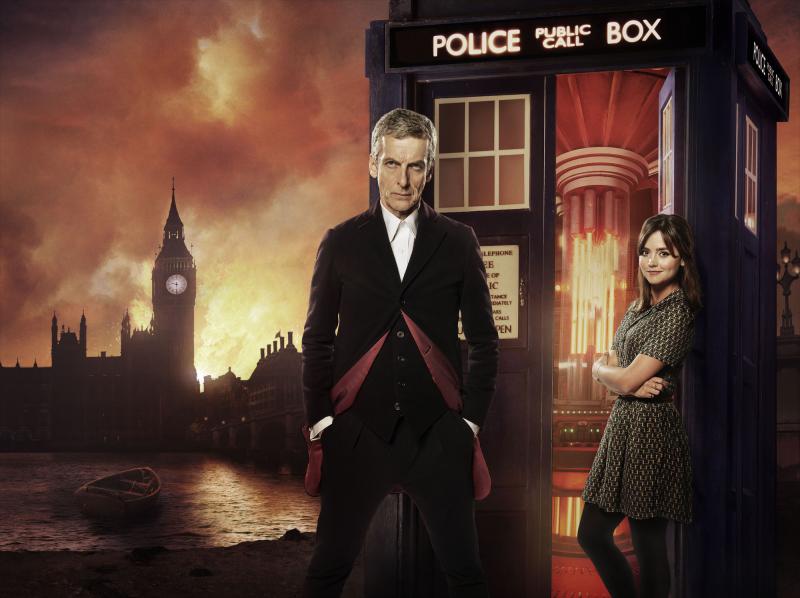 The Doctor (Peter Capaldi) and Clara (Jenna Coleman) chase down dinosaurs in Victorian London
Imagine that you were a TV executive producer, and that you had managed to cast one of the country's finest actors in the lead role. To what use would you put his considerable talent and gravitas? If your answer was not "engage him in a five-minute shouty monologue about how much he hates his eyebrows", well, congratulations: you are not Doctor Who show runner Steven Moffat.
But commiserations too, because you missed out on the funniest and best-played regeneration scenes since the show's renaissance in 2005.
It may have been billed as a feature-length episode, simulcast in cinemas across the country at the same time as its BBC One debut, but nobody really tunes in to the first episode of a new Timelord's tenure for plot. As a regeneration episode, Deep Breath ticked all the boxes: Peter Capaldi's new Doctor running around in his nightgown; some spectacular aerial shots of London; an origin story for the outfit (in this case, nicked from a homeless man). While Capaldi does not, to the disappointment of meme-creators everywhere, appear to be playing Malcolm Tucker in a spaceship, there was one glorious instance of our new hero calling a dinosaur "big man" and telling it to "shut it". And to temper the shock of the new, a repeat appearance from steampunk crime-fighting trio the Paternoster Gang: the reptilian lady Sherlock Holmes Madame Vastra (Neve McIntosh), wife Jenny (Catrin Stewart) and their comic relief Sontaran muscle, Strax (Dan Starkey, below right).
In recent years, Doctor Who has become bogged down in its own mythology
It was these three who were on hand to witness the arrival of a preposterously tall time-traveling tyrannosaurus rex in Victorian London: an occupational hazard of swallowing everybody's favourite blue police box. Disgorged from the creature's throat, a discombobulated Doctor and equally befuddled companion Clara (Jenna Coleman) must come to terms with their post-regeneration relationship while at the same time trying to foil some alien robots that have been harvesting human parts in order to keep themselves and their ship in working order. That the second part is resolved is a given – it's only the first episode after all, and the late appearance of a mysterious character played by Michelle Gomez seems to imply that the weekly monsters will once again play second fiddle to a lovely lady plot device. As for the first; well, it's clear that Capaldi's Doctor is no cartoon character and I suspect it will take a good few weeks to get the measure of him: his irascibility, his moral ambiguity and, yes, his eyebrows.
But make no mistake: Capaldi's performance was glorious, packed with a frantic energy that put both his baby-faced predecessors to shame. The smarts, humour and boundless curiosity that have always defined the Doctor were there in spades (see, for example, his dismissal of the room where he was expected to sleep off the effects of his regeneration: "door… boring… not me. Window?"); while Capaldi brought both a brusqueness and a vulnerability to a nuanced performance. In recent years, Doctor Who has become bogged down in its own mythology, driven by the god complex of its leading character and backed up by a simpering companion – which is why a late-in-the-episode fan service cameo grated, rather than stirring what I expect were the intended emotions.
And as reset buttons go, it's one that will hopefully allow Jenna Coleman a role worthy of her talents in what is currently rumoured to be her final year at the Doctor's right hand. Although her reaction to the regeneration of her boyfriend-not-a-boyfriend could at best be described as over the top from a character who has seen every single one of the Doctor's faces, her scenes with Vastra gave her a chance to show her range and her interplay with Capaldi the perfect vehicle for her quick wit and impeccable comic timing. Plus, the arrival of a Scottish Doctor seems to have given her a bit of licence to let her own northern accent ring out a little more.