The Celts: Blood, Iron, and Sacrifice, BBC Two |

reviews, news & interviews
The Celts: Blood, Iron, and Sacrifice, BBC Two
The Celts: Blood, Iron, and Sacrifice, BBC Two
Lowering skies and endless storms in exploration of Celtic culture, history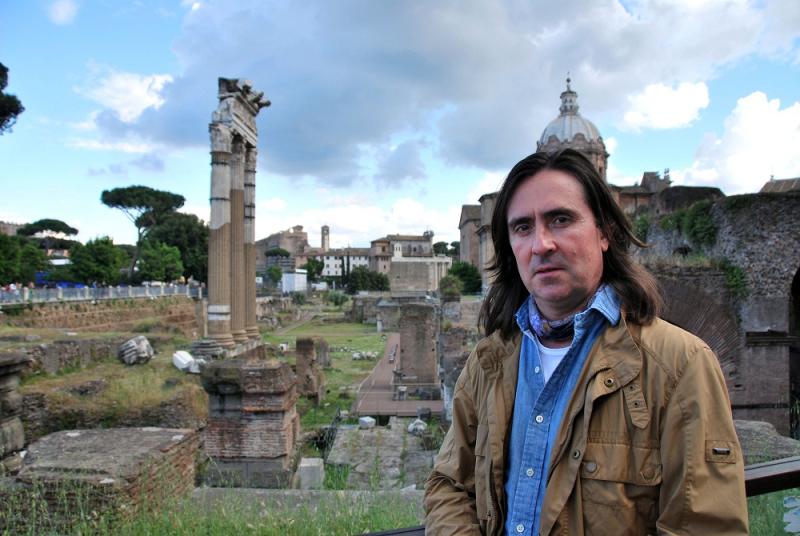 Vivid remains: archaeologist Neil Oliver in Rome
Not a ray of sunshine illuminated the landscapes that were explored in this stormy programme, the first of a three-part history of the Celts. It aimed not only to show the latest investigations into the Bronze and Iron Age tribes who inhabited Europe from Turkey to Britain but to suggest their culture was richer than the simple cliché of barbarians at the gate.
That last claim though was slightly vitiated by roaring reconstructions of the Battle of Allia near Rome, about 387 BC. The Romans were defeated by the charges of numerically much inferior forces in that encounter, their then amateur army unprepared for the ferocity, skill and strategy of the Celts under their leader Brennus. The sack of Rome was to follow. Cue much snarling from bearded Celts with filthy faces in one of those atmospheric but unbelievable enactments television producers think the viewer needs.
What did come across vividly was the sheer sense of history as a detective story
A novelty was the two-hander narration, with anthropologist Alice Roberts alternating with archaeologist Neil Oliver to present this story of powerful tribal peoples battling for survival against the more sophisticated Romans. The Romans had literature, arts, laws, organised societies and monuments, and left behind an ineradicable legacy and permanent influence; of the Celts we know very little, and what little we know is constantly being challenged.
We started with a loving examination of the famous sculpture The Dying Gaul, a Roman copy of an Hellenistic rendering of a young naked man, with a torc, a characteristic Celtic adornment, round his neck, as he gracefully falls on his shield, a bleeding wound in his side the cause of his demise. Here was the "noble savage", a fine piece of ancient propaganda. The sight of this appealing work of art, however historically inaccurate as a depiction of a Celtic warrior, as well as several visits which took us through some of Rome's glorious architecture were in striking aesthetic contrast to the narrators' exploration of the heart of prosperous Celtic culture centred on Hallstatt.
Much of the archaeological evidence came from the Austrian site of Hallstatt, southeast of Salzburg, which in the Iron Age became almost unimaginably rich from the vast salt mines (probably the first in the world) in the area, as well as trade in tin and copper. The salt mines were terrifying – passages and tunnels some 200 metres long and 20 metres high – and evidence extended even to human excrement encrusted on some of the walls which enabled scientists to identify the stomach parasites from which these Iron Age tribes suffered.
Salt was certainly white gold, as we were told, but it was wealth earned with excruciatingly hard labour. Thousands of graves in Hallstatt have been carefully investigated – there are some 1,000 within the vicinity of the settlement, and 5,000 scattered in the surrounding hills – and the skeletons have shoulder bones distorted, clues to the heavy loads both men and women carried from the mines. By their deaths we shall know them: from these graves in Hallstatt some 20,000 artefacts have emerged, adornments and equipment for the afterlife – iron daggers and axes, gold bracelets, intricate brooches and bronze vessels. As the narrators reminded us, the history of the Celts lies under our feet.
Trading routes could lead overland to the Black Sea and the Rhine. Another site is Heuneberg, a fortified hill fort in southern Germany some 250 miles west of Hallstatt: possibly the first city established north of the Alps, it had a population of as many as 5,000 as early as the sixth century BC, and now displays reconstructed Celtic houses of mud brick. It was a hub for sophisticated trading operations: silver from Iberia, wine and pottery from Italy and Greece, amber from the Baltics. Here were the oligarchs of the Iron Age: in one sixth century BC burial mound a bronze couch was discovered on which a prince's corpse would have rested, alongside a huge cauldron holding 500 litres of mead. (Alice Roberts with a couch leg from the Hochdorf chieftain's grave site, pictured above right.)
The gorgeous artefacts of the Snettisham Hoard found in Norfolk and the fascinating objects on display in the current massive exhibition at the British Museum were not much in evidence here. Instead landscapes were punctuated by lowering skies and endless storms underlined by rather ludicrously portentous music from composer Andy Hopkins which provided overwhelming atmosphere for this foray into Celtic history.
What did come across vividly was the sheer sense of history as a detective story, with academics endlessly searching for clues from the physical remnants that have survived across Europe. New theories emerged, with one scholar, John Cooke, suggesting the Iberian Celts linked tribes along the Atlantic coast. Yet the impression we were left with here was that the Celts – in spite of the survivals of Celtic languages in Brittany, Ireland, Scotland, Wales and Cornwall – remain as mysterious as ever. Two more episodes should enlighten us further.
Salt was certainly white gold, as we were told, but it was wealth earned with excruciatingly hard labour
rating
Share this article
Subscribe to theartsdesk.com
Thank you for continuing to read our work on theartsdesk.com. For unlimited access to every article in its entirety, including our archive of more than 10,000 pieces, we're asking for £3.95 per month or £30 per year. We feel it's a very good deal, and hope you do too.
To take an annual subscription now simply click here.
And if you're looking for that extra gift for a friend or family member, why not treat them to a theartsdesk.com gift subscription?