Billions, Sky Atlantic |

reviews, news & interviews
Billions, Sky Atlantic
Billions, Sky Atlantic
New power-and-money drama is smart and slick, sleazy and cheesy
'A much sexier American than a Brit': Damian Lewis as billionaire Bobby Axelrod
The pre-title sequence – in which a middle-aged man without any trousers lies trussed up on the floor – immediately tells us that we are not to take Billions too seriously. A woman in thigh-high leather boots with killer heels towers over him. Removing a cigarette-holder from her lips, she tells him he's in need of correction before stubbing out the fag on his bare chest.
All that's missing on the soundtrack is Disco Inferno by The Trammps. Burn, baby, burn… As if this weren't enough, the dominatrix then puts out the fire by urinating on him. That's right: someone is taking the piss.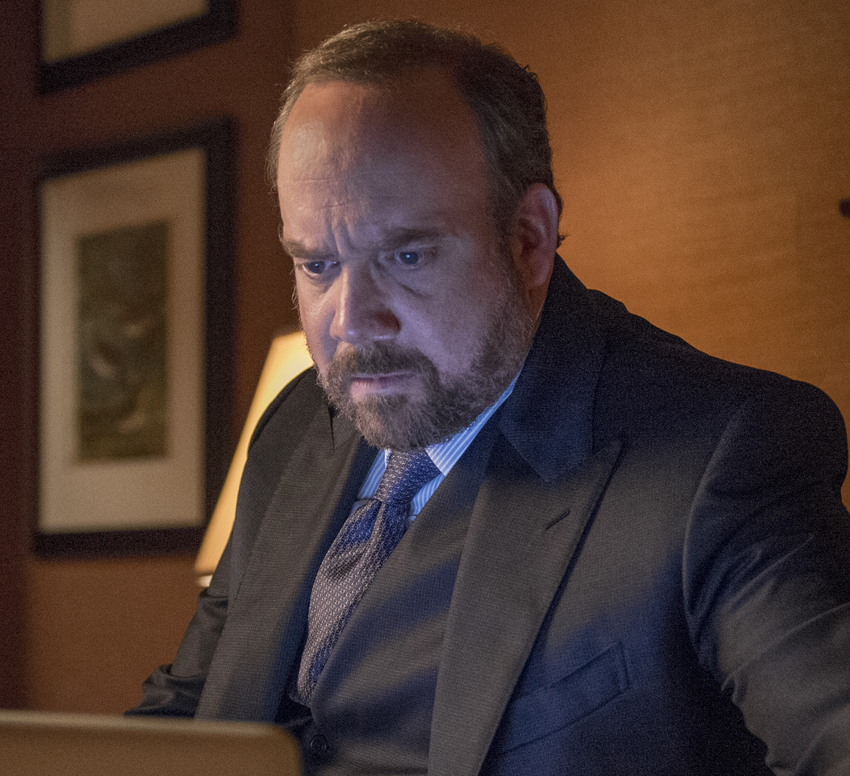 A turn-off, perhaps, but the fact that this someone is Paul Giamatti (the lead in John Adams; Miles in Sideways) keeps you watching (Giamatti, pictured right). He plays US Attorney Chuck Rhoades, a short fat Dudley Do-Right who gets into a pissing contest with billionaire Bobby Axelrod, a studly Do-Wrong who offsets his ill-gotten gains from insider trading with conspicuous philanthropy. Damian Lewis, who somehow proves to be a much sexier American than a Brit, makes a brilliant "bankster", ensuring you root for Axelrod from the off.
No doubt the viewer's allegiances will fluctuate over the next 11 weeks. David Levien, who created the series for the Showtime network (along with Brian Koppelman and Andrew Ross Sorkin), is also an expert thriller writer, so expect your expectations to be subverted.
So far Axelrod, a latter-day (Robin) hood, has all the best lines. He tells Wendy, his company shrink: "Being a billionaire is like being a woman with perfect tits, lovely legs, eyes like yours…When you walk into a room you know what everyone is looking at, what everyone wants…" Wendy (Maggie Siff, pictured below, alias Rachel in Mad Men) turns out to be not only married to Rhoades but also the owner of those kinky boots. Thwack!
This first episode, mainly concerned with setting up the conflict between Rhoades and Axelrod, had too many characters filling in their own back-stories. "Axe" was the only one in his company to escape with his life on 9/11. Does this explain his apparent good works? Chuck's father, a Fifth Avenue financier, believes "mercy is for pussies". Does this explain his undefeated-in-court son's passionate belief in slash and burn?
T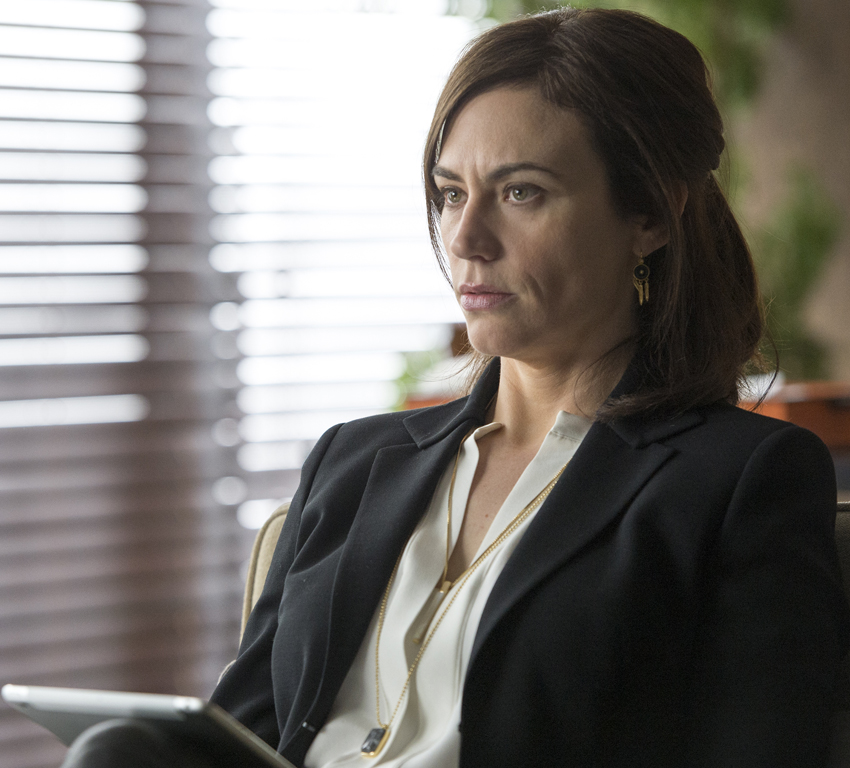 he main plot point is Axe's decision to purchase an ocean-side mega-mansion near to one owned by Chuck's father. Not only is he warned that forking out $60 million-plus for a glorified beach hut will make him – in the eyes of his adoring public – seem like "just another rich asshole", but also advised by Rhoades not to buy the property. His response? "What's the point of having fuck-you money if you never say fuck you?"
Actually, it's the castration of his pet German Shepherd, hitherto seen marking its territory on the marble floor of a massive kitchen (even the dog is taking the piss), that finally decides Axe to go ahead and make an offer that won't be refused. No one is going to say that he lacks balls.
The cross Rhoades retaliates by ordering an FBI investigation. Axe has a secret dread of the men in lettered windbreakers. Thus the stage is set for an epic tit-for-tat battle between two damaged boys who have never quite grown up. Wendy's advice – listen to your Alpha voice – echoes M People's "search for the hero inside yourself".
Billions is smart and slick as well as sleazy and cheesy. The only depth promises to be that to which the depraved characters sink in their struggle to be top dog. Dirty Sexy Money was superbly acted too (by Peter Krause and Donald Sutherland among others) but dwindled into insignificance. Perhaps the sly humour – the piss-taking – will prevent a similar downturn.
The stage is set for an epic tit-for-tat battle between two damaged boys who have never quite grown up
rating
Explore topics
Share this article