Awake, Sky Atlantic |

reviews, news & interviews
Awake, Sky Atlantic
Awake, Sky Atlantic
Inception-lite US drama packs a compelling emotional punch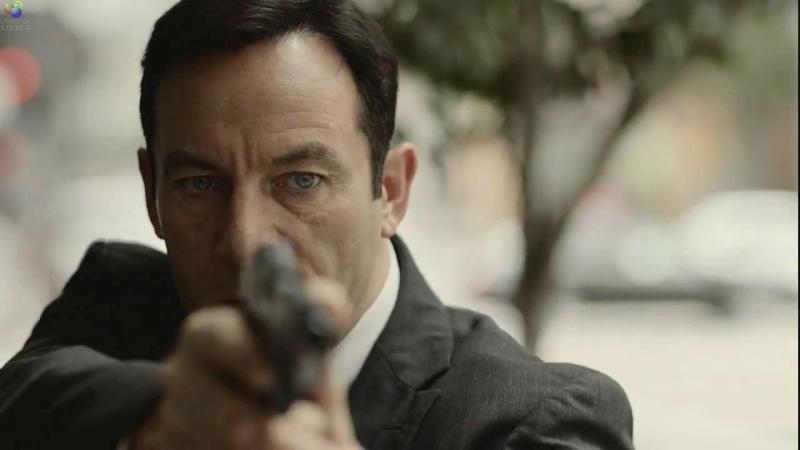 Jason Isaacs as Michael Britten
Try this for high concept. Following a fatal car accident involving his family, LA cop Michael Britten (Jason Isaacs) gains access to two parallel realities. Every time he goes to sleep, he crosses between the two – in one, his wife survived the crash while his son died; in the other, he's a widower but his son lived. The two realities parallel one another in every respect: in each he has a different therapist, a different stereotypical sidekick, and a different murder to solve.
The procedural element is the least successful aspect of what's otherwise a compelling pilot with a unique emotional hook. The notion of intermittently grieving and regaining lost loved ones crackles with the sort of strange, uncanny poignancy that only sci-fi can achieve, and Isaacs' nuanced, muscular turn speaks anguished volumes with minimal spectacle.
Episode director David Slade (most notably of Twilight: Eclipse fame, more respectably of Hard Candy fame) seems to have been hired, as is frequently the case with pilots, to make a distinctive visual mark. The device of using two different colour schemes to differentiate Britten's realities – the world in which his wife survives is filmed in warmer hues, while his son is relegated to a cooler palette of greens and greys – is perhaps not the least predictable choice, but there's a flinty, shadowed quality to Slade's visuals that makes for a more haunting 45 minutes than might otherwise be the case.
Moreover, there is intent to the warm/cool divide – in their scenes together Britten and his wife are close, connected, the loss of their son seemingly having brought them together rather than isolated them, whereas he and his son (Dylan Minnette) are rather emotionally estranged. Given that these dynamics are bound to shift in the upcoming weeks, it's promising to have them so confidently drawn from the outset.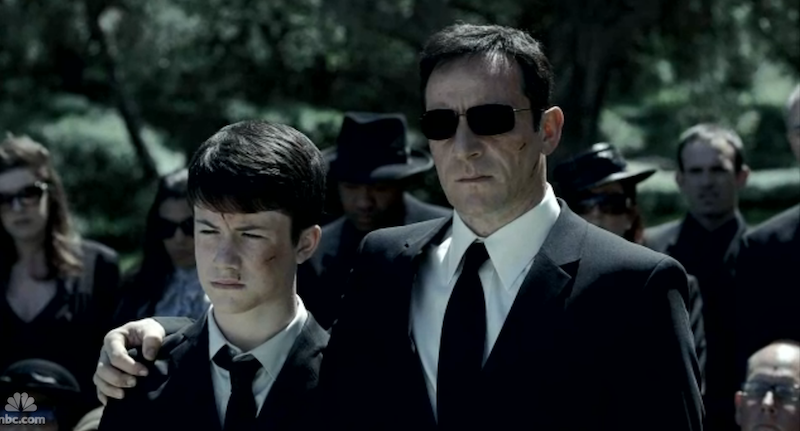 Both tonally and structurally, Awake throws you in at the deep end – the episode opens with a jolt on the crash that killed Britten's wife and/or son. Later, the narrative picks up at a point where Britten has come to terms with his peculiar predicament, and is even reasonably sanguine about it. Where similarly skewed shows like The Prisoner or Life on Mars took the first episode to give their protagonists time to reel and rail against their eerie circumstances, Britten is getting on with his life, parallel realities and all, and we're the ones expected to catch up.
As refreshing as it is to find a US network drama willing to trust in the intelligence of its audience, the lacklustre crime procedural element sits rather at odds with the Inception-lite throughline; both the murders Britten investigates in this episode register on the level of a much more generic show. Given that the showrunner is none other than 24 and Homeland's Howard Gordon, it's also just about possible to smell the conspiracy plotline in the offing. All we get here is a hint – Britten swears he hadn't been drinking the night of the accident, his tox screen results revealed otherwise – but you can see, at least in broad strokes, where this is going.
Difficult as it is to imagine a concept this high being sustainable for the length of time US dramas are wont to run, the central pathos of Britten's situation feels rich enough to be mined for at least the 10 episodes that have been produced. While both of the therapists he's seeing – BD Wong in one reality, Cherry Jones in the other – find his "coping mechanism" fascinating, both tell him that his only option is to let go of the dead. His response, and the singular emotional note on which the episode ends, grip just tightly enough at your heart to make the thought of tuning out an impossibility.
Subscribe to theartsdesk.com
Thank you for continuing to read our work on theartsdesk.com. For unlimited access to every article in its entirety, including our archive of more than 10,000 pieces, we're asking for £3.95 per month or £30 per year. We feel it's a very good deal, and hope you do too.
To take an annual subscription now simply click here.
And if you're looking for that extra gift for a friend or family member, why not treat them to a theartsdesk.com gift subscription?