American: The Bill Hicks Story, BBC Four |

reviews, news & interviews
American: The Bill Hicks Story, BBC Four
American: The Bill Hicks Story, BBC Four
A hagiography of a remarkable comedian who was faster than his audiences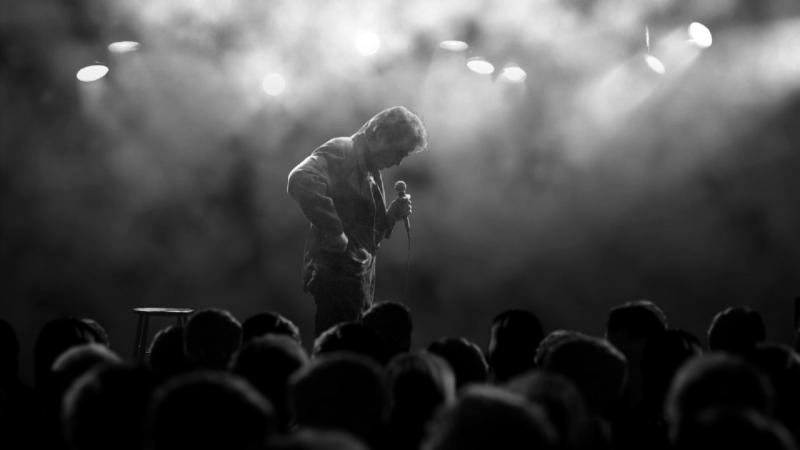 Bill Hicks: being hailed as 'the comedian's comedian' is all well and good after you're dead...
Being hailed as "the comedian's comedian" is all well and good after you're dead; but – as is often the way with great artists – it didn't much help to pay the bills while Bill Hicks was walking and talking.
Early on in Matt Harlock and Paul Thomas's new 100-minute semi-animated biopic, Hicks's sometime colleague and boyhood best friend, Dwight Slade, makes the claim that: "Society cherishes its funny people." Perhaps that's true now, if we're talking about stadium comedy; perhaps that's true if everyone can agree on a working definition of "funny". But if this documentary showed anything, it showed that "society", honestly, thought Bill Hicks was a bit much.
Heralded by the BBC's faceless preamble as "a true product of the American Dream", Hicks epitomised much that is familiar about trying to make it big in the States. There's the trajectory. The open-mike night in Houston, aged 15; LA squalor, and getting his name on the Comedy Store wall; scriptwriting talks with an agent at William Morris (at 19); the moments of self-doubt ("What happens if I am just not funny?" he asks his Dictaphone. "I have nothing. I am a bum."); thriving in a community of notables (at 21, older colleagues are saying he is "heads, shoulders, knees, laces and ankles above everybody else"). The ups, the downs, the derailing, the coming back stronger, the death at a young age.
There's the tight-ass Southern Baptist family background (worse than fundamentalism, says his brother, Steve). The Vietnam-era frustration with sedated suburbia. Showing young grit on the school football field. A mother who called him "special" – though not, I'd bet, till she'd called him a few other things first. (The ageing Mary Hicks makes various claims about her son the comic – "he had such poise" [?!] – causing Steve, at one point, to question the rosiness of her memories.) This sort of stiff and stifling upbringing gave birth to other wild legends, Jim Morrison for example. But then it also created Richard Nixon, so perhaps there's no correlation.
There's the pushing of the boundaries. Hendrix was an idol, and Hicks, only a little ahead of his time, clearly saw rock-style stardom as well within the grasp of stand-up comedians. He explored, he tested the limits, he sought truth through revelation. And like most people who were born to do what they do, he broke new ground. It didn't hurt that Jay Leno was an early fan.
There's the drinking and drugs. Weed and mushrooms were early staples of his diet, but it was his late start on the booze that really brought out the bitterness. His minutes-long hex on an ex-girlfriend, for example, is some dark shit. ("No one said it'd be pretty!" Hicks crows, in a completely unrelated segment.) The clothes got blacker, the drinks got stronger, and the descent – at least in terms of this documentary – is immediate. Bookings dried up, the bad shows increased, the shouting started.
Hicks's alcohol-thawed misogynist tirades, though, are his trademark. He used alcohol to channel his demons – and it worked. So it was little short of a miracle that when he sobered up (in 1988) it not only restored his capabilities, but seemingly expanded them. Clean (well, smoking about 100 a day, but no matter) and newly escaped to New York, he nailed it. The themes got bigger – religion, politics, anti-intellectualism (the source of one of his great skits, when a "waffle-waitress" asks him what he's reading for) – and Hicks got serious. "I'm just trying to plant seeds," he would say of his bugbears. "There's no joke coming."
What was most interesting about this hagiography, though (and there's no escaping the fact that all the talking heads here are Hicks's friends and family) was that this is a movie about someone who didn't make it. Not really.
Being a prophet in your own country is bad enough at the best of times, without your own country being the Deep South and your sense of "humour" revolving around religion (anti), gays in the military (pro), and flag-burning (actually doing it… to light a cigarette). His was an engrossing blend of raised-eyebrow inquiry and revivalist preaching, kitted out in a black rollneck and NHS specs; but for all the HBO specials, awards nominations and international tours, nothing sparked the explosion into stardom that was expected by Hicks and everyone around him. (Where did he ultimately find celebrity? That's right – in Egham. Well, the UK, anyway.)
"Bill was moving faster than the audiences," says a fellow comedian, and Hicks routinely joked about how his thankless tour schedule of tiny venues was down to his audience being superstitious hillbillies. Turns out people don't necessarily want all the truth all the time. Hicks was heckled once by a man who said he didn't come to a comedy show to think. Wrong move, wrong comedian; but you see his point.
Less interesting is Hicks's trippin' spirituality and third-eye quest for "truth". This side of Hicks has never grabbed me, and in fact it borders on exactly the kind of anti-intellectual behaviour he so despised in others. He had a silly tendency to suggest, with absolute sincerity, that love would fix everything. Or that life was "just a ride". And no comedy show should ever end "so we can all do [anything] in peace". Hicks's rants on nuclear weapons, materialism, state power and the mainstream media may have changed the nature of comedy and/or the people who listened to it; but the records show that the audiences weren't always laughing at the time.
Hicks would have hit 50 this year. Watch American, and imagine the damage he could have done
His diagnosis with pancreatic cancer just as his career was finally taking off was, in its own bitter way, painfully comedic. Hicks didn't tell anyone about it, and didn't let it get in the way of his work: "When he was up on the stage it all went away." Warrior that he was, he even started smoking again. "What can I say?" he told an unwitting crowd. "The hook is deep." How they laughed. And then there was the falling out over the cutting of his final (finally final) Letterman appearance.
Never tired of pointing out to his fans that he was hardly on the Hollywood A-list, Hicks has risen again, quite literally, through the rankings. His CDs sell in ever-increasing volume. There are several high-profile books. And Letterman eventually broadcast the infamous axed segment, in 2009, with apologies for the cut. As a result, though, there was not much about American that anyone with even a passing interest in Hicks wouldn't have already known. (And, honestly, I'd have thought the Beeb could do better than a late-night screening on BBC Four.)
Two things stood out, though. Firstly, the footage of Hicks in his mid-teens, at the Comix Annex in Houston. Maybe this has been kicking around for years, but I've never seen it. He's brilliant. And so self-assured. And 15.
Second, that his early death has colluded with posterity to somehow freeze Bill Hicks in time. There he is, angry young man, raging against the dying of the light (and stupidity, and hypocrisy, and apathy). And here are the croaky voices of his siblings, well on in their middle age. Had he lived, Hicks would have hit 50 this year. Take an hour or two to watch American, and imagine the damage he could have done.
Explore topics
Share this article