Absolutely Fabulous, BBC One |

reviews, news & interviews
Absolutely Fabulous, BBC One
Absolutely Fabulous, BBC One
Jennifer Saunders and Co return with a cracker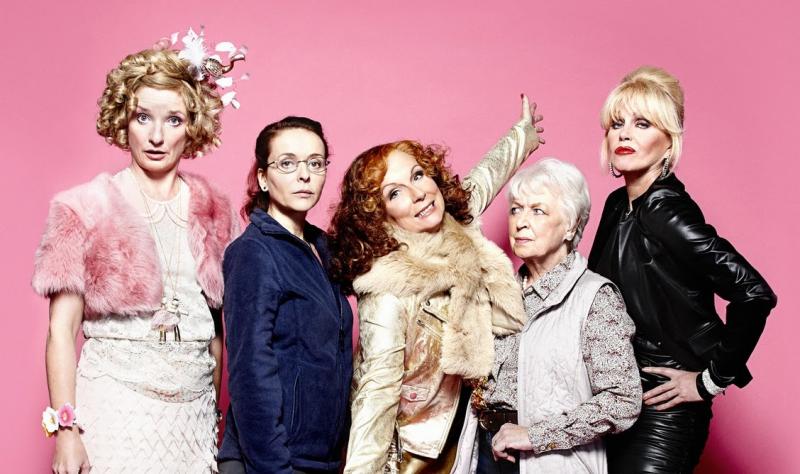 The J-team: Horrocks, Sawalha, Saunders, Whitfield, Lumley remain simply fabulous
Joy was unconfined in my house as the J-team reunited for Christmas to give us the greatest gift of the season. Not that baby and his royal visitors in Bethlehem but Jennifer Saunders, who gathered together her old mates Joanna Lumley, Jane Horrocks, June Whitfield and Julia Sawalha for a cracker of a reunion stuffed with gags.
It's nearly 20 years since Absolutely Fabulous burst on to our screens, and six since its last hurrah, a Comic Relief sketch. In the opening episode of this two-parter, PR Eddie (Saunders) – post-menopausal, "held together by gels, pills and suppositories, darling" but still unwilling to give an exact age – was, of course, bang up to date with technology, even if she has to get her still wonderfully gormless assistant Bubbles (Horrocks) to "Twitter" for her ("more blog, more flog"). She was woken hideously early in the day by a cacophony of ringtones provided by her iPhones, iPods and iPads as she had to leave for a very important assignation.
As her driver told her they were driving through Brixton, we realised that Eddie is still comically in thrall to yoof and ethnic culture - "Brixton! Play some dubstep! Dis my hood" - but we weren't told where she was heading. There were two bits of information that the BBC asked previewers not to mention in order to give viewers a surprise, and they both worked a treat. The first was that Eddie was picking up daughter Saffy (Sawalha) from prison, where she had been serving two years for fraud, having innocently got caught up in a scam providing fake passports for asylum seekers.
Eddie, despite never having visited Saffy, was delighted by her "kidz in priz" status (shared with Bryan Ferry and Dave Gilmour) and equally delighted that Saffy had a special friend (Baron, played with aplomb by Lucy Alexander) inside, although was disappointed to learn that Saffy hadn't "fiddly-diddled" with her. Patsy (Lumley), meanwhile, paid due respect as her sources told her that Saffy had been topdog inside.
But all was not what it seemed, as Saffy's status had come courtesy of Baron protecting her for her own devices. It turned out that she had supplied Patsy with drugs and was now demanding 50 grand with menaces – she had to pay up or she would kill them all. As Eddie was having nightmares about being killed in her bed and Sarah Lund from The Killing coming to investigate the case, the second great reveal came in the form of Sofie Grabol (as Lund, pictured above right) doing a beautifully acted cameo, complete with jumper.
It all came out right in the end of course, as Patsy –"I'm 39!" she growled in response to Saffy's enquiry about her age – had years of unspent pension in a Post Office savings account that the newly kleptomaniac Mother (Whitfield, rather underused in this episode) was keeping in her handbag, dipping into it occasionally only for "buns and cakes". A trip to the pensions department, where Katy Wix's assistant was wonderfully condescending and ageist, and the money was soon backdated, Baron was paid off, and Patsy was fabulously rich.
Mandie Fletcher directed apace, and the show was so full of funnies – one-liners, put-downs, asides and visual gags – that it repaid instant re-viewing. There were so many highlights that it's difficult to recount them all, but chief among them was Bubbles' recap of what had happened during Saffy's time away. Her reprise of the royal wedding (overseen by the "Bishop of Candleford", a delightfully neat nod to Sawalha's recent work) included an energetic lampoon of Pippa Middleton - "swish, swish, swish down the aisle, big fat arse, no knickers", topped only by that hat being fashioned from two huge pretzels on her head. It's great to have the J-team back.
The second part of Absolutely Fabulous is on BBC One on New Year's Day
The second great reveal came in the form of Sofie Grabol doing a beautifully acted cameo, complete with jumper
Share this article