theartsdesk in Moscow: A Bewitching Eugene Onegin |

reviews, news & interviews
theartsdesk in Moscow: A Bewitching Eugene Onegin
theartsdesk in Moscow: A Bewitching Eugene Onegin
A magical realisation of Pushkin's verse novel that's coming to London
An outstanding Tatyana: Olga Lerman (left)
As Shakespeare is to these native isles, so Pushkin is to Russia. And Eugene Onegin, Alexander Puskin's enduring verse novel first published in serial form in 1825, is the most honoured and beloved of all Russian classics. Outside Russia, the story is, of course, most familiar to us through Tchaikovsky's great opera. We also have John Cranko's 1965 ballet, set to other music by Tchaikovsky, a production of which is currently selling out at the Royal Opera House.
Now a rare spoken-word adaptation is setting the bar.
Presented in two acts, and running at nearly three and a half hours, it remains largely faithful to Pushkin's original verse. And if its reception in Moscow is anything to go by, it's set to create a storm at the Barbican next week, where it will be surtitled.
Olga Lerman is outstanding as the girlish heroine who impetuously confesses her love in a letter
Adapted by the company's artistic director Rimas Tuminas, the Vakhtangov Theatre's Eugene Onegin is a remarkable production. A sparse, cavernous stage, painted black, plays host to a cast of 45 actors. A mirrored wall, dark and glossy, reflects, and occasionally distorts, the action, as lithe dancers move dreamily across the stage. We find ourselves in a ballet studio, presided over by a formidable madame (a stately Ludmilla Maksakova, who also plays Tatyana's homely provincial nanny) who speaks in courtly French. The inspired set design by Adam Yatsovskis has transferred part of the action to a ballet studio, where the innocent, yearning hearts of young women, decorous in their pale, floating chiffons, dream of love.
The looming mirror reflects not only the movement of the actors but also suggests the idea of doubling, most prominently in the double rejection at the heart of this story: first when Tatyana is casually rejected by Onegin, who barely looks up from examining his fingernails as he cruelly dashes her hopes, and then later, when Tatyana, by now married and the mistress of St Petersburg society, rejects Onegin, while admitting of her continuing love for him. Olga Lerman is outstanding as the girlish heroine who impetuously confesses her love in a letter, only to suffer the torments of Onegin's indifference. The scene where she tosses and turns near-somersaults in her bed conveys her emotional turmoil with comedic lightness.
A handsomely tousled Sergei Makovetskiy entirely convinces as Onegin, the dashing yet hollow dandy who's been a kind of anti-hero of Russian literature for almost two centuries. Older actors shadow him at key moments, playing him with the wisdom and the hindsight of an older man. In the duel scene, when he is about to fatally shoot Lensky after he has dishonoured his idealistic young friend by flirting with his fiancée (Tatyana's spirited older sister, here played with rare sympathy by Mariya Volkova) his middle-aged self regretfully looks on at the nervously fumbling youth as he attempts to draw his pistol. A somewhat world-weary retired hussar (Vladimir Vdovichenkov) frames the action as narrator.
Yet as convincing as the 45-strong cast is, and as beautifully choreographed, the heart of this production is Lerman's Tatyana, who conveys an astonishing depth and range of emotion. It's a mesmerising performance and she holds our attention throughout.
Music too, plays a great part. There's music by Tchaikovsky as well as Shostakovich, both of whom make up parts of the score dominated by a driving contemporary composition by Faustas Latenas. Russian and French folk songs punctuate the action, suggesting the twinned themes of sophisticated worldliness and high manners with something simpler, earthier and tied to the Russian soil. In fact, the music is one of the most memorable aspects of a highly imaginative production that balances playfulness and pathos.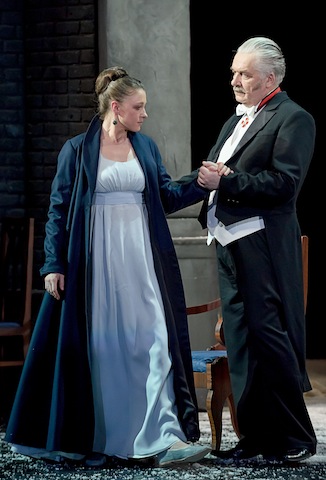 Pushkin was a master of that delicate balance, expressing the agonies of unrequited love, regret and disappointment, with a touch so light that it makes the heart's yearnings bitter-sweet. Just as we find in Pushkin's verse novel, the play is shot through with humour.
And there are many wordless moments, both funny and searingly tender, which remain indelibly etched as mental impressions and which require no translation from the Russian: Tatyana hungrily spooning jam from a jar and touchingly sharing it with her much older suitor (pictured right), an act which captures something of her country upbringing and longing for home; a curious scene in which an actor dressed as a bunny rabbit seems to spring out of nowhere, but is extremely funny and appears as a moment of complete surrender to the absurd; the bewitching scene near the end which plays like a dream sequence, or perhaps a tableau from a Busby Berkeley film, and where we find the ensemble of young women raised high in the air on swings, as if to suggest a suspension of time before real life and compromise hit; a snowstorm swirling around a lantern-lit caravan; and Tatyana waltzing with a huge stuffed bear, a leitmotif conjured by her dreams. Sublime moments in a magical production.
Pushkin was a master of that delicate balance, expressing the agonies of unrequited love with a touch so light that it makes the heart's yearnings bitter-sweet
Share this article