Kinky Boots, Adelphi Theatre |

reviews, news & interviews
Kinky Boots, Adelphi Theatre
Kinky Boots, Adelphi Theatre
Broadway Tony-winner comes home in its West End debut
Thursday, 17 September 2015
Heel, boys: Matt Henry and Killian Donnelly (centre) in the Tony-winning `Kinky Boots'
If the shoe fits, they say, wear it. But in truth there's always been a bit of a size differential between Kinky Boots, the modest urban Brit-flick set in a struggling shoe factory, and the Cyndi Lauper/Harvey Fierstein musical that it spawned, first on Broadway and now here.
Lauper's score resides principally in the funk and spunk of cross-dressing catwalk glamour while the somewhat dowdy spirit of Northamptonshire - the vernacular of the piece - is barely hinted at in the "Price & Son Theme" of the opening number.
But at least the show has, in one sense, "come home" and is no longer lost in the translation of trans-Atlantic attempts at English regional dialects - though it has to be said that every time the winning Killian Donnelly's earnest and likeable Charlie slips from plain speaking into song he instantly acquires an American twang. One size does not fit all.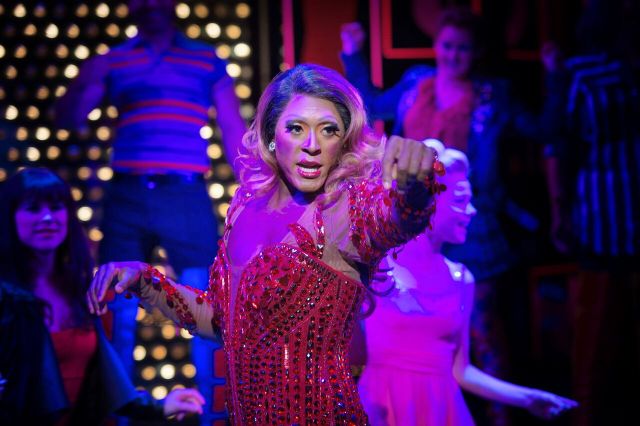 I have to say that I thought the show took a little while to get into its full stride but once the realisation dawned that - as the gender-bending Lola puts it - "the sex is in the heel", it struts its stuff with terrific aplomb. Director-choreographer Jerry Mitchell's production is sure-footed and pacy and hits key buttons like Lola's entrance with the requisite splash of showbiz: one moment she's a mugging victim, the next a club sensation with illuminated shop windows of leggy silhouettes backlit in crimson.
Matt Henry's Lola (pictured above) presents that exotic mix of soulful and masculine vocal tones with an extravagant and queenly manner. The Voice finalist absolutely nails the moment Lola (aka onetime boxer Simon) arrives for work at Charlie's shoe factory neatly restored to his male self in a dapper, immaculately-fitting suit. Suddenly, he's a little out of place and out of sorts, just as the show's musical soundtrack sometimes is. And yet, Lauper at her best is far from predictable. "The History of Wrong Guys" gives the terrifically talented Amy Lennox, playing factory worker Lauren, a peach of a showstopper as girl-with-a-crush collides with girl-with-a-past in all its face-pulling embarrassment. Funny girl indeed.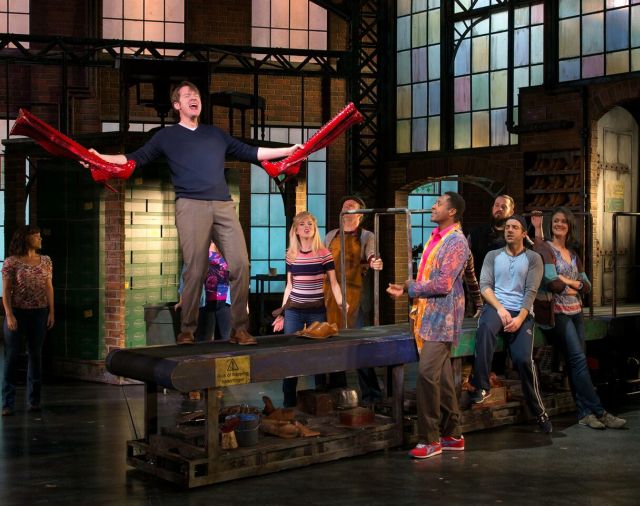 And then there's the key number on which the show turns - "Not My Father's Son" - which is very fine by any standards and allows Charlie and Lola to bond in their "coming out" as individuals. They both, of course, get 11 o'clock numbers: two predictably poppy power ballads. But Donnelly's great asset here lies in the normality, even nerdishness, of his looks, and then he opens his throat and this powerhouse voice is set free. His number "Soul of a Man" isn't special but the intensity with which he delivers it is. It becomes a universal self-assertion song. (Donnelly pictured above left)
The trend for commercial musicals is currently and unequivocally in the feel-good category (perhaps for obvious reasons), and their source material - as in Made in Dagenham and Bend It Like Beckham (whose Howard Goodall score is in a different league of sophistication from the others) - is invariably about social justice and the dreams that can lift us up where we belong. A stage musical version of the film Pride has already been announced.
You won't leave Kinky Boots feeling shortchanged if you love sheer unadulterated showbiz as much as I do. The energy and commitment of this company - not least those leggy "Angels" who make up Lola's entourage - are infectious. Failure to kick up one's heels is not an option.
Killian Donnelly's great asset lies in the normality, even nerdishness, of his looks, and then he opens his throat and this powerhouse voice is set free
rating
Share this article