King Lear, RSC, Roundhouse |

reviews, news & interviews
King Lear, RSC, Roundhouse
King Lear, RSC, Roundhouse
Another version of Shakespeare's most extreme tragedy challenges Jacobi's
Thursday, 27 January 2011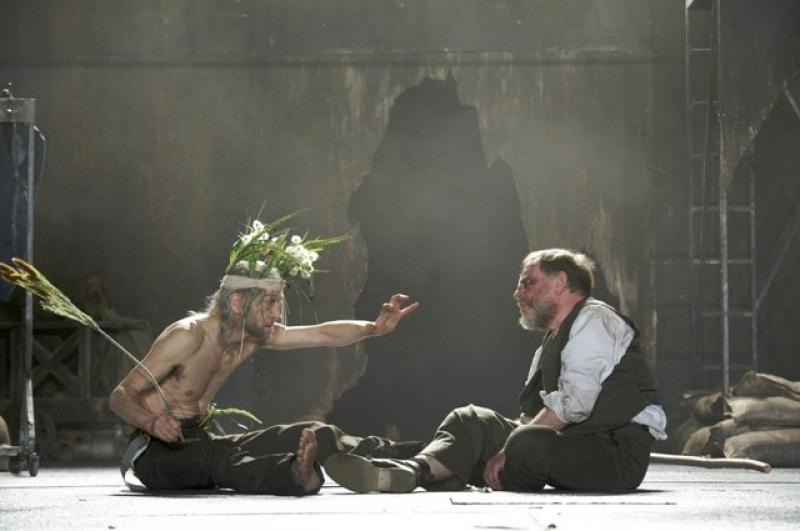 Catching the old, and the stupidity, very well: Greg Hicks as Lear and Geoffrey Freshwater as Gloucester in the mad scene
But this comes at the expense of scale, both in characterisation - Jacobi is also simply too feathery - and in terms of space and time. We don't feel the outdoors at the Donmar, ever see and hear boorish Lear's knights, properly sense the passage of years from Cordelia's banishment to her return, or suffer the weight of battle.
It would be wrong to call David Farr's Royal Shakespeare Company production a corrective, as it predates Grandage's, though it's brand-new at the Roundhouse and more faithful to the text. The space is perfect for it, too: high, resonant, dilapidated in places, gloomily muddy in atmosphere - ideal. An ornate chandelier wanders overhead, a sinister tool of illumination onto the dark deeds below, perhaps of surveillance. An anchor-length chain descends from a back wall to the stage, clamps attached to it for locking Kent in "the stocks" (Act Two, Scene Two) and making him look like a captured bear in a huge cage; his overnight ankle-pinioning for attacking Goneril's lackey Oswald is a crucial fuse for Lear's imminent explosion.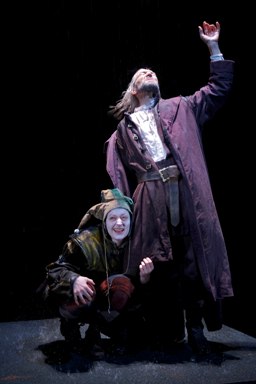 Lear's "followers" riot and swagger with the ample coarseness that the text demands, and which is the very thing that tips Goneril and Regan into, here, shrieking frustration: again, this is essential to stage and not seen at all at the Donmar. There's a logic of rage on both sides which must lead to Lear's ostracism and insanity. Lamps fizz in the rigging and serve as lightning, of which there's famously a great deal at the play's centre. Bits of the set collapse and walls are broken through as the storm sets in. Magnificently, Lear (Greg Hicks) is elevated upwards on a plinth, lit from overhead and drenched in rain as he delivers the "Blow, winds" speech.
So this is a very mobile, engineered Lear, taking advantage of the play's spaciousness and cues for extreme drama. It's full of noises, on and off, rough and ready, tough - it's a tough story - and therefore a bristling study in contrast to Grandage's spotlit chamber piece. And what Hicks lacks in linguistic delicacy and poise (Jacobi's preserve) he more than makes up for in ruggedness, in wobbly fury and, curiously, given his years - 57 to Jacobi's 72 - in age. He catches the oldness, and the stupidity, very well. He's drily obstinate and crabby in his desperate dealings with his three daughters where Jacobi is waspishly, almost queenily sarcastic. Hicks's straggly white wig does the trick where Jacobi's full, genuinely white bonce and beard somehow draw attention to themselves for being just that.
Hicks (pictured above right with Sophie Russell as the Fool) is inevitably more masculine, and we see much more of that capoeira-honed torso in the great mad scene with Gloucester (Geoffrey Freshwater) than we do of Sir Derek's bare arms throughout the play. But this could still be a 70- or 75-year-old man. Hicks is also more fragile. Where things don't go so well is in the reconcilation and death scenes (Act Four, Scene Seven and the end of Act Five, Scene Three respectively), mainly because the emotional dart, the tenderness, which Jacobi finds with and for his Cordelia (Pippa Bennett-Warner) is unavailable to Hicks and his (a Pre-Raphaelite Samantha Young); his "Howl", Cordelia's corpse in his arms, doesn't break your heart.
Between the above passages, the cruel events of the tragedy - Gloucester's death, Cordelia's murder - play out: Edmund (an unconvincing Tunji Kasim) hitches himself to both self-annihiliating, crooked sisters (Kelly Hunter an elegant, full-throated Goneril, Katy Stephens a more feline Regan), wins the battle, but is then killed by Edgar. Charles Aitken is quite an effeminate avenging good brother and, naked as Poor Tom, looks more like a figure out of a chiaroscuro canvas than a beggared wretch; but at least he convinces.
Farr does well in the play's two problem zones: what to do about the Fool and about Gloucester's blinding (Act Three, Scene Seven). Farr's difficulties over the first were surely multiply exacerbated when the gifted but idiosyncratic Kathryn Hunter, playing the Fool, resigned last week from the RSC. Her understudy, now fully in the role, Sophie Russell, is a piping, singing clown, in regular jester's motley: this works, adding colour and vocal lightness to an otherwise dun-coloured, often growly production. The blinding? Well, two eyes have to be put out, and while Farr might be guilty of melodrama (yet how on earth can this ever be got right?), it's not giving too much away to say a fire and a red-hot poker are involved, inducing the requisite nausea.
Though not, in the final analysis, a great Lear (some might claim Grandage's is), this is a busy, big-hearted one and breathes dramatically in a way the Donmar's, in my view, doesn't quite. Exception noted, the acting is polished and well studied. Even if Hicks isn't the most moving king one's seen, he occupies the part with brisk and, indeed - as it happens - inventive intensity.
King Lear at the Roundhouse, London until 4 February, then at the Royal Shakespeare Theatre in Stratford-upon-Avon from 23 Feb till 2 April
Find King Lear on Amazon
Magnificently, Greg Hicks is elevated upwards, lit from overhead and drenched in rain as he delivers the "Blow, winds" speech. This is a mobile, engineered Lear
Explore topics
Share this article