The X Factor 2010, Week 9, ITV1 |

reviews, news & interviews
The X Factor 2010, Week 9, ITV1
The X Factor 2010, Week 9, ITV1
Britain's biggest entertainment show: stitch-up or stardust?
Mary Byrne: A fiver says she'll be appearing in 'Chicago' by the spring
Another week, another "fix" in the glorious cavalcade of manipulation, ill-feeling, class hatred, allegations of racism and – oh yes – singing that is The X Factor. This week it was another shift in the rules, seemingly in order to allow the judges to vote off 50-year-old Irish till operator and Shirley Bassey soundalike Mary Byrne and keep in a quantifiably worse singer, the steely-eyed and prematurely wizened teenager from Malvern, Cher Lloyd.
It's the second seeming stitch-up in two weeks: last time around we witnessed the goalposts once again picked up and moved in order to get rid of 54-year-old comedy Brazilian sleaze merchant Wagner Carrilho. But once again, as a nation it seems we will forgive Cowell, Cole and co and tune into the final next week as avidly as ever. However, without getting into the technical intricacies of the competition rules, or the ethics of rendering paid-for public phone votes irrelevant, these two eliminations did make sense in entertainment terms.
In what has been a slightly patchy year to say the least, we are now left with a solid set of finalists without some of the horrors of blandness or kookiness that have blighted previous finals. Mary Byrne could never have made it as a pop star as such, but will now no doubt make a very comfortable living in West End shows, while if he's happy to keep goofing off then Wagner (pictured below) has every chance of a couple of novelty hits along the lines of his precursors in "funny foreigner" wackiness The Cheeky Girls, Chico and Jedward.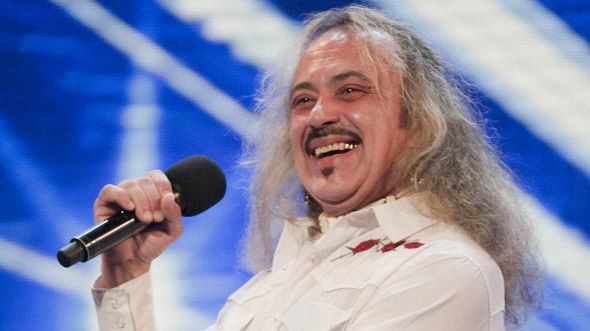 What we have now are two genuinely excellent singers in Matt Cardle and Rebecca Ferguson (pictured bottom), a highly competent and startlingly good-looking teenage boyband, One Direction, and the wildcard of Cher Lloyd who, despite her grating voice, has pulled some startling performances out of the bag. All have significant faults: the affable Cardle has the potential to sink into Coldplay-style drabness at any point; Ferguson, with her constant "ooh I can't believe people like little humble old me" routines does nothing for the stereotype of Liverpudlians as mawkish sentimentalists; One Direction are just pretty faces and are nothing without the smart micro-management and song choices of their mentor Cowell; and Lloyd's rudimentary singing and rapping skill is only just compensated for by a quite terrifyingly overwhelming will to succeed. But these faults only add to the exquisite sense of peril as we look forward to the final.
Watch Matt Cardle sing "Knights in White Satin":
Here's the thing: The X Factor when it works – or is forced to work by the judges' machinations – is still a singing contest, and it is still about finding talent. Yes, the audition phase of this year's series may have been slipshod and lazily put together. Yes, the series may have produced some godawful winners in the still-embittered Steve Brookstein and the hapless Leon Jackson, and yes, afficionados (myself included) may grouse furiously on Twitter about novelty contestants like this year's ghastly hipster version of Violet Elizabeth Bott, Katie Waissel – but nonetheless, disregarding all the whistles and bells, and all the politics, we live in hope of another "Leona Lewis moment". We are badly starved of live music on mainstream television, and the fact remains that seeing one person stand up and touch our emotions simply by controlling the air coming from their lungs can be a very, very powerful thing.
Cardle has already shown us he can deliver, particularly with last week's glorious high-drama version of "Knights in White Satin", and has benefitted massively from being forced out of his indie "comfort zone", to use the parlance of the show. The gorgeous Ferguson has not entirely come good on her promise yet, but nonetheless her smoky, sultry old-school soul voice is frequently quite lovely and we live in hope that this will be her week. One Direction (surely – SURELY – Cowell had to have been aware of the potential mispronunciation "Wand Erection" when he chose the name for them?) never give less than a high-energy performance in their song-and-dance numbers and have the High School Musical-loving hysterical tween vote sewn up. And Cher, the avatar of rap-loving council-estate youth, with those eyes of furious ambition, could again come out with something as bafflingly, amazingly strange and scary as her performance of "Stay" by Shakespeare's Sister five weeks ago.
Watch Cher Lloyd sing "Stay":
Who actually wins is increasingly irrelevant, as the chart success of former X Factor runners-up like the sweetly dull JLS and the intensely hateful cheeky-chappie Olly Murs goes to show. What matters is the sense that we have a potentially interesting final – and maybe even some really good singing – to look forward to. Isn't that worth the death of democracy, the offensive idiocy of Louis Walsh and the dissembling of the other judges, the craven chumminess of shaven-monkey presenter Dermot O'Leary and the awfulness of his ill-fitting suits, and the sense that Simon Cowell – the last of the great camp pop impresarios – is cackling at us all as he skims off yet more profit from every last facet of the show? Well – let's see what happens next week...
Share this article