A Tribute to Abram Wilson |

reviews, news & interviews
A Tribute to Abram Wilson
A Tribute to Abram Wilson
London Jazz Festival hosts concert celebrating the much missed trumpeter, composer and bandleader
Thursday, 14 November 2013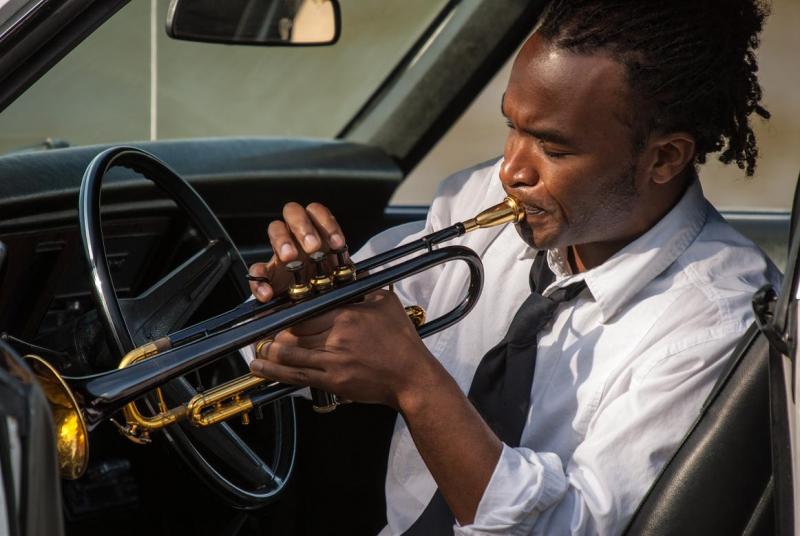 A key figure in London's jazz scene: Abram Wilson
A little more than a year after the death of acclaimed jazz trumpeter and composer Abram Wilson, his former manager and widow Jennie Cashman Wilson has teamed up with EFG London Jazz Festival producers Serious to stage the only London tribute concert in memory of her husband.
Taking place on 20 November in the Purcell Room, Southbank Centre, the concert provides an opportunity to see some of Wilson's former bandmates from both the UK and the States celebrate his life and music. Originally from New Orleans, Abram Wilson had lived in the UK for the past 10 years and was working on a number of projects, including a UK tour, when he fell ill and died of cancer in June 2012, aged just 38.
A Tribute to Abram Wilson will be led by rising star pianist Reuben James and the highly respected drummer Dave Hamblett, both of whom accompanied Wilson to great effect last year. They will be joined by Jason Marsalis (drums), saxists Keith Loftis, Peter King and Jean Toussaint, Trevor Mires (trombone), Mark Lewandowski (bass), and a young trumpeter already making his mark in New York, Alphonso Horne.
For Jennie, who has established the Abram Wilson Foundation for Creative Arts to continue her husband's legacy, the gig will be an emotional one.
"I knew that if I was going to do something in London it had to be really special and include musicians he had played with from both here and the US", she said. "Serious were the only ones who would have been able to help make my dream become a reality.
Abram had really started to come into his own as a composer and I wanted to use this performance to show people the kind of musician he had grown into before he died
"My heart does hurt a little when I think about the fact that Abram won't be here to play on the gig as I know it's going to be an incredible night. It was really tough deciding on whether to book a trumpeter to play Abram's parts, but in the end I found a young guy from New York who came highly recommended by one of Abram's heroes, pianist Marcus Roberts.
"The most important thing about this gig is that it's a chance to highlight the work Abram was doing during the final years of his life. Abram had really started to come into his own as a composer and I wanted to use this performance to show people the kind of musician he had grown into before he died. I truly believe this is something he would have wanted."
Jennie has also put together a band for a separate 10-date UK tour to pay tribute to some of the greatest saxophone players in the history of jazz, including Ben Webster, Dexter Gordon, Joe Henderson and John Coltrane. Entitled Saxophone Giants, the tour runs until the start of December. The band features long-time friend and musical associate from Abram's New York days, sax player Keith Loftis, and virtuoso tenor player Jean Toussaint. They are joined by Reuben James (piano), Dave Hamblett (drums) and Mark Lewandowski (bass).
"This tour is a 'legacy project' for the Abram Wilson Foundation", Jennie notes. "It is inspired by last year's 20-date tour, which Abram and I had worked so hard to organise but which he never got to see through to the end...I felt it was important to bring some of his band members back together, giving them an opportunity to learn from each other, play some great music and finish what we started."
Full tour dates: Saxophone Giants and A Tribute to Abram Wilson
14 November, 8:30pm - Watermill Jazz Club, Dorking
16 November, 7:30pm - Bishop Auckland, County Durham
17 November, 8pm - Brighton Dome, Brighton
20 November, 7:45pm - A Tribute to Abram Wilson, Purcell Room, London
22 November, 8pm - Fleece Jazz, Stoke by Nayland, Suffolk
23 November, 5pm - Hull Truck Theatre, Hull
26 November, 9pm - St Ives Jazz Club, Cornwall
28 November, 7:30pm - The Hospital Club, London (Reuben James, Dave Hamblett and Mark Lewandowski only)
30 November, 7:30pm - Taliesin, Swansea, Wales
1 December, 7:30pm - National Centre for Early Music, York
All sets between 45-60 minutes depending on venue.
Overleaf: watch a clip about the Abram Wilson Foundation
The most important thing about this gig is that it's a chance to highlight the work Abram was doing during the final years of his life
Explore topics
Share this article