theartsdesk Radio Show 21 |

reviews, news & interviews
theartsdesk Radio Show 21
theartsdesk Radio Show 21
The latest radio round-up of sizzling world music releases and re-releases from Mali to Burkina Faso
Saturday, 04 November 2017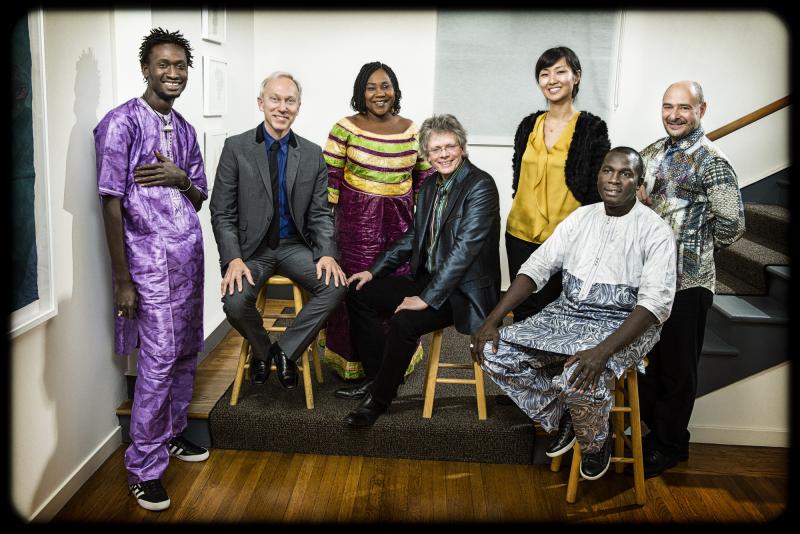 Kronos Quartet go Malian
The latest of Peter Culshaw's global music round-up of new and re-released sounds features new albums from veteran Afro-beat pioneer Tony Allen, an astonishing collaboration between revered string quartet Kronos and Malian traditionalists Trio Da Kali (pictured above) and adventurous South Italian acoustic tranciness from Canzoniere Grecanico Salentino.
Other highlights include sizzling re-releases from Burkina Faso and
Dream Theory From Malaya
from a still futuristic-sounding Jon Hassell, plus a healing dose of carnatic vibes from Jyotsna Srikanth and monstrous funk from other points of the compass. The show is hoted by the estimable Music Box Radio UK
https://www.musicboxradio.co.uk/
TO HEAR THE SHOW CLICK ON THIS LINK
Here's the full tracklist:

1. Jon Hassell - "Courage"
2. Luiz Henrique - "Mas que nada"
3. Kiru Stars - "Family Planning"
4.Trio Da Kali & Kronos Quartet - "Tita"
5. Tony Allen - "Push and Pull"
6. Amadou Balaké - "Whisky et Coca-Cola"
7. Canzoniere Grecanico Salentino - "Pizzica de Sira"
8. Victor Uwaifo - "Ekassa 28"
9. Tony Allen - "Bad Roads"
10. Jyotsna Srikanth - "Gopalaka Pahimam"
11. TootArd - "Sahra"
12. Mulatu Astatke - "Mascaram Setaba"
13. Onuka - "Vidlik"
14. Sidestepper - "Supernatural Love"
15. Bokanté - "Jou Ke Ouve"
16. Peter Culshaw - "Himalaya Drone"
17. José Mauro - "Obnoxious"
18. Sacri Cuori - "Bendigo"
19. Anda Union - "The Herdsman"
20. Debashish Bhattachcharya - "Ras Tarang" (the Waves of Desire) from The Rough Guide to Acoustic India
21. 47Soul - "Shampsted"
22. Pat'Ndoye - "More Love"
23. Trio Da Kali & Kronos Quartet - "Samuel"
24. Jon Hassell - "Chor Moire"
Special presence of Goldi Locks ;)
Explore topics
Share this article