theartsdesk at Green Man 2015
theartsdesk at Green Man 2015
A wild time was had by all until rain stopped play…
Wednesday, 26 August 2015
'Ideally, I'd like a room with a view'
Sunday. Brecon Beacons. Very early in the morning. I am woken, as I have been every 20 minutes or so since falling asleep, by water dripping on my head. So far, I've been able to ignore it, the pain of sitting upright outweighing the inconvenience of a wet head by a factor I can't begin to fathom. Now, however, the hangover has lifted slightly and the need to piss is so painful I can no longer ignore it.
After a walk to the toilets that sees my clothes absorb more water than I subsequently eject, I stagger back to the tent and am greeted by a flurry of activity I wasn't expecting. It seems a child has wet the bed. My mind tries to process this information, but does so with the power of a fading pocket calculator, the rest of my body's energy is being channelled into a vain attempt to make bad stuff not have happened to my liver the night before. The good news is that a child has not wet itself. The bad news is that the water in the tent is the result of a breach so bad it makes wiki leaks look like village gossip. A quick survey of the damage leads to the crushing realisation that our tent is totalled, our clothes and bags soaked through. For us, the festival is over a day early.
Three short days earlier, our core group – four adults, three children – had arrived at the Green Man festival for what amounted to a summer holiday with 20,000 strangers. Set in the heart of the Brecon Beacons, it boasts a staggering backdrop to the fun and frolics on offer – fun and frolics that are aimed as squarely at the little folk as the big kids. A very family-friendly festival then, and one that got off to a good start with smiles, nods and cheery "hellos" from people we passed on our way to set up tent. After assembling one gazebo, two tents, and meeting our extremely friendly new neighbours (one of whom gave us carte blanche to use their makeshift badminton court), we settled in for some moderate, responsible drinking before heading off to see where we would end up (the aptly named bar pictured below).
And here was the first indication of what being at a festival with children means. We left the tents late, of course, and were sidelined by pretty much every single stall on the way (who knew that eight-year-olds could exhibit such gourmand tendencies?) Eventually, we managed to catch the very last song of one of the acts I most wanted to see. Judging by the smiling faces leaving the Far Out tent soon after we arrived, former Pipette Gwenno was as good as her album, Y Dydd Olaf, suggested she would be. With the skies breathing light drizzle like a heavy sigh, we decided to explore.
Much of what the Green Man has to offer lies outside the main stages. It's in the hidden glades and walled enclosures and, at this particular point, in a tree that looked like it had been genetically modified, so perfect was it for climbing. After an hour or so of testing gravity to its limits, we decided to put the food stalls to the test. Over the course of the weekend we managed to sample Thai, Vietnamese, Italian, French, American, Indian, Mexican and Turkish (very "ish" actually). The big winners were the pizza (Alice, 4), Pad Thai (also Alice), and the Goan fish curry (Nat, 8). That said, there were no losers – just as well at an average of eight pound a pop.
Having eaten, played and explored, time had failed to wait as requested and the day's main event was upon us. Leftfield's throbbing bass attack was set to round off our first day's entertainment. While my eight-year-old danced like a seasoned raver and proclaimed them "the best thing I've heard in my life" before hugging his way through the arse end of the evening, my frowning four-year-old daughter decided the performance had made the day, "the worst of my whole life". As ever, the truth lies somewhere in between. I liked them, not enough to fight my way into the crowded tent, but enough to stay back and happily grin my way through a mixture of old favourites and new songs, before bed beckoned.
FRIDAY brought with it a packed schedule. Careful planning was needed to ensure that I didn't miss any of the acts I wanted to see. With the fine rain now becoming something of an irritant, the first item on the agenda was a screening of Shaun the Sheep in the cinema tent. Unfortunately, by the time we got there, the pulling power of plasticine was abundantly clear with lines three deep outside trying to peer in (and looking lovingly at dry ground).
Full of pluck – and bacon – we headed off to Einstein's Garden, a small walled area dedicated to exploring science. There, we had all sorts of fun with dry ice, test-tubes and a full-size game of operation to keep enquiring minds busy, both young and old. By this stage, my phone was finding the pace difficult to keep. Thankfully, the organizers had seemingly thought of everything. Got a battery that powers your phone much like a sieve holds water? No problem! You can cycle it better! If the prospect of a Tour de Brecon was a bit much to take the morning after Leftfield, the cyclists powering these knackered cell phones back into business were encouraged by a volunteer so infectiously enthusiastic it made Lance Armstrong look like a poster boy for the temperance movement. With a thoroughly adequate charge of 66%, we pootled off to see the green man himself (pictured below) – an impressive structure, built each year for the specific purpose of being burnt at the end of proceedings. Not much of a life, perhaps that's why, this year, he was kneeling, palms up in a pose that seemed to cry, "Have some pity".
Of the bands I'd intended to see, Syd Arthur, Hookworms and Temples fell by the wayside. The first two from having to travel at the speed of a child, the last by a very upsetting programming clash. We did catch former Coral member Bill Ryder-Jones, who would have been a revelation had I not already heard Pixies and Pavement, but remained very entertaining, if a little colour-by-numbers. He was followed by Sweet Baboo. Looking like a teenage Stuart Maconie, Stephen Black brought sophisticated, spiky songs mixed with a frivolous and endearing sense of fun. He also brought a string quartet, which was a nice touch for a performance that left us all feeling sunny and generally pretty good about things.
As the day wore on, the rain did too – intermittently but doggedly, like a broken snooze button on the weather. Sun Ra Arkestra were as jazzy and sparkly as I'd hoped, but by this stage the constant wandering from spot to spot with wet children was taking its toll. We needed to get to the main stage, where supergroup Atomic Bomb! were about to launch into the songs of William Onyeabor. It was, by far, the best thing we saw all day. A mindblowing performance that managed to get sore feet moving and keep tiny, tired eyes open. As "Good Name", "Atomic Bomb" and "Body and Soul" filled the Brecon basin we'd chosen as our home, the decision made perfect sense. Sod the rain, this was a pure euphoria made of music and goodwill. We left for the tent with contented and happy children and fell asleep to the sounds of Hot Chip ably carrying on the party.
SATURDAY started as all Saturdays should, with children climbing, laughing, jumping, dancing and learning how to "do archery" while at least one parent tried to fathom what the verb for "doing archery" is (answers in the comments section, please). This was the Little Folk area and was more fun than I had expected. In fact, the tiny part of me that had been a little jealous that I was heading here rather than to the quiz, hosted at the Talking Shop area by Pete Paphides and Bob Stanley, was now silenced.
After all of the fun had been had, we ended up once again at the Mountain Stage, where an amazing thing happened. The clouds parted, revealing the sun, which shone like an old friend as we lazed and relaxed our way through what was one of the best sets of our festival. Colorama's hazy, melodic brand of folky psychedelia was a perfectly placed triumph and saw us heading to the Rough Trade tent, via the Courtyard Bar, for their acoustic in-store performance soon after. Again, they didn't disappoint.
Speaking of the Courtyard Bar, it deserves a special mention for the vast range of ciders and beers on offer – about 154,000 if memory serves (it doesn't, especially not after the 7% cider). Some cloudy-headed meandering around the makeshift funfair (pictured below) followed. With the sun out (along with somewhere in the region of a million wasps), it felt like summer had finally arrived. Clearly, this being Wales, it was a state of affairs that simply couldn't last.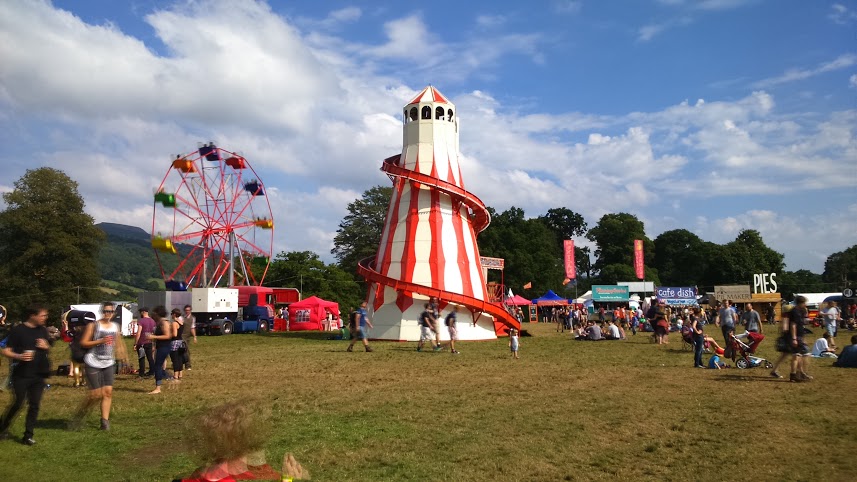 We wound up at the Walled Garden stage just in time to see Jane Weaver, a prospect I was more than a little excited about. It was the cue for the clouds to open and we stood, spellbound and sodden, as she managed to mix the bucolic bounce of her Silver Globe album with, at times, Hawkwind-esque power. The rain eased rather than stopped, but it was enough to regain enthusiasm for the incredible Charles Bradley, whose previous life as a James Brown impersonator has left him with impressive stage craft to match his truly extraordinary voice. He sparkled, both figuratively and, thanks to a fetchingly showy cape, literally. It was almost impossible to take your eyes off him. Television followed, playing their seminal Marquee Moon album. While undeniably good, I couldn't help shift the feeling that this was a set I should experience rather than something I particularly wanted to, rather like going on a school trip to see Shakespeare, or eating low-fat yoghurt.
For my son, the prospect of seeing Super Furry Animals launch into the canine stomp of "Golden Retriever" had so far outweighed any other the festival had to offer. The band, playing to a home crowd, were on career-defining form and the irony of hearing Gruff sing "Hello Sunshine" at night and in the pissing rain was both delicious and delightful. It also, in part, made up for missing Slowdive – another timetabling clash. Of course I could have gone off on my own for a bit, but that would have been to miss out on the joy of seeing children visibly moved by live music for the very first time and belting out some surprisingly convincing air guitar (said children, pictured above). Like drinking, eating and laughing, Green Man is something best experienced in company. As we returned to our camp, laughing and soaked through, we talked of the things we'd not yet managed to do and realised that we'd really just scratched the surface. I resolved to visit the Talking Shop stage, spend more time in the Chai Wallahs tent and try to catch some comedy at the Last Laugh. Would a couple of hours in the al fresco hot tubs be prohibitively expensive? Probably, but fuck it! It's our holiday!
We didn't realise that our tent's thinning skin had already called time on our festival, but as we ditched our makeshift home and packed the car the following day, the mood was surprisingly upbeat. The rain may have bested us, but we'd still had three wonderful days in a warm cuddle of a festival. That it has retained this feel while increasing the numbers is testament to the careful curation and considerate crowd. We'll be back for sure – though perhaps in a rented Winnebago.