theartsdesk in Copenhagen: The Copenhagen Jazz Festival |

reviews, news & interviews
theartsdesk in Copenhagen: The Copenhagen Jazz Festival
theartsdesk in Copenhagen: The Copenhagen Jazz Festival
2010 Copenhagen Jazz Festival slaked the most demanding jazz palate
The über-funky Herbie Hancock: headline act at the 2010 Copenhagen Jazz Festival
It's Friday afternoon, the sun's beating down, and I'm kicking back with a cold one in Kongens Have, Copenhagen's oldest and most idyllic park. From the bandstand, the music of Duke Ellington falls mellifluously on my ears, the languorously swinging, behind-the-beat groove of the specially assembled Band Leader Session perfectly suiting the sultry atmosphere. We can't know for sure what heaven will be like, but I'm hoping it'll be something like this.
I'm here for the opening weekend of the Copenhagen Jazz Festival – a 10-day jamboree with 1,000 concerts in 100 venues - and what's immediately striking is how, from the humblest bar to the grandest concert hall, the whole city seems to be involved. This isn't a festival that takes place behind closed doors, and the many and various open-air concerts ensure that the city's streets and scenic waterways echo with the sound of jazz. Of the ones I happened across over the weekend, The Spirit of New Orleans, a quintet of venerable age (a couple of the guys looked like they might have jammed with Scott Joplin) were terrific, with the entirely joyous sound of the banjo proving a potent backing force. Whatever happened to the banjo in jazz?
The festival attracts 200,000 people over the 10 days, and by forging new alliances with Jazz Fest Berlin, the London Jazz Festival and the Rochester International Jazz Festival hopes to attract an even bigger international audience to the city.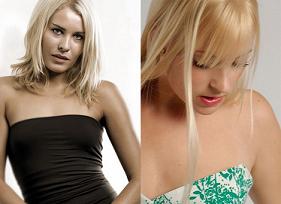 My evening gig, at the intimate Krudttønden venue, presented an intriguing two-hander from the current darlings of Danish vocal jazz: Malene Mortensen and Sidsel Storm (pictured right and far right). Performing material from her fine sophomore album Swedish Lullaby, Storm's set included the haunting, self-penned title track with its clever shifts between major and minor mode, a superb arrangement of Mercer and Mandel's "Emily" (the switch from free time to a pulsating Brazilian groove was like stepping under a cold shower) and the oft-recorded standard "All or Nothing at all". Playing on an unbelievably rich-sounding Bösendorfer grand piano, Storm's Swedish pianist Jacob Karlzon let loose florid runs, pounding block chords and polyrhythmic riffs of quite startling dexterity.
With a decidedly harder-edged, funkier sound, Mortensen's set included songs from her most recent album Agony and Ecstasy, the pick of which was undoubtedly "The Light up Ahead", a gorgeous, almost hymnic meditation with a completely unexpected Spinal Tap rock-out to finish. I could be wrong, but by the glint in his eye I'm guessing that Mortensen's guitarist played some role in the arrangement. Mortensen also dipped into older material, including "Egyptian Moonlight" from her fine 2005 album Date with a Dream.


I'd been advised that the best way to see a lot of Copenhagen in a short space of time was to take a combined bus and boat tour of the city and waterfront. In a little under three hours our tour takes in Nyhavn, abuzz with bars and restaurants, where Hans Christian Andersen lived at three different addresses (he wrote his first fairy tales at No 20); the imposing residence of Queen Margrethe II, the Amalienborg Palace (pictured above left), set in a grand octagonal courtyard and the finest example of rococo architecture in Denmark; Copenhagen's largest monument (and de facto wishing well), the Gefion Fountain; and, of course, Denmark's most famous statue Den Lille Havfrue (the Little Mermaid). Or not. In a case of bad timing, the statue was otherwise engaged at the World Expo in Shanghai, with a live feed from China to prove it. It was alarming to discover how many times the sculpture has been vandalised, including the ignominy of decapitation. HC Andersen's fable has clearly rubbed someone up the wrong way.
Copenhagen was awarded the title European City of Culture in 1996, but as you discover on the riverboat tour no one could accuse it of resting on its laurels. The two-star Michelin restaurant Noma opened its doors in 2003, the Opera House (pictured below right) in 2005, and the Royal Danish Playhouse in 2008. Sadly, even if I'd wanted to blow the budget, Noma books up three months in advance.


If you'd rather not cosy up to your fellow tourists, you can fly solo with your very own podwalk guided tour which you download to your mp3 player. Narrated by architects, residents, mayors and other city bigwigs, there are currently two podwalks available in English, the first taking you along the harbour front, the second introducing you to the new architecture along Copenhagen's metro. To get around the city, the cOPENhagen CARD is a must. It not only gives you free entry to over 60 museums and attractions throughout greater Copenhagen, but also serves as a combined metro, train and bus ticket.
Herbie Hancock's Saturday evening show at the Opera House provided the greatest surprise of my trip. As the house lights went down and a collective cheer sounded from the audience, a young girl dressed in jeans, t-shirt and flip flops ambled onto stage. She looks around 15. I'm not aware that there's a support act, so assume this is some kind of "Herbie's juniors" slot for local Danish talent. Still cutting a solitary figure on the vast stage, the young girl proceeds to tune her bass guitar (silently, with an electronic gizmo).
Two burly gentlemen sitting in the next two seats adjacent to mine take it upon themselves to supply some Tom and Jerry style sound effects: a string being tuned up, then popping. OK, I have to confess I sniggered inwardly, but this really was a bit off. Given the occasion, the girl must already be a bag of nerves. We're in row D and, while she doesn't let on, she almost certainly would have heard this accompanying soundtrack. It's when the imposing figure of drummer Vinnie Colaiuta strolls purposefully onto stage that my initial appraisal starts to look a little shaky. When Vinnie and Herbie junior kick into a monstrous groove, it looks shakier still. Finally, Herbie himself strides out, to rapturous applause. My theory is shattered. The burly gents pick their chins off the floor. Herbie's bass player, I subsequently discover, is Tal Wilkenfeld – she's 23, hails from Sydney, and totally rocks (note to self: must bone up on antipodean electric bassists).
Having celebrated his 70th birthday in April, Herbie wowed the crowd with classics from his capacious back catalogue ("Actual Proof", "Cantaloupe Island") as well as material from his latest release, The Imagine Project. A special shout-out here to keyboardist Greg Phillinganes, whose electrifying lead vocal on Sam Cooke's "A Change is Gonna Come" sent a collective shiver down the audience's spine. We came, we heard, we were conquered. The encore, an über-funky "Chameleon", brought the house down.
For the record, the other artists in the Giant Jazz strand were Caetano Veloso, Marcus Miller and Esperanza Spalding, Joe Lovano (featuring the DR Big Band) and, rather incongruously, Martha Wainwright (Wainwright being neither a giant nor, by any stretch of the imagination, a jazz singer).
Providing the perfect come-down after the pyrotechnics of the opera house, the late-night solo piano recital by Danish pianist Nikolaj Hess in Christians Kirke careened between heart-melting delicacy and almost Chopinesque virtuosity. Hess is clearly equipped to face the most gargantuan technical demands, but it was the incredible fecundity of his imagination that impressed the most, whether in his inventive reimagining of "You Are my Sunshine" or the extended reverie of "Smile". As midnight struck I'm sure I heard a cannon being fired some way off in the distance, but this could have been entirely due to my hypnagogic state.


Sunday. And a familiar figure on NYC's jazz/ improvised scene, guitarist Scott DuBois (pictured left) and his quartet - Berliner Gebhard Ullmann on tenor/ soprano saxes and bass clarinet, fellow New Yorker Thomas Morgan on acoustic bass and Copenhagen's very own Kresten Osgood on drums - featured as part of the festival's "Meetings" strand, a series of five free concerts at Statens Museum for Kunst (Denmark's National Gallery). Playing tunes from this year's Black Hawk Dance, which garnered a five-star review in DownBeat magazine, the quartet achieved a remarkable equipoise of complexity and elegance. DuBois's restlessly kaleidoscopic music possesses the incandescence and exuberance of an action painting.
Following the gig I had just an hour to check out the delights of the National Gallery. Housing a unique collection of Danish and international art from the past 700 years, I headed straight for the new wing (designed by Anna Maria Indrio) which presents a stunning collection of paintings by Braque, Derain, Dufy, Léger, Matisse, Modigliani and Picasso (including the latter's rather topical Still Life with Door, Guitar and Bottles). Leda with the Swan by Danish sculptor Kai Nielsen was particularly exquisite.
And so to my final gig of the festival. The US-born son of Indian immigrants, Vijay Iyer's 2009 release Historicity was voted album of the year in countless US and UK publications. Appearing at Copenhagen JazzHouse together with bassist Stephan Crump and drummer Marcus Gilmore, on tracks such as "Helix", "Smoke Stack" and "Dogon AD", the trio adumbrated entirely new rhythmic, melodic and harmonic possibilities while simultaneously breathing new life into the piano trio's slightly tired lexicon.


Indeed, a version of Michael Jackson's "Human Nature" possessed such startling originality that you felt brainier just having listened to it. Vijay (pictured right, by Chris Drukker), who has a Masters in Physics and wrote his PhD on "Aspects of Rhythm Perception and Cognition in African and African-American Musics" at UC Berkeley - definitely a handy man to have on your pub quiz team - ran rings around the tune not in a poppy, late Miles Davis kind of way, but in a "I'm gonna mess with your head until it explodes" kind of way. Phew.

The Copenhagen Jazz Festival traditionally starts on the first Friday of July, so by my reckoning the dates for next year's edition will be 1-10 July, 2011. Jazz fans: put it in the diary.