Tallinn Music Week 2023 review - when music is unavoidably the language of freedom
Tallinn Music Week 2023 review - when music is unavoidably the language of freedom
Electropop, folk, yacht rock and more delights in Estonia's capital city
Mart Avi casts his spell at Tallinn Music Week 2023
Estonia's Mart Avi styles himself as "the twilight samurai of alternative pop". He creates "nowhere-somewhere music, mapping uncharted territories between avant-pop and timeless grandeur". The characterisations are issued via AVICORP, his internet presence.
The in-person Mart Avi has an arresting charisma; a star quality making it impossible not to be drawn in by his 40-minute performance at Tallinn Music Week. The look could be enough – cutting a David Bowie and Brett Anderson dash. Despite what he says about its nebulousness, his music is a moody electropop with shades of The Associates, Station To Station Bowie, the intervening terrain, and a smidge of modern R'n'B. His voice covers these bases, but there's a Tilt-era Scott Walker edge and an Alan Vega volatility.
All of this could be enough to stop anyone in their tracks, but it's how he performs that clinches it. An arm is suddenly thrust out. His leg kicks high. There are contortions with the microphone, seemingly now a flexible part of his body. He hangs from a rafter. Curls in a foetal ball. Slides across the stage. Mart Avi is a total package and, as contrary as it is to his full-on stage persona, his sound evokes romance. This art music has tenderness at its core. (pictured right, Mari Kalkun at Tallinn Music Week 2023, photo by Jessica Mirely)
Mart Avi's sixth album Blade came out last year and, on this evidence, he's more-than ready to take on the world beyond Estonia's borders. Any audience would be seduced by his allure. And this, in its 15th year, is a core point of Tallinn Music Week: a city festival in Estonia's capital showcasing the Baltic nation's music. Acts are in from Finland, Latvia, Lithuania and elsewhere too. There are related events, happenings and installations linking-in the festival with the city, the country and the wider cultural setting, but music is the operative word.
Integral to all this are senses of identity. Mart Avi has decided who or what he is going to be, and what he is going to do. He is free to make choices. His self-actualisation is his business. Yet Estonia's eastern border is with the Russian Federation, the state which launched its invasion of Ukraine on 24 February 2022. Like Ukraine, Estonia had been within the USSR. It secured independence in August 1991 and is in NATO and the EU. Nonetheless, it is unbalanced by the Russian Federation's actions. Metal barriers outside the Russian embassy in Tallinn's old town are swathed with anti-war banners. (pictured left, Leik at Tallinn Music Week 2023, photo by Feliks Voloz)
Traditional music and notions of identity are intertwined, but folk music is as much about the people who make it as it is cultural roots. Music and musicians evolve, yet despite any reframing what's recognisably local can remain identifiable. Mari Kalkun has recently worked with the UK's Sam Lee, just signed with Peter Gabriel's Real World label for the release of her Stories of Stonia album and one of her main instruments is the kannel, the Estonian zither. Without altering the nature of her music, she incorporates electronic keyboards and textures to amplify its intensity. Rather than bringing to mind the folktronica tag, her powerful Tallinn Music Week performance confirms she has embraced new ways of communicating without sacrificing who she always was – the kannel is played, she sings solo.
The same applies to Tuulikki Bartosik. She has also developed while not abandoning her first instrument, the accordion. In an intense duo show with Sander Mölder based around her Playscapes album, she seamlessly amalgamates her serial-like compositional style with field recordings, Mölder's baroque piano phrasing and a sonic wash analogous to early Tangerine Dream. On a less ornamented tack, the violin and viola duo Leik (pronounced lake) eschew technology with vocal and instrumental pieces figuratively soundtracking wind within forests, the rustle of grass and mysterious sylvan encounters.(pictured right, Meelik at Tallinn Music Week 2023, photo by Silver Jaanson)
Four-piece band Meelik's Weezer-like punk-powerpop is more direct. They formed at school but splintered in 2011 when their guitarist Martin Petermann formed Tenfold Rabbit, who tried to become Estonia's Eurovision entry in 2012 and 2013. Meelik reformed for a school reunion concert in 2022 and, naturally, again went for Eurovision. No go once more, but their Tallinn Music Week show was a sterling display of good-humoured rocking. Similarly cheering were Ouu, who have been around since 2012. They admit a yacht-rock influence and come across as Estonia's Tahiti 80.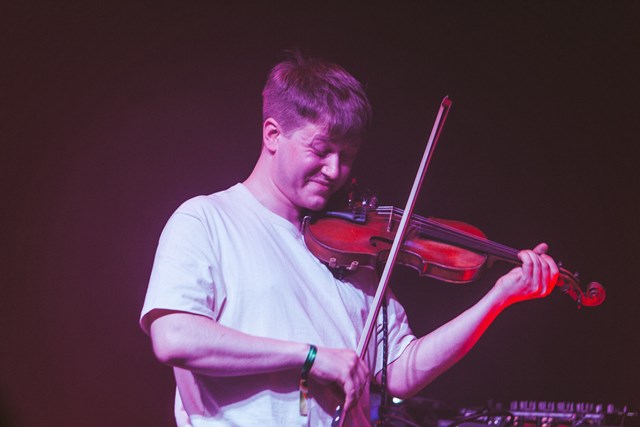 Other hints of pop's varied past came through new-ish band Neon Fir, whose soul inclinations imply a kinship with UK jazz-funkers Shakatak albeit with a few George Duke touches. For a live national radio broadcast, the more venerable Elephants From Neptune pulled off the neat trick of marrying a new wave sensibility to a Black Crowes rockiness – and some John Bonham drums – without coming across as the real-time equivalent of a musical experiment. Totally natural. (pictured left, Elia Lombardini at Tallinn Music Week 2023, photo by Kadri Tiganik)
Although Estonia was holding the reins, visitors from elsewhere stressed that this is an international festival. Elia Lombardini stands out. Resident in Finland, with an Italian family background, he's a classically-based violinist whose first album In Death and the Hunger for a Thousand Lives was issued last year. With loops, his multi-layered music merges circular motifs, industrial roaring and a dynamic sensibility sporadically taking the wild side of Vivaldi's Four Seasons into dark territories. Equally opaque is the Iceland-based Irina Shtreis, whose debut album Ether also arrived last year. Her enigmatic live appearance fuses light and shade, with passionate yet melodic vocals bordering on the liturgical.
Such visitors are welcomed to this open, progressive, self-assured country and it is unsurprising that February 2022's invasion of Ukraine raises reflections on what might happen if the Russian Federation forcibly turned Estonia's clock back to before 1991. Untrammelled expressions of identity through music would be curtailed. Electropop, indie rock, metal or soul, whatever: the creative taps would be shut off. Which, just-over a year on from the beginning of the invasion of Ukraine, makes Tallinn Music Week resonate. (pictured right, Irina Shtreis at Tallinn Music Week 2023, photo by Patrik Tamm)
In what way is demonstrated by Vabamu, a sobering museum just outside the walls of Tallinn's old town – the Museum of Occupations and Freedom. Its focus is the period 1939 to 1991, when Estonia was sucked into Soviet Russia and then Nazi Germany. After this, Russia again and independence. Earlier, from the 13th century onwards, Denmark, Germany, Poland, Russia and Sweden had marched into and carved-up parts of Estonia. Between World Wars I and II, there had been a period of independence – celebrated each year on 24 February: the date of 1918's Estonian Declaration of Independence and, now, of 2022's attack on Ukraine.
Occupation was nothing new for Estonia. But after 1991 and the arrival of freedom, the ability to make choices about who you want to be became enshrined in the fabric of the newly independent state. Although such thoughts about the fragility of individual autonomy are never far while navigating Tallinn Music Week, seeing things through a lens of what-ifs invoked by current events doesn't reduce enjoyment levels. It does, though, bring a context which wasn't so apparent before February 2022. What if all this was forced underground or lost?
Senses of identity are integral to Tallinn Music Week - people are free to decide who or what they are going to be
Share this article