Susheela Raman, Jazz Cafe |

reviews, news & interviews
Susheela Raman, Jazz Cafe
Susheela Raman, Jazz Cafe
Indo-rock siren provides suitably climactic end to LIAF Festival
Wednesday, 12 November 2014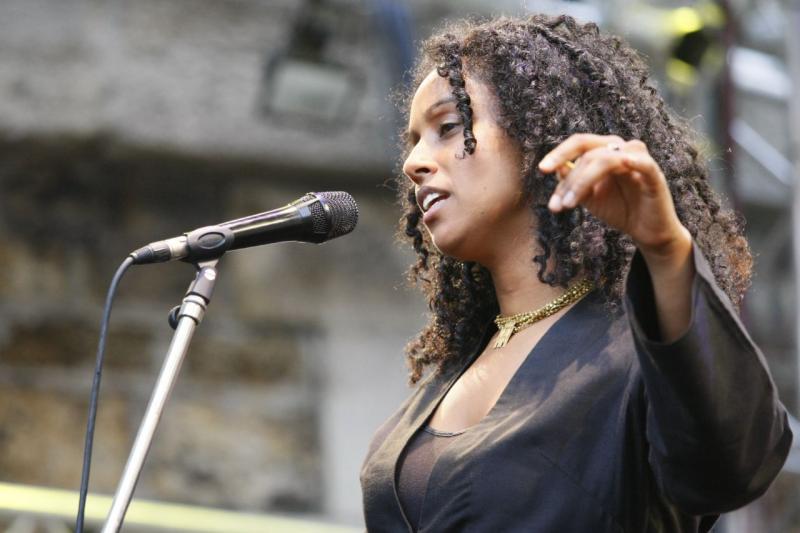 Rahman: Voodoo Chile
If a band gets up and says "We are only going to be playing songs from our new album, not actually released here yet" normally most audiences would groan mightily. But somehow Susheela Raman has educated her audience to expect the unexpected. Her somewhat wayward musical path has included Indo-jazz, rock covers, Tamil voodoo music and introspective songs. It has not been one that a manager or record company would have recommended. They tend to like more of the same.
Susheela and her band did all the songs from the new album The Queen Between, only officially released in France I believe so far (although it was temporarily available through Songlines Magazine in this country) a powerful and varied selection. The strongest song on immediate impact being the title track and an Afrobeat-tinged work-out "Sharabi", which means "alcoholic , one of those ambiguous Sufi words which could be about intoxication of the divine or simply getting drunk. Susheela dedicated the song to anyone who has an addiction – thus appealing to nearly everyone in the audience.
What was interesting was that already the songs from the unreleased new album have moved on, partly from necessity as the Qawaali singers from the album are in Pakistan and there were new musicians such as Pirashanna Thevarajah on morsing (Jew's harp) and mridnagam drums and Danny Keane on cello but partly as Susheela's music is a continual moving target.
Her more regular collaborators Aref Durvesh, as ever rock solid but frisky on tablas, and Kartik Raghunathan's fluid, lyrical violin made up the team, Kartik's voice being a useful foil to Susheela's. Sam Mills's guitar seemed to bring the whole thing together when needed, but added some off-kilter stuff when things threatened to get too balanced. The gig was part of the ambitious, grandly named London International Arts Festival and had an impressive line-up from the afternoon at the Jazz Café which included Bangalore Dreams (Jyotsna Srikanth), The Krar Collective who played Ethiopian music and Nordic Raga, some traditionalists from Sweden.
The other immediate crowd pleaser was "Corn Maiden" which had a more paganistic ritualistic atmosphere. The cellist came up with some lively folky riffs which could no doubt be developed if they do play together again. Whether they will, who knows, although on Susheela's track record this combination of musicians and songs is likely to be a one-off. The encore featured the soulful, and technically superb Indian violin of Jyotsna Srikanth, co-organiser or LIAF which was a real treat, an enjoyable musical digestif.
Follow Peter Culshaw on Twitter