Sufjan Stevens, Royal Festival Hall |

reviews, news & interviews
Sufjan Stevens, Royal Festival Hall
Sufjan Stevens, Royal Festival Hall
An unforgettable night with the prodigiously talented Michigan oddball
Sufjan Stevens: Love, death and the apocalypse
"Hi, I'm Sufjan Stevens," said Sufjan Stevens as his show, the first of two nights at the Festival Hall, got under way. "I'm your entertainment for the evening. I'll be singing a lot of songs about love and death and the apocalypse. But it should be a lot of fun." This was quite an understatement. Fun?
It was one of the best nights of music I've ever witnessed, a torrent of captivating songs and visuals from the Michigan oddball who combines a prodigious musical talent with a deliriously unfettered imagination.
Take the mad frenzy of a Flaming Lipsgig, the whole mothership shtick of George Clinton, plus the beardy weirdness of Roy Wood's Wizzard, add more than two hours of music that was at times exquisitely delicate and at times darkly menacing, and you have an unforgettable night.
To begin at the beginning: with a gauze screen between the stage and the audience, Stevens, on banjo, and his 10-strong band (two drummers: fantastic!) delivered a gently unfolding "Seven Swans", with Stevens, as well as two dancer-singers at the back of the stage, wearing wings, which somehow made them look sad, and everyone on stage wearing fluorescently patterned clothing, which somehow made them look like deep-sea creatures. Projected patterns skittered across the gauze, while Stevens, his voice sweet and pure and clear, sang about seeing a sign in the sky.
Slowly the gauze was raised and the scene became vivid and real, the fluorescence glowier. From here the night grew and it grew until it ended with the audience on their feet as Stevens, by now dressed like a man who had raided the dressing-up box of a troupe of surrealist interplanetary clowns, danced and bounced and sang the irrepressible refrain from "Impossible Soul": "Boy, we can do much more together". Sensational.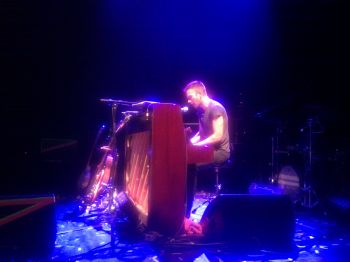 I'd never seen Stevens before and had heard glowing reports of his live shows, but nothing prepared me for this. He makes music that's really quite complex, multilayered, polyrhythmic - it's difficult, doubtless, to play, and sing, with its tight harmonies. But here he and his band and his singer-dancers handled it with enormous expertise, paying absolute attention to detail – a squirt of squelchy synth here, a shimmer of guitar there. And what a revelation the two trombonists were, bringing this neglected instrument to the fore in all its lustrous parpy vigour.
Stevens's recent album, The Age of Adz, provided much of the material; this could have been a miscalculation, as it's a tricky collection of often dark and doomy songs in a largely electronic idiom, a big shift from his previously folkie-orchestral-pop-rock stuff. But in one of Stevens's compelling monologues (what a pleasure to hear a musician say more than "How ya doing, [insert city here]?"), he explained how the album emerged from long improvisational sessions and that tonight he was hoping to present it for us in three dimensions. As the show progressed, I realised what he meant: music that sounds at times claustrophobic on CD was unleashed, liberated in a live setting; it became real.
Watch the video for "Too Much"
He also spoke at length about a formative influence on The Age of Adz, a Louisiana artist and paranoid schizophrenic (now dead) by the name of Prophet Royal Robertson, whose eccentric theology featured numerology, spaceships, the Bible, sex and strangeness in roughly equal measure, and whose visionary comic-book artwork provided some of the visuals for the show. He and Stevens are a good fit; after all, as Stevens explained, he himself was told by his restless fad-seeking hippie parents that he was a "starchild", while naked family yoga sessions were a regular feature of his upbringing. All of which helps to explain why Stevens's oddness, his geeky innocence, did not come across as remotely self-conscious or calculated or contrived; it's not something that he does – it's the way he is.
Anyway, there was darkness and there was delicacy, there was dancing and there were dazzling visuals. And right at the end there was the gloriously, vividly, brilliantly alive "Chicago" from the Illinois album, complete with cascading balloons and fluttering confetti. Surveying the scene after the mayhem had ended, Stevens said, finally, "Sorry about the mess."
Stevens was by now dressed like a man who had raided the dressing-up box of a troupe of surrealist interplanetary clowns
Explore topics
Share this article