The Stranglers, Brighton Dome |

reviews, news & interviews
The Stranglers, Brighton Dome
The Stranglers, Brighton Dome
Punk perennials veer towards the moody with mixed results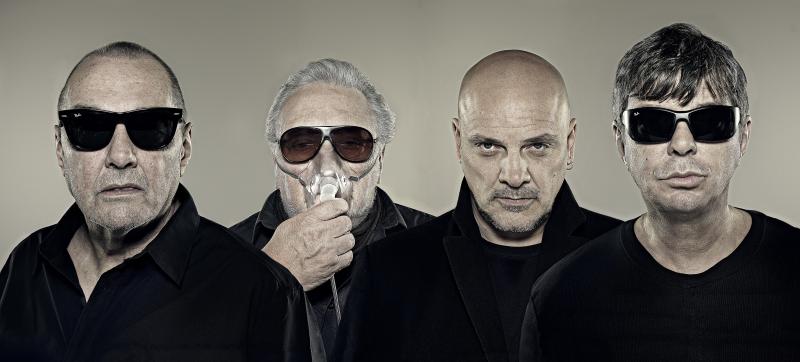 Life's a gas for the Stranglers
There was a poignant moment last night as the Stranglers performed the song "Never To Look Back". It hails from their 1990 album, 10, the last to feature singer Hugh Cornwall heading their original line-up. Behind the band, four giant gilt frames flash a slide-show of their career. We see them, all lean black leather and venom, transform slowly into the band before us, a greying, likeable, punk-adelic war-horse.
In some of the final images drummer Jet Black – who, bear in mind, was 40 when The Stranglers' career took off in the late Seventies – wears an oxygen mask
(as in the image above)
.
Black is not present. Stand-in drummer Jim McCauley bashes away at a kit that sits beside another empty one - Black's. The older drummer's ongoing heart troubles have often meant missing concerts or just playing for parts of them in recent years. Bassist Jean-Jacques Burnel has said that when Black can no longer work it will mean the end of the band. Perhaps it was in his honour that their set-list tonight veered towards mid-paced songs and a pinch of pathos. This turned out to be a mixed blessing.
The Stranglers' back catalogue only looks stronger with the passing of the years and they are apparently, one of the most reliable punts for promoters in terms of ticket sales. It's understandable that on their 40th anniversary tour they want to air songs that wander from any greatest hits formula. Thus they play the likes of "North Wind", "Still Life", "Lowlands", "Threatened", the excellent "Thrown Away" (from 1981's twitchily weird and wonderful The Gospel According to the Meninblack), the atmospheric, New Order-ish "Time to Die" and others of a similar ilk, songs that in themselves are good pieces but weigh the set towards a heaviness of mood, tipping the evening's dynamic towards the lethargic.
The last time I saw this band, a couple of years back, they appeared energized and enthralled by their new album, Giants – with good reason as it was strong, original work. They seemed to be riven with the fire of punk rock and made for an exhilarating evening. Tonight, however, they veered towards their more Doors-ish, Pink Floyd-y leanings and only just got away with it.
The giant gilt-edged frames provided a great visual focus and added punch to their show, while guitarist/singer Baz Warne, who's been with the band since 2000, adds a jovial presence, pretending to be overcome with emotion at the end of the classic "Golden Brown" and handling vocals originally committed to record by Hugh Cornwall with aplomb. Even shaven-headed keyboard player Dave Greenfield has a rare vocal, hamming it up for the raucous "Peasant in the Big Shitty".
The gig may have deflated for a while, punctuated by treats such as "No More Heroes" and "Nice'n'Sleazy", but in the end they produced gold in the form of a blistering "Hanging Around" and, surprisingly, given that their original recorded cover version was a weak creature, a ripping attack on The Kinks' "All Day and All of the Night", before returning for an encore that included "The Duchess", yet another elegiac song – about a broken woman with aristocratic pretensions, lost out of time - but at least one with some musculature, and a favourite of the absent Jet Black. The Stranglers are still a force to be reckoned with but they needed a little more oomph tonight.
Overleaf: Watch The Stranglers live at Benicassim in 2011
Stand-in drummer Jim McCauley bashes away at a kit that sits beside another empty one - Jet Black's
rating
Share this article