Seun Kuti & Egypt 80, 229 Club |

reviews, news & interviews
Seun Kuti & Egypt 80, 229 Club
Seun Kuti & Egypt 80, 229 Club
Son of Afrobeat pioneer takes on his father's legacy - and wins
Saturday, 05 November 2011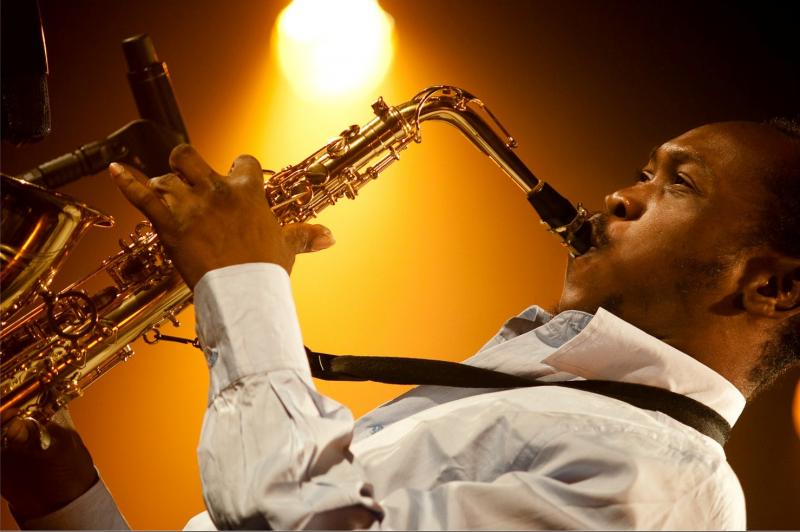 Seun Kuti: the son also rises
Where's the African car? Seun Kuti wanted to know. There are German cars, Chinese cars (he grimaced) even Brazilian cars. At least, anyway, there is "original African music", not traditional but something new. Actually, not entirely new, as some of the music and some of his band, Egypt 80, were that of his father, that visionary genius, subversive and sex maniac Fela.
(Not just 28 wives "on a rota system" as Fela explained to me in an interview
I wrote up for
theartsdesk
, but plenty of groupies, too.)
One of the things I found impressive about Seun and his band last night was how he negotiated pretty successfully the tricky business of being an icon's son. He played one of Fela's most-loved tunes, the immortal "Zombie", with just about the right amount of respect, faithful to the composition but not treating it like a museum piece either. The tune was composed as much as a Handel piece (whom Fela adored), and had the same earthy transcendence. It was probably the most insurrectionary tune of the Seventies (more so, I'd argue, than other obvious candidates like the Sex Pistols' "Anarchy in the UK" from the same year, 1976); "Zombie" caused riots in its attack on the mindlessness of the Nigerian military. Seun and band even played the final fanfare of "Zombie" faithfully, which on the record sounds like a throwaway after-thought, but isn't. On the other hand, there's room in the spaces of the grooves for reinvention which the band stamped their own identity on.
If seducing a Nigerian guy, don't bother with candles in the boudoir: he'll assume there's a power cut
Music director and keyboardist Tajudeen Anaimashaun kept the discipline well throughout the show; if anything he was too self-effacing and could have personally let loose a bit more. The brass managed to be ferocious and sexy, the percussion immaculate, the minimally dressed girl backing singers further raised the temperature with funky moves and added a gorgeously dirty angelic choral counterpoint.
Fela (and co-architect Tony Allen) came up with a thrilling new style they called Afrobeat, and Seun develops it, with added angular guitar or modern blues on tracks from his new album, like the slow-tempo but furious title track "Rise", a song to the joys of marijuana, "The Good Leaf", or "Slave Masters", which he introduced by saying, "Slavery is not just economics but mental." We are all victims, even those who are not the obvious victims, Seun seemed to be suggesting of what Blake called "mind-forged manacles", and the specific attack on corrupt leaders in bed with undemocratic corporations is as relevant now as ever. We also had some romance tips - if you are seducing a Nigerian guy, don't bother with candles in the boudoir: he'll just assume there's a power cut.
It's instructive to compare Seun with his brother Femi, who is also developing Fela's legacy. Femi is more PC - an encounter with his music is more like listening to a lefty lecturer, the Tom Robinson of Africa, a nice bloke but a bit worthy. Seun is naughtier than his brother; more sex, drugs, rock'n'roll, more provocative and thought-provoking.
One thing that has changed since Fela's time is time. Where Fela would play for hours, no one (including me) has got that sort of time to spare anymore. What is lost are those deep trancey grooves that turn into something spiritual. Fela would often play one-hour songs, which, partly through repetition, hypnotised the audience, awakening spirits and ancestors.
There was, last night, a sense of greater powers being unleashed in the encore "Mosquito", which should have lasted longer, and made clear if it wasn't already that this was no tribute band. One ancestor, Fela, hovered above, laughed, and was not displeased.
Watch Seun Kuti and Egypt 80 perform "Slave Masters"
Seun is naughtier than his brother; more sex, drugs, rock'n'roll, more provocative and thought-provoking
rating
Share this article