Rodrigo y Gabriela, Roundhouse - sound and (new) noise |

reviews, news & interviews
Rodrigo y Gabriela, Roundhouse - sound and (new) noise
Rodrigo y Gabriela, Roundhouse - sound and (new) noise
Mexican guitar duo suggest conceptual direction but still stun with energy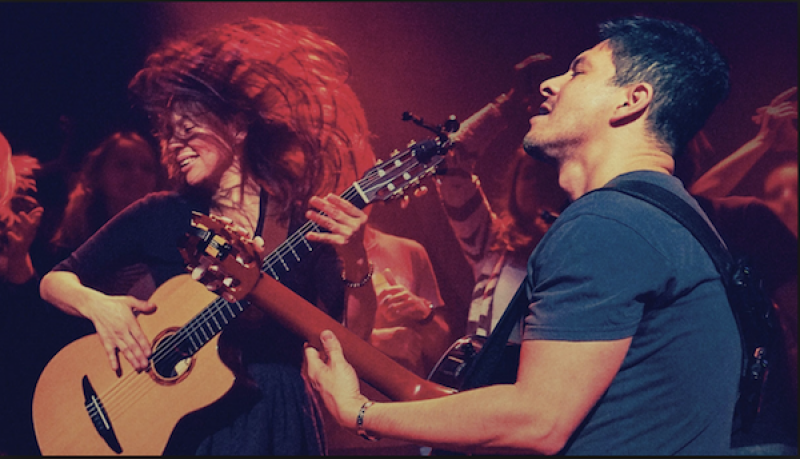 Thrash and virtuoso - Rodrigo y Gabriela
It was in the early 2000s in a tiny, gritty bar that I first saw Rodrigo y Gabriela live. Camden was less pretty then – a look was close to a glare and there were more spikes and kohl – the nineties were that much closer. I was right at the front, pressed up against a rib-height stage, alarmingly close to the percussive thrum taking place inches above my head. The atmosphere was heady, their acoustic performance electric.
Their hands moved like fire, catching the area's thrash sensibility
–
I'd not heard anything like it.
Over a decade on and the two are playing the Roundhouse, just up the road from whatever anonymous bar that was. Instead of battered old wooden seats and a tiny stage they have a gigantic one. They look out over the crowd in a venue they've played over and over again and nevertheless seem amazed: "It takes a while when you're a young musician to realise what you do for people," says Rodrigo, pacing the stage. "Hopefully you feel happier. That's what we're here for." It's beautiful and gratifying.
The stage may be larger, but the set up's the same. Two people, two guitars - and for an hour and a half they fill the space. But back then it was all about power, energy, drive - something here has changed. Gabriela's on acoustic, Rodrigo on a powder blue electric and it's a low key start – nonchalant, sweet, quietly synthed to sound like raindrops or swallowing. Breathy string-play unclenches into a built rhythm of harmonious dabs. An insistent melody builds to a thrill of refracted strums against a slower swell and then suddenly, the set begins.
It's a mixture of new pieces and old favourites. Rodrigo switches in and out of acoustic and electric adding a kind of sweet high strung altitude to newer numbers while Gabriela maintains restless and eloquent locomotion on acoustic throughout. "Diem" from Re-Foc sets the audience alight with whoops and energy while their Pink Floyd cover of "Echoes", from their new album, Mettavolution, begins like a confluence of weirs to become, through careful plucking, a baroque crash tantrum that eventually recoils into decorous steps.
What's different from then and now is that the emotion is primarily focussed inwards rather than exploding out. It's a change of direction that signals a shift towards the conceptual – which will not please everyone, but which promises interesting music to come. It's already affecting technique – scrubbing like breathing – like a heart racing – stipples the set; like thoughts racing on the upper chords it allows for more languidly filmic numbers.
They shine in the encore. Waggy guitar whines quote back catalogues, mashing old and new. It's a kind of bastard noise in the context of which Gabriela's rock star gait and sweet pogo hops makes absolute sense. Evidently, they've moved on musically, in ways which have allowed them to break from their stringent roles and release their energy in other ways, adding mellow flavours and deep catches to their new repertoire. But - selfishly - I want to be back in that gritty dive, taken aback by this storm there.
The emotion is primarily focussed inwards rather than exploding out
rating
Explore topics
Share this article