Reissue CDs Weekly: Sandie Shaw, Country Joe & the Fish, David Bowie, Morrissey |

reviews, news & interviews
Reissue CDs Weekly: Sandie Shaw, Country Joe & the Fish, David Bowie, Morrissey
Reissue CDs Weekly: Sandie Shaw, Country Joe & the Fish, David Bowie, Morrissey
The voice of Essex celebrated, a psychedelic landmark, yet another Aladdin Sane remaster and a befuddling Kill Uncle
Sandie Shaw: the street-level Dionne Warwick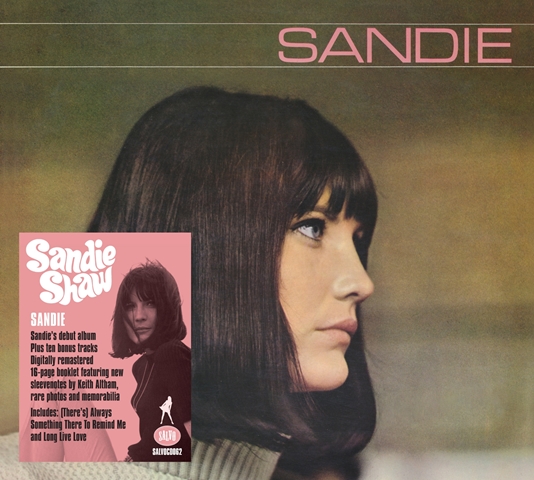 Sandie Shaw: Sandie/Me/Love Me Please Love Me
The former Sandra Goodrich probably would have emerged in the Sixties as an embodiment of the era. She could have been a model, actress or a TV presenter. But it was music that found her, and it suited her a treat. The reissue of her first three albums – each supplemented by the relevant singles and B-sides – is a powerful reminder of her potency. When The Smiths brought her on board for "Hand in Glove", it further stressed her pivotal role in British culture.
Her naturalness obscured the fact that she was a great singer. Ease of delivery did not mean lack of talent or technique. As a street-level Dionne Warwick and home counties answer to the singers teamed with the songs of New York's Brill Building, her copybook was blotted by the egregious 1967 Eurovision entry "Puppet on a String" which, while included for the sake of completeness, looms over the 64 tracks on this trio of CDs like a malign spectre. The album following that adventure, November 1967's Love Me Please Love Me, exorcised that and included a yearning version of the Michel Polnareff composition which became its title track (watch them perfom it together at the end of this) and a smokey makeover of Jacque Brel's "Ne me quitte pas". Irresistible singles like "Girl Don't Come", "Long Live Love" and "Message Understood" aside, her albums showed her equally at ease with the upbeat and the adult even when confronted with the cover versions which usually bulked out long players back then. Her February 1965 debut album, Sandie, showcased a sensitive take of "Love Letters."
Part of the success came from the team assembled to bring Shaw to record buyers: songwriter Chris Andrews and arranger Ken Woodman. These were her records and their assured touch supported her, rather than drowning her in strings, brass, frippery and over-clever writing. Likewise, these cleanly presented digi-packs have a pleasingly unfussy design and entertaining but revealing liner notes by Sixties-vintage journalist Keith Altham. A joy.
Country Joe & the Fish: Electric Music for the Mind and Body
Electric Music for the Mind and Body was a landmark: the first truly psychedelic album to spring from the San Francisco Bay Area. Released by Vanguard Records in May 1967, it caught both the highs and lows of the acid experience. "Death Sound" was suffused with paranoia while "Section 43" had the quicksilver glide of the slide into unreality. Although the band had folk and jug band roots, none of this surfaced when they went into the studio February 1967. There was also little of the polemic which the band later embraced. The album was completed over six separate days and included re-recordings of tracks from their independently issued EP from the previous year. Their sound was already fully formed. For this magnificent reissue a double fold-out digi-pack contains two CDs, one each for the original mono and stereo masters. The booklet has informative, incisively written text and stunning images, while the sound is warm yet laser sharp, particularly so in mono. The last word on a fantastic, important and epoch-defining album.
David Bowie: Aladdin Sane 40th Anniversary Edition
Bowie's follow up to The Rise and Fall of Ziggy Stardust and the Spiders from Mars has had a bumpy ride as a reissue. It's never been out of catalogue, but what's been available at any given moment has varied. First on CD in 1984, it was subsequently remastered afresh in 1990, 1999 and 2003. The 2003 CD was supplemented with extras: mostly live tracks and cuts from singles. Like the recent Ziggy… reissue, this new configuration has no bonuses. As well the quality of the album itself, it stands or falls on the sound coming from the speakers. Recorded immediately after Bowie's work on The Stooges' Raw Power and between US tours, Aladdin Sane isn't as polished and is more wayward than its predecessor. The cover of The Stones' "Let's Spend The Night Together" would have been best left for stage only and distractingly features some feeble, tippity-tap drumming. Mike Garson's piano is extraordinary – beautiful and atmospheric. As are many of the songs, especially "Drive-in Saturday". The heft of The Stooges is heard from the off in "Watch That Man" and bubbles up repeatedly, and the sound on this new version is thick, closer to the dynamic of the original album than ever before. Presumably all the previous CD reissues paid no attention to the original. Even so, after all those, who is this for? Good condition copies of the original album can be picked up for less then £10. But if a CD is required, this is the version to get.
Morrissey: Kill Uncle
Morrissey's second solo album, 1991's Kill Uncle, hasn't got a great reputation, but it wasn't that bad. The Clive Langer and Alan Winstanley production was overly glossy and tinny with clumpy arrangements, and the songs Morrissey wrote with ex-Fairground Attraction man Mark Nevin melodically unadventurous. Yet "Sing Your Life", "Our Frank" and even the hugely ill-advised, abhorred and deeply strange "Asian Rut" stand up. Despite some horrid rock guitar, "Mute Witness" has the satisfying flavour of early Roxy Music. "King Leer" remains awful though. Morrissey seems to have some sympathy with the detractors and has given this reissue a new sleeve in a presumed attempt to wipe the slate clean. More than that, he's resequenced the album – "Our Frank" is still the opener – and arbitrarily inserted two new tracks. "Pashernate Love" was a Mick Ronson-produced B-side from the time of his subsequent album, Your Arsenal. "East West" is a cover of a song by written by Graham Gouldman for fellow Mancunians Herman's Hermits which Mo covered as a B-side in 1989. He has also substituted a different, harder-edged live version of "There's A Place in Hell for Me and My Friends" for the album's original take. The press release says the album is "revitalised". This is a perplexing release.
Watch Sandie Shaw and Michel Polnareff perform "Love me Please Love me"
Shaw's naturalness obscured the fact that she was a great singer. Ease of delivery did not equate with lack of talent or technique
Share this article