Reissue CDs Weekly: Lou Adler |

reviews, news & interviews
Reissue CDs Weekly: Lou Adler
Reissue CDs Weekly: Lou Adler
Tribute to a great Los Angeles man of music has a sting in its tail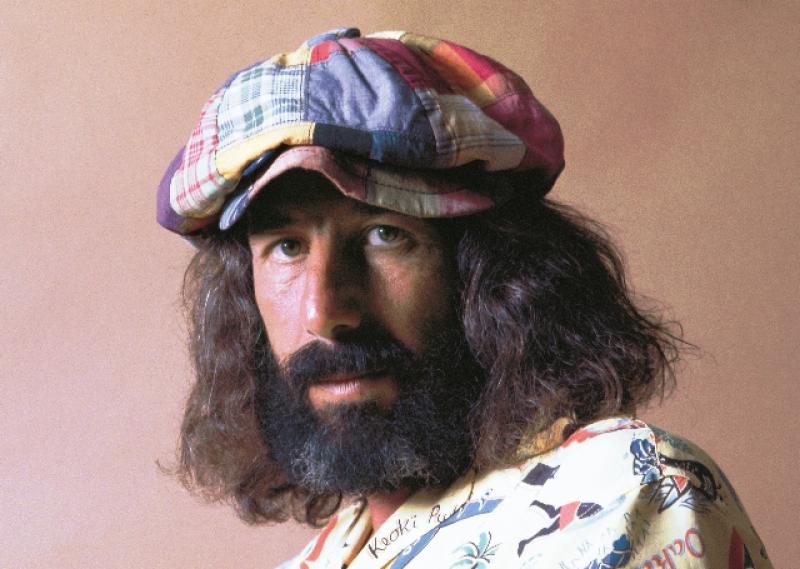 Lou Adler: never mind the hat, watch out for Cheech & Chong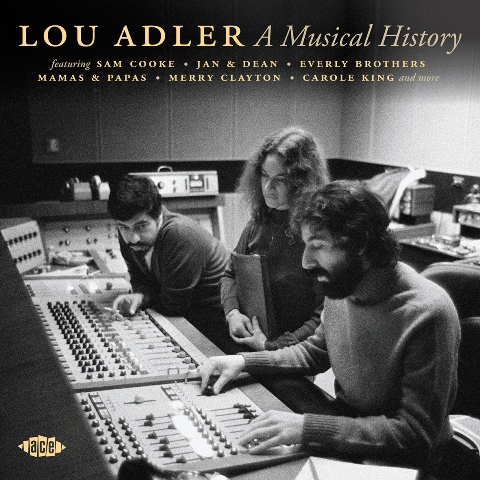 Various Artists: Lou Adler – A Musical History
Lou Adler is more than a stitch in rock's rich tapestry. Akin to a whole spool of yarn, he helped Carole King realise the monumental Tapestry, was integral to making 1967's epochal Monterey Festival happen, brought The Mamas & The Papas to the world and co-wrote Sam Cooke's "Wonderful World". Adler is a towering figure in music. Lou Adler – A Musical History is an overview, collecting records he masterminded. A reminder that the achievements did not spring from nowhere, the disc frames this man within the world he operated in.
Many names are familiar: Cooke, The Everly Brothers, Jan & Dean, King and The Mamas & The Papas. Some are less so: Dante & The Evergreens, The Untouchables (not the Los Angeles ska band). Amongst the 25 tracks are the well-known (Barry McGuire's "Eve of Destruction") and potential hits that weren't (The Blossoms's powerful version of Laura Nyro's "Stoney End" (listen to it on the next page). The well-designed booklet has fine liner notes which include quotes from Adler.
Adler, though, is not a Phil Spector, Jack Nietzsche or Van Dyke Parks. He did not have a sound, and the package makes no attempt to suggest he did. Los Angeles was his playing field and he navigated his way through its music scene by adapting and reacting to the changes, new trends and fresh figures coming on the scene.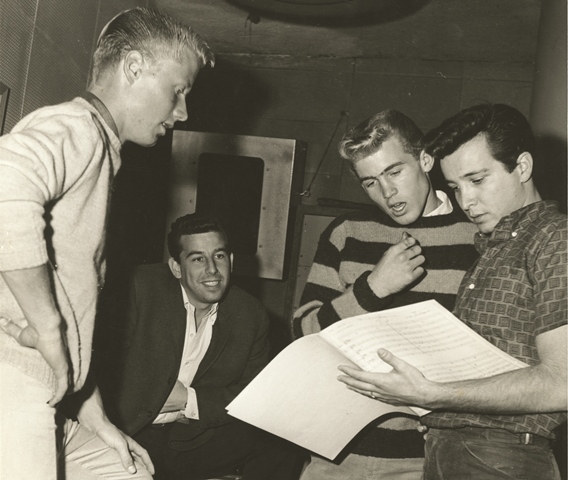 One of the earliest cuts here is Johnny "Guitar" Watson's "Deana Baby": honking, driving R&B pop with shades of Frankie Ford's "Sea Cruise". Adler co-wrote it with Herb Alpert, immediately after they first met in 1957. What should have been the latest cut here (more on that in a few paragraphs) is Carole King's "It's Going to Take Some Time", from the 1971 album Music, the also Adler-produced follow up to Tapestry. (Pictured from left to right: Dean Torrence, Lou Adler, Jan Berry and Herb Alpert)
As a label boss, producer, publisher, songwriter and all-round music man, Adler quickly made his made his mark. He and Alpert managed and produced Jan & Dean, laying the foundations for their later surf-era hits Their two contributions here, from 1959 and 1963, trace their evolution into a Beach Boys analogue. In 1961 Adler had graduated to producing The Everly Brothers. He formed the Dunhill label and brought a post-Byrds reinterpretation of folk-rock to the charts with Barry McGuire's "Eve of Destruction" in 1965. Dunhill label-mates The Mamas & The Papas had a new type of California sound which challenged The Beach Boys's monopoly on aural encapsulation of the sunshine state. Then, in 1967, he started the Ode label which went on to blow everything he had done to date out of the water with Tapestry.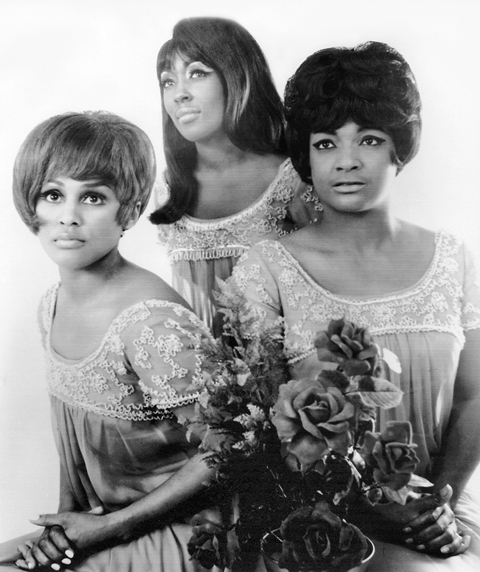 The story and its musical accompaniment are, in turn, fascinating and great. Hearing Scott McKenzie's "San Francisco (Be Sure to Wear Some Flowers in Your Hair)" in stunning fidelity is extraordinary. The handclaps have never sounded so immediate. But it's the relatively unsung gems which shine most. The jazzy "Snow Queen" by The City – the band Carole King was in who were signed to Ode – is beautiful and crystalline (listen to it on the next page). Peggy Lipton's version of Donovan's "Wear Your Love Like Heaven" is also deeply lovely. Spirit's "I Got a Line on You" is kinetic pop at is most arresting. Merry Clayton's version of The Rolling Stones's "Gimme Shelter" is compelling, but less so than the original on which she had sung (pictured right, The Blossoms).
But when the disc comes to its last two tracks, both from 1974, things come unstuck. Each is a tremendously unfunny and utterly awful novelty. These may have been hits or cult items, but Cheech & Chong's "Earache my Eye" and Tim Curry's "Sweet Transvestite" end this collection on a bum note.
Buy this, wallow in great music and marvel at Adler and his trajectory, but press the eject button promptly after the first 23 tracks.
Overleaf: listen to The Blossoms's "Stoney End" and The City's "Snow Queen"
Listen to The Blossoms's "Stoney End"

Listen to The City's "Snow Queen"

The unsung gems shine most: 'Snow Queen' by Carole King's band The City is beautiful and crystalline
Share this article