Reissue CDs Weekly: Dory Previn, Count Basie |

reviews, news & interviews
Reissue CDs Weekly: Dory Previn, Count Basie
Reissue CDs Weekly: Dory Previn, Count Basie
Lost debut album from distinctive singer-songwriter and Big Band giant takes on Albert Ayler and Pharaoh Sanders in 1970
Dory Previn, née Langdon, in the early Seventies
Dory Langdon: My Heart is a Hunter
As a singer-songwriter, Dory Previn's reputation rests on the extraordinary quartet of albums she made for United Artists in the opening years of the Seventies. This, her debut album, was issued in 1958. Commenting on his reaction to hearing "The Lady With The Braid" from 1971's Mythical Kings & Iguanas for the first time, Jarvis Cocker said "I remember very vividly first hearing this record. I had moved to London. I was living in this squat and I was trying to put a curtain rail up. I was listening to the radio and it's one of those moments where you have to stop what you're doing and pay full attention." The focus of his attention died in February 2012, at age 86. This lovingly presented reissue is the work of another Pervin acoclyte, Saint Etienne's Bob Stanley.
Those albums followed in the wake of her divorce from husband André and his marriage to Mia Farrow, who he'd met in 1965. He and Dory had married in 1959. Before that, she was Dory Langdon and had recorded this album in 1957 (it was issued in 1958). She first met Previn during the sessions as he had been engaged to play piano. Considering their subsequent history, it's rich that the album was previously reissued as Dory and André Previn.
Beyond her voice and Previn's piano, the identity of those appearing has never been clear. As well as piano, guitar, acoustic bass and drums are heard. The original album does not credit the musicians. Kenny Burrell has subsequently been credited with the guitar. It's not a mystery this reissue unravels, along with that of the identities (apart from Previn) of her co-writers for eight of the album's 13 tracks. In keeping with its past, the album has again been retitled after one of its tracks. It was originally issued as The Leprechauns Are Upon Me, also after one of its tracks (pictured below left, the orginal album sleeve).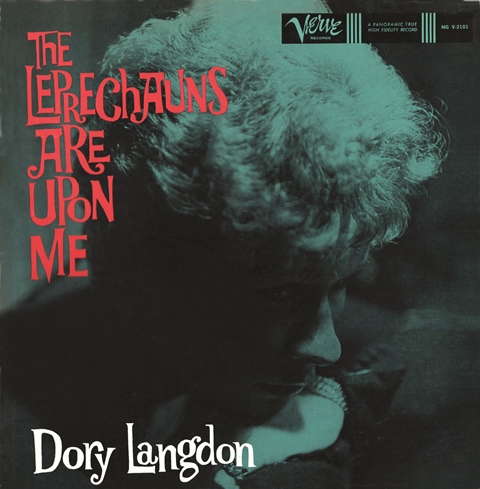 At that point, Langdon was no neophyte. Born in 1925 as Dorothy Langan, from age 17 she had worked as a model, actress, dancer and singer. She had a short spell as a Hollywood writer for MGM, who also had Previn on their books. Immediately before recording The Leprechauns Are Upon Me, she was writing for cartoons and wrote scripts for The Gerald McBoing-Boing Show, a 1956–57 CBS series based on the Dr Seuss story of a boy who communicates in sound effects. The experience no doubt had an impact on the album, especially its off-the-wall "Goony Bird".
However, her childhood did not impact on what she wrote back then. That – and the effects of the marriage on Previn which included electro-shock therapy – would become fuel for her Seventies albums, including how her father had shut her in a box in the family home's attic. Yet there are hints at a distinct, individual sensibility. "Let me show you off, let me brag about our brain", she sings.
The Leprechauns Are Upon Me is a delightful album. A rare thing, and an obscurity that begs to be heard. Previn's original liner notes – which hilariously rubbished rockabilly and pop in general – mention Rodgers and Hart, and Arlen and Mercer, which is bit over the top. But these compositions are more than strong enough, both lyrically and musically, to have held their own against any of Broadway's best. A jazz album, this also has distinct leanings towards show tune styles and features sensitive songs like the dream-like "Just for now".
After its release, she married Previn and would write both words and music for film. Her work on 1969's The Sterile Cuckoo was nominated for an Oscar. She didn't make another solo album until 1970's On My Way To Where. But The Leprechauns Are Upon Me – with its new title My Heart is a Hunter – is where that unique voice was first heard. Anyone fascinated by Dory Previn has to hear this.
Count Basie & his Orchestra: Afrique
Another curiosity, but one from years after this particular musician made his greatest impact. Afrique was recorded in 1970. Count Basie formed his own band in the mid-1930s and, by the end of the decade, ruled the Big Band roost. The former William Basie had a smaller outfit in the early Fifties, but there were still tours and records made with fuller line-ups, despite a slackening demand for his style. As the Sixties wore on, albums of Beatles tunes and film themes kept the wolf from the door.
Bob Thiele, of Flying Dutchman Records, was a fan and decided in 1970 to see if he could revitalise and update the Basie sound. Afrique was the result. He teamed Basie and his core musicians (including guitarist Freddie Green, who had been with Basie since the early days) with arranger/conductor Oliver Nelson. Supplementary musicians were added as the album took shape. Although the first three tracks on what was side two were a short Africa-themed suite, this wasn't a concept album as such. The point was to refresh Basie's sound for contemporary ears. It's no coincidence the liner notes came from Rolling Stone magazine's jazz writer, rather than one from a specialist publication
Five of the compositions were Nelson's, but three were seemingly unlikely: Gabor Szabo's "Gypsy Queen", Albert Ayler's "Love Flower" and Pharaoh Sanders's "Japan". Basie's piano rings through sharp and clear. On "Japan", his playing is linear yet fragmented. "Love Flower" has a sinuous romanticism it did not have in the hands of its composer. "Gypsy Queen" is a potent stew of piano and flute. As improbable as it seems, Afrique is a lost classic.
Overleaf: listen to "Japan" from Count Basie & his Orchestra's Afrique
Listen to "Japan" from Count Basie & his Orchestra's Afrique
These compositions are more than strong enough, both lyrically and musically, to have held their own against any of Broadway's best
Share this article