Patti Smith, The Dome, Brighton |

reviews, news & interviews
Patti Smith, The Dome, Brighton
Patti Smith, The Dome, Brighton
Peppering her set with old and new material, the punk matriarch has a ball by the seaside
Thursday, 13 September 2012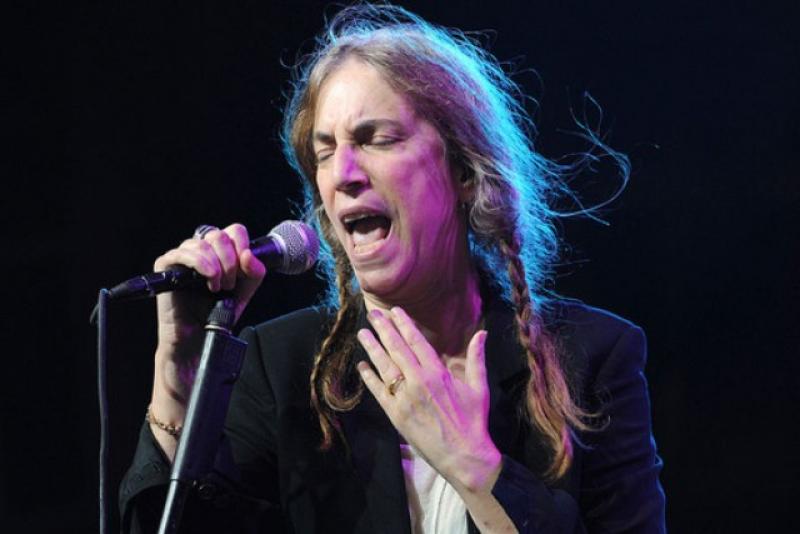 It's always dress down day for the queen of New York punk poets
Patti Smith does not appear to change very much, visually. Her image is undoubtedly part of her appeal, especially in Brighton with its large lesbian population. She arrives on stage in pale blue jeans, a white shirt and a baggy cardy-style jacket, face unadorned with make-up and hair straggled down around her shoulders. From a distance she looks very much as she did in the mid-Seventies. She certainly doesn't look 65.
Her Brighton audience are zealously partisan. This has a dual effect. It gives the evening real electricity and a sense of laser-focused affection which Smith bathes in, allowing her to set up amusing repartee between stage and crowd. On the other hand, the veneration sometimes drifts into an almost religious reverence. Some of Smith's songs, notably "Because the Night" and "People Have the Power", drift into portentous air-punching US stadium rock in manner I find hard to swallow. The latter, two-thirds of the way through the set is delivered and greeted with an earnest fervour that has something of the political rally about it and seems at odds with Smith's subversive beatnik punk roots. However, these are minor quibbles to be passed over swiftly for the concert as a whole is gripping and Smith's company never less than charismatic, sharp-witted and characterful.
The mighty 'Gloria' which has lost none of its power to thrill, an essay in rising tension
For starters, she clearly loves Brighton and claims to have timed her tour's day off so it could be in the city. She kicks off with her 1979 single "Dancing Barefoot", strummed and poetic, surrounded by a band that includes both her son Jackson and her longterm collaborator, the stickinsect-thin Lenny Kaye. A couple of songs in, as she chats to the crowd, someone yells for her to turn her mic up. "What I was saying wasn't anything important," she replies dryly, "just that the next song is from our new record, Banga." It's a strong album and the song in question "April Fool" with an ad-libbed line, "Come on, we'll break out the blues" and the closing "We'll break all the rules," makes a good case for it, as does the next song, inspired by the Japanese tsunami tragedy, "Fuji-San".
Reminding us of her pre-punk New York origins she tells a tale of sitting with Tom Verlaine on a stoop in 1974 watching the skies for flying saucers, leading into the cosmic love song "Distant Fingers" which she wrote around the same time with her then lover Allen Lanier of the Blue Oyster Cult. There's also long heartfelt anecdote about visiting Sylvia Plath's grave in a field near Hebden Bridge. She's a born raconteur. A break follows soon after where she sits stageside, unselfconsciously relaxed as Kaye runs through a medley of Sixties garage classics with the rest of the band. It's a reminder that one of the foundation stones of punk – the liner notes contained the first use of the word in its musical context - was the compilation album Nuggets: Original Artyfacts from the First Psychedelic Era, put together by Kaye in 1972, heavily influencing the nascent New York scene, Smith included, which in turn inspired the British punk that took it to the next level. "Nugget, if you dug it," he shouts and bursts into The Strangeloves' "Night Time" pounding through a few more before being joined again by Smith for the snarling speed-acid howl of The Seeds' stormer "Pushin' Too Hard".
The set moves into "Pissing in a River" which I first heard on the soundtrack to Robert Stigwood's iffy but entertaining dyke-punk flick Times Square long ago. Time has treated it well and it sounds somehow much better now, especially paired with Banga's mantric punky title track for which Smith cheekily "teaches" her son the single chord. She ends her set, of course, with the mighty "Gloria", which has lost none of its power to thrill - an essay in rising tension - and the encore is a rampaging version of "Rock N Roll Nigger" with the caustically spat line we can all get our teeth into - "Outside of society – that's where I want to be". In the song's closing list of "Rock N Roll Nigger"s she includes the unlikely contender Katniss Everdeen of The Hunger Games and, then, very clearly having enjoyed her night and telling us so, she adds an anecdote about a wasted dude she saw stumbling around Brighton's streets – "If I was going to get that fucked up I'd do it in Brighton by the sea," she cackles gleefully, then leaves the stage for the last time.
Watch Patti Smith play "Banga" on Letterman in June 2012
Reminding us of her origins she tells a tale of sitting with Tom Verlaine on a stoop in 1974 watching the skies for flying saucers
rating
Share this article