New Order, Brixton Academy |

reviews, news & interviews
New Order, Brixton Academy
New Order, Brixton Academy
Some Joy but no Hook from the reformed post-punk pioneers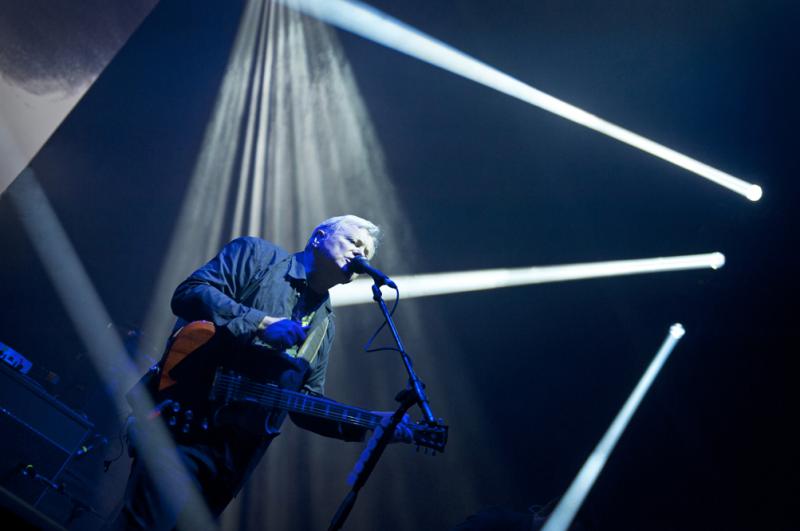 Bernard Sumner: New Order's frontman lightens up at the Brixton Academy
Someone came all the way from Saskatchewan to see New Order in Brixton last night, which is either a measure of the esteem in which the band is held or an indication that someone had a pile of Air Miles to get rid of. Judging by the positively rapturous cheers that went up as Bernard Sumner ambled onstage for the first London date of their first tour in six years, it must surely be the former.
This is a slight rejigged reformation. Stephen Morris on drums and his wife Gillian Gilbert on keyboards are present and correct, while extra guitarist Phil Cunningham adds some rhythmic ballast. But über-bassist Peter Hook is not currently in the line-up and is reportedly consulting m'learned friends regarding the rights to use the band's name. He is replaced by Tom Chapman, who got the resonant lead bass sounds right, but mostly resisted the urge to copy Hook's distinctive moves – maybe he wants to copyright those too – and came closer to the Andy McCluskey school of gangly grooving.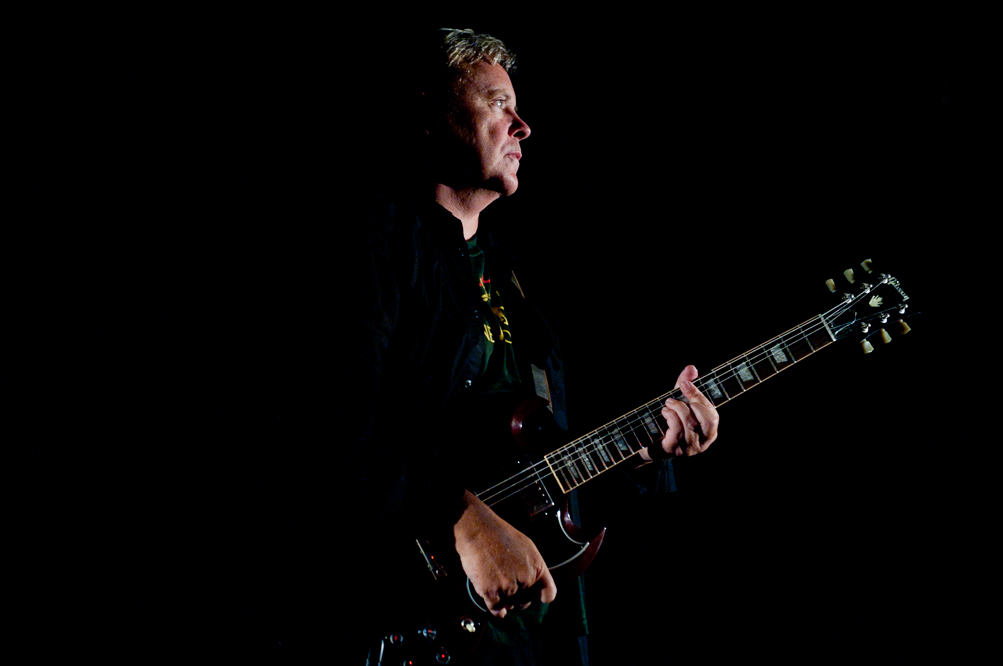 In fact let's get the only niggle of the night over with now. Let's be frank. Bernard Sumner (pictured right) is never going to win Strictly Come Dancing either. More than three decades in the job he is chattier than he once was, politely thanking the audience for coming, asking if there are any Mancunians in and mentioning the football, but still no natural frontman, looking particular awkward on the tracks where he dispenses with his guitar. Of course, he was never supposed to be a frontman, only stepping up when Ian Curtis committed suicide in 1980.
Apart from Sumner's dubious shuffles it was hard to fault this gig, which worked brilliantly as a neat retrospective without ever succumbing to cheese-tinged nostalgia. The band's spontaneous evolution from nervy post-industrial punks to unlikely dancefloor heroes suddenly made perfect sense hearing a pulsating extended version of "Ceremony" from 1981 followed by "Age of Consent", "Perfect Kiss" and a dazzling "586". Videos onscreen and shafts of oscillating white light beamed around the venue turning the Academy from rock venue to rave, echoing the band's sonic metamorphosis during their phenomenally creative first decade.
The back catalogue had surprising emotional depth too. The oblique "Love Vigilantes" came across as an eerie electronic-meets-Nashville take on "The Green Green Grass of Home", with Sumner seeming to be singing about a dead soldier returning to the family home as a ghost. "True Faith" was simply magnificent, as crisp and as punchy as ever – it was good to see that memorably weird interpretative dance video again, too. The climax, a thunderous double whammy of "Blue Monday" and "Temptation" was hard to top.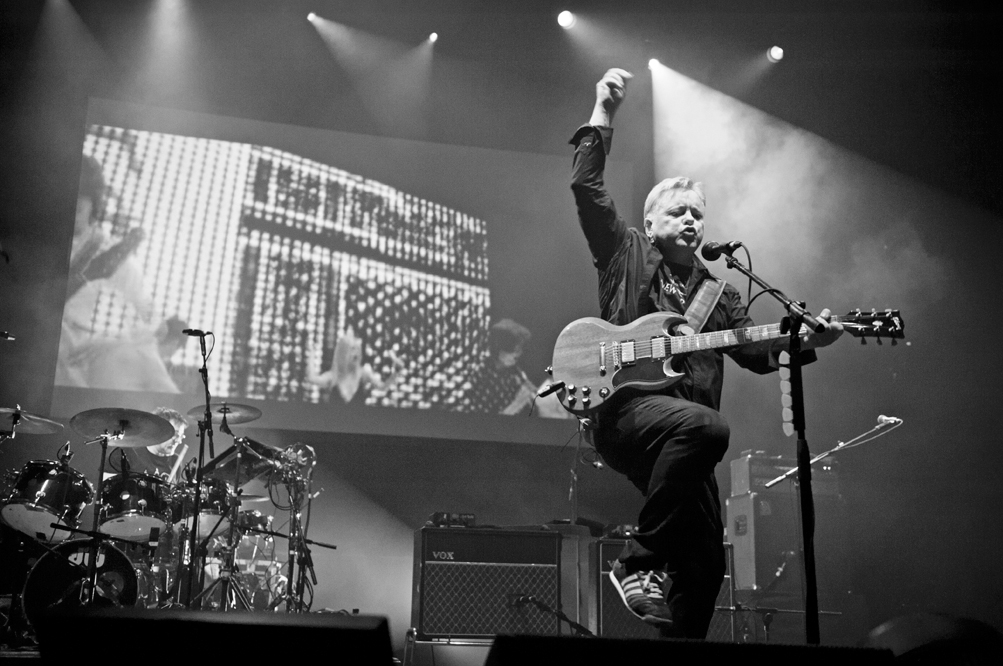 There was, however, still time for an encore. It is an indication that the band is comfortable with their history – or that they know what their hardcore fans want – that they returned for two welcome Joy Division numbers, "Transmission" and "Love Will Tear Us Apart", even if the latter felt a little hurried and lacked the intensity and gravitas of the original version. Somehow I can't imagine Ian Curtis excitedly yelling "C'mon!" in the middle of it if he was still singing it.
Where New Order goes from here is more complex. Do they capitalise on their resurgence and release new material or continue to plough their retro-fanbase until everyone's knees pack up? Either option is full of risks. What is clear is that they are a key component in British music history, essential in forming the bridge between rock and dance. Their selection to represent the 1980s in the Olympics' closing Hyde Park gig, which also features Blur flying the Britpop flag for the 1990s and The Specials doffing a pork pie hat to the 1970s, is inspired. I suspect their friend from Saskatchewan may be clocking up more Air Miles in August for that one.
Follow Bruce Dessau on Twitter
Watch New Order perform "Perfect Kiss"
The band's evolution from post-industrial punks to unlikely dancefloor heroes suddenly made perfect sense
rating
Explore topics
Share this article