Listed: Back To School |

reviews, news & interviews
Listed: Back To School
Listed: Back To School
Music and school - is it all about repression? We count the musical opinions
Monday, 14 September 2015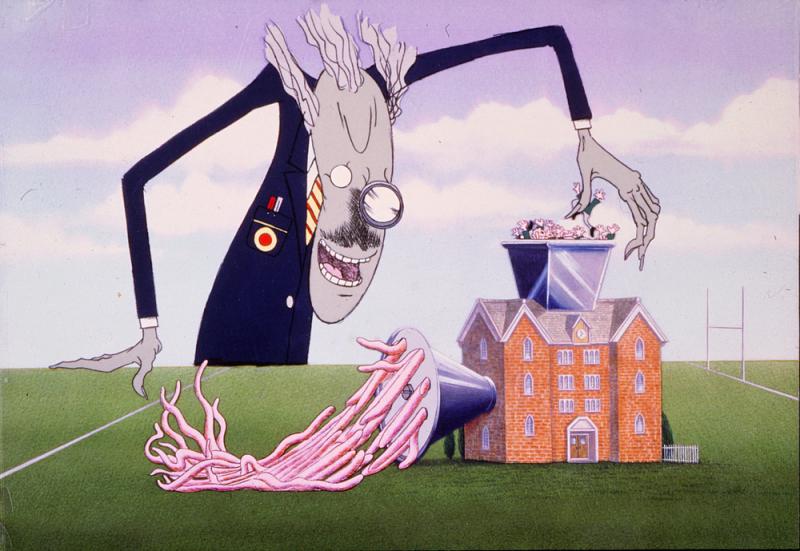 Pink Floyd's view of education. But some of us want to go back?
It's Monday morning, some way between the start of school term and the recall of students to college or university. This moment when the routine of study is reimposed creates some of our strongest memories. As the original voice of teenage rebellion, it's perhaps not surprising that rock 'n roll voices the pain of education more than the joy.
More interesting, though, is the sheer variety of attitudes expressed, and the engrossing drama of each song. From the gentle, sentimental isolation of Sam Cooke to the grossness of The Stranglers, via much outrage, to some candly floss from Britney and a leavening of Madness, most experiences are here. And, whisper it, when we look outside rock 'n roll to the musical, there are nice things to be sung about college too. We may have hated it at the time, but as as Princeton, Kate, and Nicky from Avenue Q observe, it would be great to go back, and try out over again...


Chuck Berry: "School Days"
A joyous celebration of looking forward to the moment the school bell rings to end the grind of another day of "practical math", "burden" and a celebration of the salvation offered by rock 'n' roll, "School Days" is amongst many testaments to Berry's genius at penning lyrics capturing (white) America's preoccupations. Without his inspiration in drawing from the day-to-day, there would have no Eddie Cochran, Kinks or Madness. Hail, hail Chuck Berry. Kieron Tyler


Sam Cooke: "Wonderful World"
Perhaps if Sam Cooke had known that this song, written as a throwaway piece by Lou Adler and Herb Alpert and released as a single in 1960, would do so well, and be so extensively covered, he might have paid more attention in those slide rule classes. (Cooke is said to have increased the lyrics' educational content, which have a wounded fixation about maths.) Sadly, no footage of Cooke singing live exists, and the Levi's ad, a moody montage of tobacco-tinted testosterone, brings out the song's thoroughly amiable defiance. Matthew Wright
The Rolling Stones: "I'm Free"
The feeling when this writer reached university straight from eight years at a public boys' school is captured by the Stones' 1965 classic. This version from Scorcese's 2008 concert film Shine a Light nails it. I took the advice, learnt everything and nothing, and got a 2.2. You, of course, must try harder. Thomas H Green
Steely Dan: "My Old School"
A dope bust, a visit to the local slammer, a break-up: all immortalised in Becker and Fagen's brilliant, autobiographical dig at their alma mater, Bard College in Annandale-on-Hudson, NY. Featuring the spectacularly tight backing vocals of cousins Myrna and Sherlie Matthews, Jeff "Skunk" Baxter's propulsive axe work, and the great Ernie Watts in the horn section, this early Dan classic is a barbed delight. Peter Quinn


The Kinks: "Hard Way"
The Kinks made a whole educational concept album, Schoolboys in Disgrace, much of which sounds authentically proggy, but with "Hard Way", in which Ray Davies sings as a disparaging headmaster, disgusted at wasting his time with kids who are only "fit to sweep the streets", there are harder edges, adrenaline and anger. It's not quite Pink Floyd but the the riff-fuelled sense of rebellion simmers nicely. Matthew Wright


The Stranglers: "School Mam"
The early Stranglers were card-carrying misogynists. It could be violent: "Sometimes" sported the lyrics "Someday I'm going to smack your face…Beat you honey till you drop"; leering and objectifying in the words of "Peaches" - "All this skirt lapping' up the sun, Lap me up"; contemptuousness of a female journalist with "London Lady" - "You're so stupid, Foetid brainwaves". "School Mam", from their second album No More Heroes, took it into the classroom with the tale of a teacher – for whom "education is secondary" – fucking a pupil. Singer-guitarist Hugh Cornwell accompanied performances of this foolishness by rubbing his neck as if masturbating. He climaxed by ejaculating foam from his mouth. Kieron Tyler


Pink Floyd: "Another Brick in the Wall (Part 2)"
With attention generally focusing on the double negative of the uneducated children's choir (proof that standards aren't slipping, they've just always been fairly shit), Pink Floyd sneaked a perfectly formed, slow disco delight under the radar. Although a great riposte to those who stopped listening at Meddle, sadly, the band then left the school disco dancefloor for more earnest and lumpy territory. Barney Harsent


Madness: "Baggy Trousers"
The lyric "All the teachers in the pub, passing round the ready rub" may place this endearing classic firmly in the last century, but it still explodes with the rowdy mayhem of primary school – "Oh what fun we had/But at the time it seemed so bad/Trying different ways/To make a difference to the days." So true. Thomas H Green


Nirvana: "School"
Pretty much the first indication that Nirvana were a band who could win teenage hearts and minds, "School" – from their 1989 Sub Pop debut Bleach – is a wilfully dumb, whip-smart lesson in communication skills. "Won't you believe it, it's just my luck?/No Recess!" screams (the then) Kurt Cobain, before reminding us "You're in high school again." This screaming riff, helped to snatch back heavy metal from lycra-clad hairdos, and give it its proper place in rock's periodic table. Barney Harsent
Britney Spears: "Baby One More Time"
Whatever you might think of the video for "…Baby One More Time" – sexy or sexist, cheeky or cheap – surely nothing embodies the American high school dream quite like it . The effect is of watching box sets of Buffy and Beverly Hills 90210 followed by Mean Girls. The reality of States-side school life is, of course, probably better captured by any number of sensitive indie tracks. But how many of these can wipe away the back-to-school blues like this enduring piece of candyfloss? Russ Coffey


Avenue Q: "I Wish I Could Go Back to College"
I'm sure I'm not the only 30-something who, around this time of year, starts dwelling on times past and what has been accomplished, or otherwise, since leaving university. There are many reasons why Avenue Q, which I recently saw for the third time, is my favourite show: its wicked wit, its graphic depictions of puppet sex and its huge heart. This song, which comes at one of its most pivotal moments, ably demonstrates at least two of those three. Lisa-Marie Ferla