Jake Bugg, Koko |

reviews, news & interviews
Jake Bugg, Koko
Jake Bugg, Koko
Nottingham's council estate Donovan proves to be more than just a revivalist
Thursday, 15 November 2012
Bugg: unashamedly retro
Billy Bragg recently described Jake Bugg as "a teenager with an ear for a good tune and a chip on his shoulder". He was referring to Bugg's evocations of council estate life, which have invited comparisons to the Arctic Monkeys. Others have sneered at the youngster's friendship with Noel Gallagher and his unashamedly retro sound. But what's wrong with being an angry young man with a guitar?
Bugg's major influences span folk-rock written between 1965 and 1975, with a particular emphasis on the work of Donovan. On that count alone, he gets my vote.
Commercially, it's been Bugg's rockier sound that's attracted the most attention. The singles "Lightning Bolt", and "Two Fingers" helped propel his debut album straight to number one. Both are the sort of catchy numbers that lodge in your brain. Before last night's concert, however, something else had stuck in my mind. It was a comment made after a recent Killers gig. I had missed Bugg's support slot and, as I left, my colleague exclaimed: "If you thought Brandon and the boys were good you should have caught Bugg; he brought the house down." Praise indeed.
Bugg may not be the most sophisticated poet but his vignettes were invested with such longing and hope he didn't need to be
In Koko Bugg was himself well set on his way by a support act. Findlay, named after lead singer Natalie Findlay (pictured below) mixed their White Stripes-style blues-rock with an exotic twist of jazz poured into the singer's ever-gyrating black cocktail dress. The highlight may have been current single, "Your Sister", but even where the songs lacked identity they compensated with a raw sex appeal.
Bugg, by contrast, walked on in a black shirt and jeans and never moved from his spot. Still he commanded the room. The word troubadour has been used a lot in relation to him and with good reason. It's the word that best explains the difference between Bugg and inferior mere singer-songwriters. Earnest, melodic acoustic music can easily turn to sickly mush. But even though Bugg's songs borrowed from the past, the occasional gauche lyric notwithstanding, his voice seemed fresh and his emotions genuine.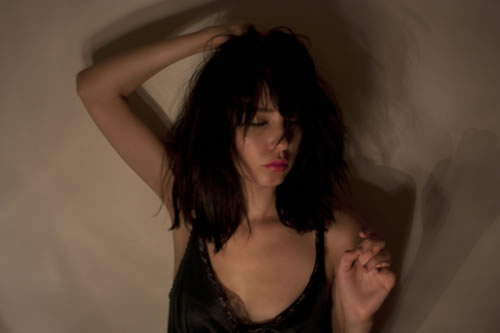 He was at his weakest when most eager to entertain. The opening skiffle-inspired trio, "Kentucky" "Love Me the Way You Do," and "Trouble Town" were lacklustre. Later, "Two Fingers", despite rapturous applause, sounded worryingly like Paolo Nutini. But when bassist Tom Robertson and drummer Jack Atherton left the stage, Bugg showed what he's really all about. "Slide", "Somebody Told Me", and "Note to Self" all argued a compelling case that rather than the Arctic Monkeys it's actually Laura Marling we should be comparing him to: the gorgeous guitar arpeggios, plaintive prematurely-wise voice, and simple, beautiful tunes.
At their best these had the ability to make the crowd feel simultaneously happy and sad. Bugg may not be the most sophisticated poet but his vignettes were invested with such longing and hope he didn't need to be. There were even moments where his vocal and melodic gifts for capturing the crossroads between adolescence and early adulthood evoked early Simon and Garfunkel. The first encore, "Country Song" was one such moment. It came as a swift change of pace from "Lightning Bolt", enjoyed with such gusto it almost seemed an actual fight had broken out in the mosh pit. The evening ended with "Green Man" which moved the sound on to the early Seventies, and was one of two songs that showed Bugg to be as handy with an electric as he is with "the old rusty strings" of his acoustic.
Some may ask, why, when we have such a back catalogue from the likes of Dylan and Donovan, we need revivalists like Bugg. But Dylan and Donovan do not sound the same anymore. Bugg, however, is touring the UK for the rest of the month and returns in February.
He had the ability to make the crowd feel simultaneously happy and sad
rating
Explore topics
Share this article