The Flaming Lips, Brixton Academy review - an explosion of joy |

reviews, news & interviews
The Flaming Lips, Brixton Academy review - an explosion of joy
The Flaming Lips, Brixton Academy review - an explosion of joy
A reminder of rock's potency
Tuesday, 10 September 2019
Raising the roof: the Lips lift off
"Thanks for being in here with us tonight," Wayne Coyne begins, "when you could be outside with the universe shining down on us." Having clearly experienced a pre-gig epiphany from the unexceptional South London sky, The Flaming Lips singer seems primed to take us all higher.
And so this 20th-anniversary celebration of their breakthrough LP
The Soft Bulletin
begins with an explosion of joy. Giant balloons rain down and stay rogue, bouncing through the childishly engaged crowd for the next two hours. Confetti cannons fire at will, dry ice pumps. And as the yearning anthem of quixotic human striving "Race for the Prize" plays,
Brixton Academy's
ceiling reasserts its old illusion of appearing open to the heavens in the dark beyond its parapets. Within seconds, blissful looks are all around.
It's suddenly apparent how little most bands do with the opportunity to play in front of people, and how blandly passive most audiences are. If rock has lost its cultural lustre, maybe its makers aren't thinking high and wide enough. Here, by contrast, we are in the hands of a showman-shaman who ensures every second is freighted with transformative possibility.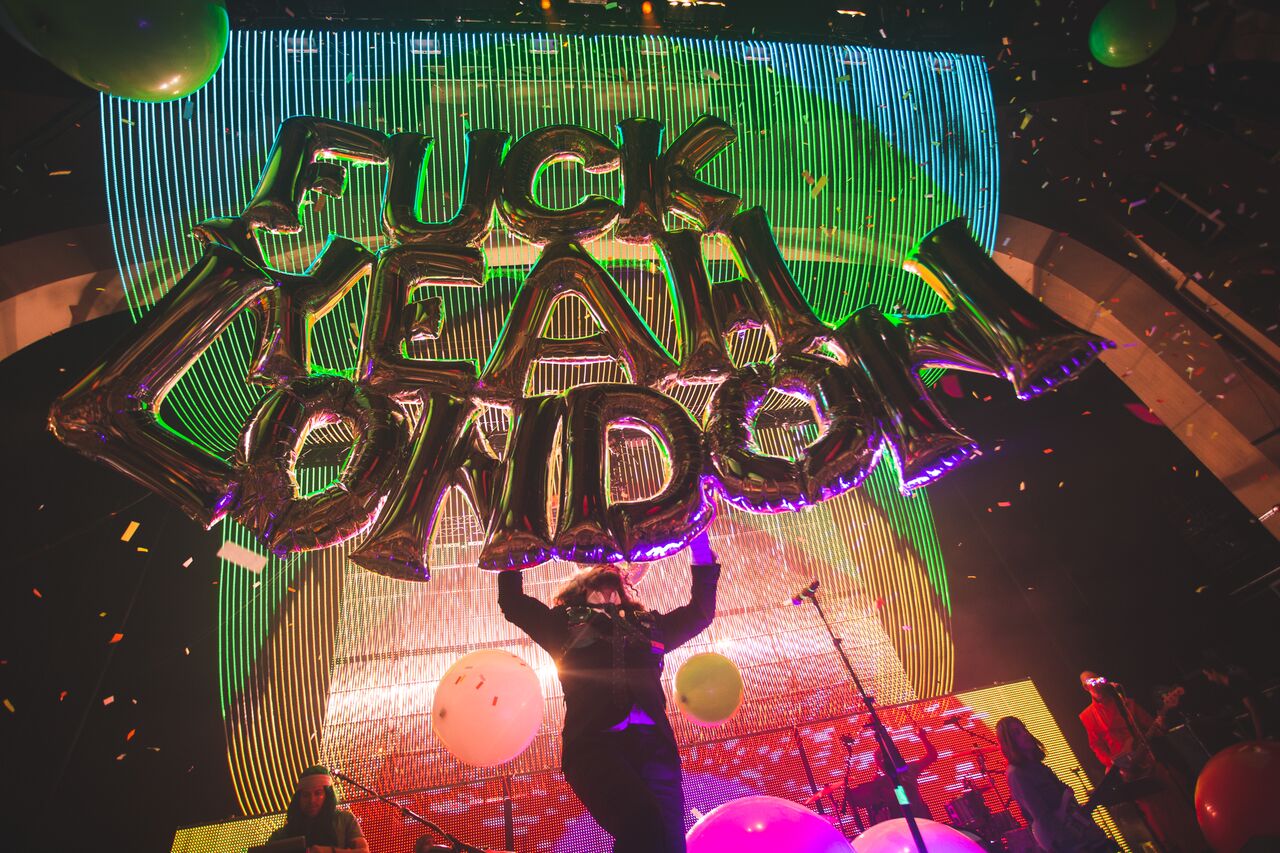 Having to play The Soft Bulletin through tonight is inherently limiting, especially with an acclaimed new album, King's Mouth, showing the Lips' present potency. But its loose, science-fictional concept of human endurance in the face of inevitable death, inspired by the loss of Coyne's dad, proves a sturdy skeleton for coups de théâtre and cosmic questions.
The music is Beatlesque in conception and sound, proggily expansive around Coyne's contrastingly frail, gravel-flecked falsetto. Sporting a leonine, grizzled mane, he has at 58 had first-hand experience of rock's Sixties ideals and Seventies intensity, in the wild Midwest of Oklahoma. This leaves him comfortable talking about the importance of sunsets and insects during a rock gig, and the "fucking great things" which outnumber "all the injustices that are happening every moment" and "all the pain".
"What is the Light" is a dogma-free, four-to-the-floor prayer, with a giant glitter-ball pouring light through a cross. And this is just a prelude to The Soft Bulletin's great pop moment, "Waitin' for a Superman". It's the night's sole interlude of downbeat introspection, with Coyne yellow-lit in the spotlight. He asks for our help as he and multi-instrumentalist Stephen Drozd head into its shadows. The crowd's spontaneous roar midway through is a lifting wave of positivity like nothing I've felt before at a gig. The roars and screams keep coming, encouraged by Coyne, then simply ongoing. The scream once defined rock's ecstatic power, from Elvis to The Beatles. Here it is again.
As usual, Coyne rolls over our heads in a transparent ball. For anyone blasé about that, he then rides amongst us on a unicorn (sadly inanimate). As he keeps saying: "Don't hold back." One day, he muses of what he deems the Lips' "best gig ever", a drug may replicate its feeling. "Until then, we've just got to make it ourselves."
"Do You Realize??", with its refrain that "everyone you know will someday die", is the closing act of communion. Its healing heartbreak corresponds to the track playing as the lights go up, Louis Armstrong's "Wonderful World". A middle-aged couple slow-dance to that, while a young woman chucks confetti like a child playing with autumn leaves, in the gig's afterglow.
We are in the hands of a showman-shaman who ensures every second is freighted with transformative possibility
rating
Explore topics
Share this article