First Person: From Insolence to Defiance |

reviews, news & interviews
First Person: From Insolence to Defiance
First Person: From Insolence to Defiance
Lyrical country meets rollicking cowpunk: Paul Simmonds on writing songs for two very different new albums
Wednesday, 17 September 2014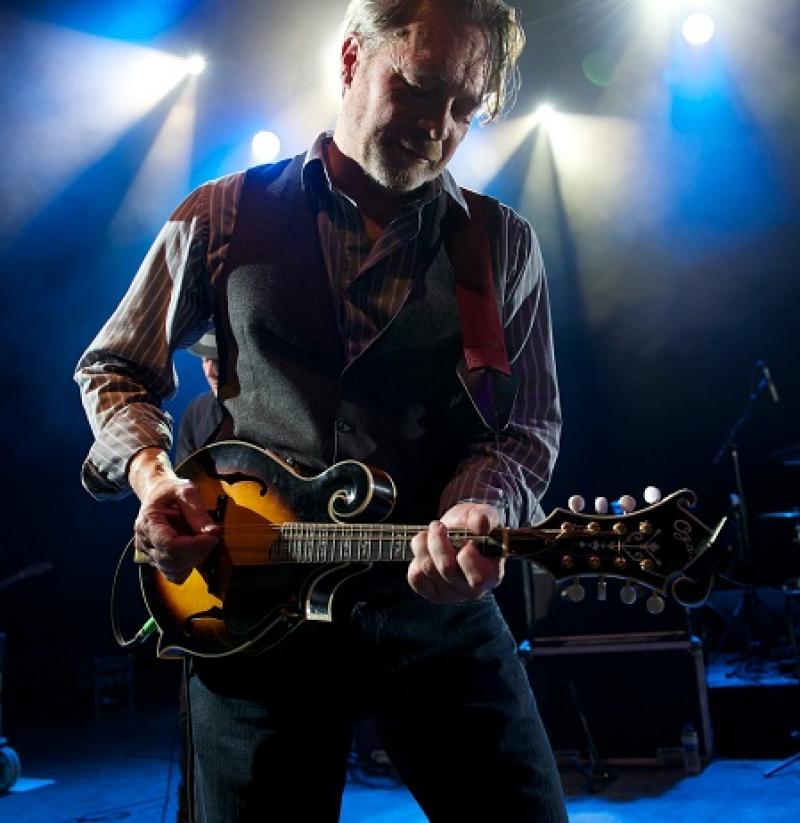 Paul Simmonds, mandolinist and songwriter for The Men They Couldn't Hang
Not that long ago, certainly when I was old enough to know better, I managed to get myself mugged by a gang of teenage street girls down by Lisbon docks. I had been following a long chain of beer and whisky glasses from the end of one bar to the front of the next and was quite drunk in that careless, carefree, foolhardy way.
As muggings go it was hardly the worst: a little swarm of hands, a tickling feeling, a few oaths and the sound of trainers running off into the distance. As my dignity had already departed, I was entirely unharmed. Obviously, they had made off with everything I had. Unluckily for them, I had spent the night getting rid of everything I had. They got away with a crumpled 10 Euro note, a hotel key card and a cheap mobile phone with no credit.
To make proper records these days is really an act of lunacy
Unluckily for me the memo section of that phone's memory was the place I kept all my shorthand notes for the songs I was planning to write in the year to come. Cryptic phrases such as "All the dads go dogging in the pale full moon…" and "Hounds, crows, crabs, drains, vulture's tongues, leeches, chains..." would mean nothing to anyone else. To me they were code keys for a plethora of new compositions that had been brewing for ages.
I mention this story only because at the beginning of this year I realised that the two projects I had been building towards for some time – The Men They Couldn't Hang's epic comeback album The Defiant and Naomi Bedford's eagerly awaited second album A History of Insolence – were going to coincide. More than that, they were going to collide. I was going to need every morsel from my songwriter's cupboard; every line, every sketch, every chorus. I was going to have to work hard, work fast and bluff like mad. I could have done with every scrap from that phone.
It's a good job I enjoy a bit of pressure. And it's my great fortune to be involved in both these unique musical adventures. I have been TMTCH's mandolin player and majority songwriter for 30 mad years and they are my best friends. I have been Naomi Bedford's musical collaborator for five years and I'm also her boyfriend (pictured above). TMTCH's music is, by turns, a thumping, thunderous stew of punk, Celtic brawn and the communal euphoria of a packed bar on a Saturday night. Defiantly male. Naomi Bedford's music is a haunting, keening mix of lament, country melancholy and heartfelt pleading. Insolently female. I would have to walk the tightrope between the two with both fingers firmly crossed.
Now I confess that I do hoard songs. Bits of chorus, intro hooks, titles; but sometimes it's entire songs; ones I can't bear to let go. I call them the secret songs and they comfort me in the same way that hidden money comforts a miser. But this was no time for hoarding so out they came like long locked away jewellery; the Agincourt song, the Mayflower song, the song about the night that Hank Williams met Woody Guthrie. It was a good start but not enough: I would have to write seven songs in three months. At that point I did what I had always done: I researched. I made notes. I researched some more.
I spent a day looking at care home names in the Yellow Pages. I crossed the River Hamble six times on the ferry. I found and read the original Riot Act. I took photos of the woods outside the Hampshire village of Cheriton. I filleted a sinister letter to claimants from the DWP. I studied an Atlas for an hour to calculate how far a raft would have to drift from the Glorious Isles before it reached the coast of Zanzibar. And then, armed with information, I grabbed my guitar and started to write.
To make proper records these days is really an act of lunacy. The hours are endless, the admin is crippling and the returns are pitiful. Only the crazy, the egotists and the utterly committed have the willpower. Perhaps that will lead to better records. I only know that from January to July I rode the two horses at a canter; from sunny afternoons in Sussex to mad, binge-filled nights in South London. Two moments stand out: watching Naomi duet in perfect harmony with Justin Currie on the old ballad "Gypsy Davy" and going for the live take of "Raising Hell" with TMTCH, feeling the chemistry interact and propel our trademark euphoric sound into the rocking stratosphere. There is nothing like it. All in all it has been the most satisfying year of my life.
A History of Insolence by Naomi Bedford is out now
The Defiant by The Men They Couldn't Hang is released on 22 September
Overleaf: compare and contrast the videos of "Raising Hell" and "Gypsy Davy"
Naomi Bedford sings "Gypsy Davy" with Justin Currie
The Men They Couldn't Hang perform "Raising Hell"
The Men They Couldn't Hang's music is defiantly male. Naomi Bedford's is insolently female
Explore topics
Share this article
Subscribe to theartsdesk.com
Thank you for continuing to read our work on theartsdesk.com. For unlimited access to every article in its entirety, including our archive of more than 10,000 pieces, we're asking for £3.95 per month or £30 per year. We feel it's a very good deal, and hope you do too.
To take an annual subscription now simply click here.
And if you're looking for that extra gift for a friend or family member, why not treat them to a theartsdesk.com gift subscription?