Edinburgh Fringe: Flap!, The Famous Spiegeltent
Edinburgh Fringe: Flap!, The Famous Spiegeltent
Wizards from Oz jazz up the heart of George Street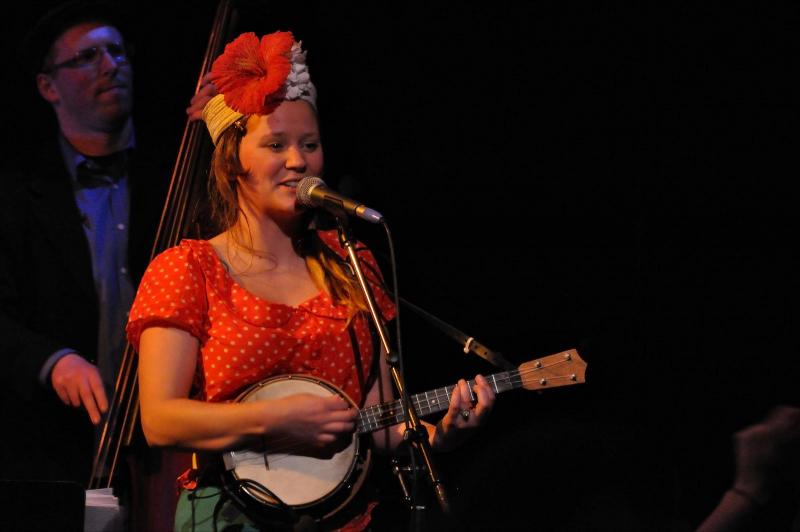 Jess Guille: not as innocent as she looks
Towards the end of a ridiculously easy and enjoyable hour spent in their company, Flap!'s singer and ukulele player Jess Guille described "Rock in Space" as "jazz-folk-disco" – and, you know, it kind of was. A bawdy, slap-happy five-piece from Melbourne, their root note is pre-war American jazz, but to that foundation they add ska, gypsy music, blues, folk and flickers of more contemporary styles, mixing them all together with deceptive ease.
And although their defining aim is to get the audience to laugh, dance (and drink), they can really play, too.
Guille alternated lead vocals with Eamon McNelis, who also plays trumpet, and they made a charismatic double act. The grinning, wide-eyed Guille, in particular, has an enchanting stage presence, though she's clearly a lot less innocent than she looks, judging by her near-the-knuckle lyrics and between-song stories about going to Copenhagen on holiday and having such a good time "I came back with a heart condition. Yay!" When she kicked off her boots after the first song everyone in the audience metaphorically did the same, the dance floor quickly filling with bodies of all ages.
The songs betrayed a humorous, literate dedication to the art of mild degeneracy
If the dress code was slightly faded pre-war glamour, riverboat elegance and boho chic, the music was a ribald meeting of ukulele, trumpet, trombone, double bass and drums. The styles may have been old but the majority of the songs were new. Betraying a humorous, literate dedication to the art of mild degeneracy, they involved beer, sex, beer, death, beer, nudity and – in "Billy Hunt" (not The Jam number) – a convict who tried to escape by dressing up as a kangaroo, complete with a "hop, hop, hop" refrain. "The Bogeyman", meanwhile, name checked "Old Man Fritzel".
They set a generally frenetic pace, the exception being a slinky, sexually frank ballad from Guille which wouldn't have sounded out of place coming from the mouth of Amy Winehouse. The two covers were well chosen: an inspired resetting of The Steve Miller Band's "Abracadabra" and a sprint through "Enjoy Yourself", introduced by Guille with words which seemed to sum up the band's entire ethos: "Have fun as often as possible because one day you're going to be FATALLY dead!"
I suspect five o'clock in the afternoon isn't the optimum time to see Flap! (they would clearly be a riot in the well-oiled early hours) but see them you should. They convey an energetic and infectious sense of fun while playing up an absolute storm.
Watch Flap! performing "Polly Vaughan"