Earth, Wind & Fire, Royal Albert Hall |

reviews, news & interviews
Earth, Wind & Fire, Royal Albert Hall
Earth, Wind & Fire, Royal Albert Hall
Soul survivors prove that they've still got the groove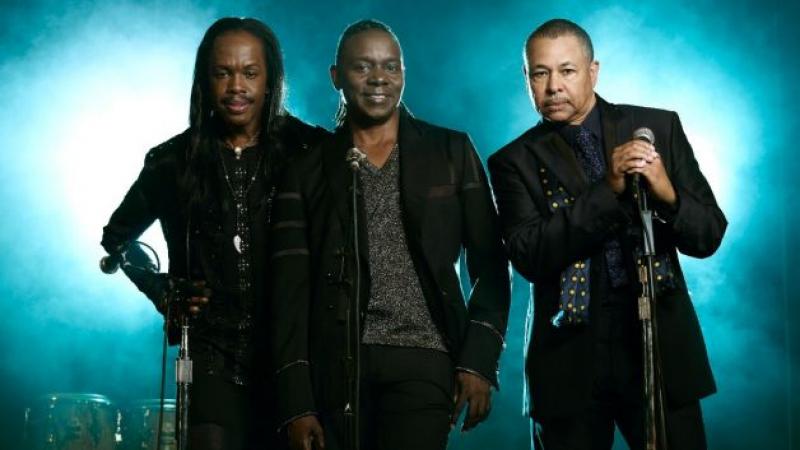 Phil Bailey (centre) leads the reincarnated Earth, Wind & Fire
"We got 42 years of music to lay on you" is an audacious opening statement for any live band, but when the speaker is Phillip Bailey, lead singer in the current reincarnation of the legendary Earth, Wind & Fire, it is a statement of intent.
Playing at the palatial Albert Hall in support of their new album
Now, Then & Forever
, the current line-up of young session players, complementing the core trio of Bailey, bassist Verdine White and drummer Ralph Johnson, proved without a shadow of a doubt that they still have the energy and skill to hold a crowd enraptured.
This is one of the first tours to be conducted without Maurice White, the founding member, percussionist and singer who was the most recognisable force in the band's constantly evolving line-up. Not that you would know it though. Bailey does a sterling job of bringing the band's considerable catalogue to life. The contrast between his sweet falsetto and White's tenor voice, once a hallmark of the band's sound, is now a group effort, with every member contributing vocals almost equally. The group do a fine job of replicating the magic of those early recordings.
It is easy to forget how many hits Earth, Wind & Fire have penned during these 42 years
The young rhythm section tear through hits released decades before they were born with a spellbinding level of virtuosity that brings new album tracks such as "Love Is Law" to life, as well as those perennial classics that everyone is here to enjoy. "That's the Way of the World", "Reasons" and "Devotion" are all played to a rapturous reception. In fact, it is easy to forget how many hits Earth, Wind & Fire have penned during these 42 years, and the crowd is treated to a cross-section of them, with every corner of the Albert Hall filled with their all-encompassing sound. The audience, while slightly resembling the deck of a Saga cruise, is both receptive and joyous. How could they not be?
One minor gripe is the loss of the Egyptology and cosmic imagery that coloured the aesthetic of the 1970s incarnations of the group. These days it seems cast-offs from Michael Jackson's Bad era are the order of the day. Bands such as Funkadelic have proved that there is a market for acid-drenched nostalgia, and the performance, while stunning, felt a little safe. One member who seems not to have changed at all in these 40-odd years is bassist Verdine White. In possession of a manic energy that does not once let up for the show's duration, he is the personality of the group. His impressive coiffeur not once displaced as he stalks the stage, smile printed on his face, the remainder of the band draw their power from him.
Earth, Wind & Fire have laid down a template for how to age gracefully as a group, and their music is as potent now as it was in their heyday. Catch them while you still can.