Crowded House, Usher Hall, Edinburgh |

reviews, news & interviews
Crowded House, Usher Hall, Edinburgh
Crowded House, Usher Hall, Edinburgh
A night of eccentric communion from Kiwi rockers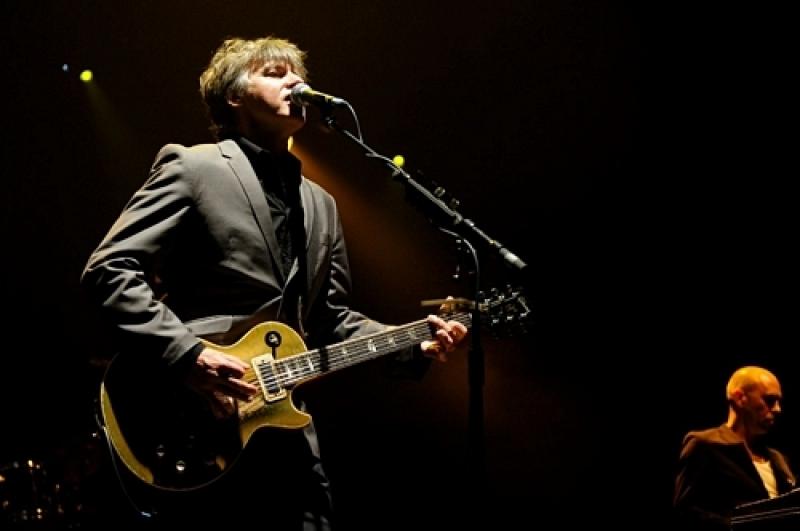 Crowded House: 'It started to get really weird about eight songs in...'
When the moment finally arrives for the Great Rock Reckoning, it's hard to say where Crowded House will figure. There was a time, around 1993, when they looked like heirs apparent to U2 and R.E.M., ready to make the step-change up to the out-of-town sheds and the weekend fan-boys. They broke up rather than have to grasp that particular nettle, and the moment duly passed.
Now in their second phase, having reformed in 2006 with Matt Sherrod replacing former drummer Paul Hester, who committed suicide just over five years ago, they remain an intriguingly indistinct proposition. Their albums, save for Woodface and particularly the superb Together Alone, have tended to be patchy, and it would be hard to make a plausible case for the band being either influential or particularly significant in the general scheme of things. You certainly couldn't call them fashionable.
Yet at his peak Neil Finn is undoubtedly one of our truly great songwriters, combining an odd, abstract lyricism with a deep sense of humanity and the kind of cast-iron melodic hooks McCartney could once routinely summon at will.
Crowded House never did become U2, but the trade-off is that they remain capable of connecting at a very immediate level. Throughout last night's show in the splendour of Edinburgh's Usher Hall, they happily surfed a precious spontaneity that no big-screen, click-tracked, samples-in-the-box enormo-band is remotely capable of producing. What they have in spades is old school ease and the charisma to make every show feel like a fleeting moment in time that can never be repeated or captured. In 2010, this is far, far rarer than it should be.
Trotting on stage in a dapper dark suit and pipe-cleaner strides that made him look like an elegantly aging stand-in from A Hard Day's Night, Finn was in superb form throughout, neither his voice nor enthusiasm showing any signs of decline as he edges past 50.
Visually, the set was a study in benign eccentricity. Glowing geese, rabbits, bears and toadstools festooned the stage, lending it a rather magical, vaguely lysergic feel when the lights dropped. They hit the ground running with "Mean to Me" and "World Where You Live", before dutifully popping into the cul de sac marked New Stuff. I've been living with the sixth album, Intriguer, due on 14 June, for about a week now, and it has been typically coy about revealing its charms. Last night "Saturday Sun", the new single, remained a little lumpy and unconvincing, but some freshly fired winners were revealed in the form of "Elephants" and "Either Side of the World", while "Don't Stop Now", from previous album Time on Earth, has settled into something resembling an old favourite
But the gig was more about past glories than plugging the new material. In fact, at times the music was a mere adjunct to a slightly more surreal narrative. It started to get really weird about eight songs in, when a sofa was carted on stage, followed by a hostess trolley bearing a cake and a large teapot. It transpired it was Finn's wife's birthday, and she duly was cajoled onstage and sat sipping tea as her husband serenaded her with an apparently impromptu "Kare Kare" and a tender strum through an old B-side, "I Love You Dawn". Drummer Sherrod, a natty dread in waistcoat and tie, fired off a solitary party popper.
Rarely had any act seemed less inclined to let an audience suffer for their art. Crowded House are perhaps the only band willing to indulge in onstage banter about rugs, or play a demo CD by a fan's group over the PA while trying to jam along. Inspired by a dedicated drinker in the front row who seemed to be on a one-woman mission to rid Edinburgh of alcohol, they extemporised a one-for-my-baby style saloon bar show-stopper eulogising the white wine spritzer, and later worked up a Deee-liteful spontaneous funk jam.
In between all this easeful fannying around, they casually unpeeled a two-hour set liberally stuffed with immutable evidence of Finn's songwriting gifts: "Better Be Home Soon", "Distant Sun", an inch-perfect "Love This Life", a raucous "It's Only Natural". The encore was a 5-4-3-2-1 reverse countdown through the inevitable crowd-pleasers – including "Fall at Your Feet" and "Weather With You" - before it all ended with bassist and able comic foil Nick Seymour givng one wildly overzealous fan a "Bushman's kiss" – which seemed to be located somewhere between France and Glasgow - and launching into "Don't Dream It's Over", which these days has the stately grace of an old hymn.
There's nothing postmodern or clever-clever about what Crowded House do. You can't really throw around words like meme or meta when you talk about their music, they're not here to challenge or disrupt. They may not be one of the featured acts when it comes to chiselling out the bill on rock's final tablet of stone, but their purpose is quietly profound: providing a point of communion that is neither messianic nor contrived, but rather simple and soulful and full of a kind of shambling grace.

Below: Crowded House perform "Fingers of Love" at their 1996 farewell concert in Sydney
Explore topics
Share this article