Common People Festival, Southampton |

reviews, news & interviews
Common People Festival, Southampton
Common People Festival, Southampton
Grace Jones and Clean Bandit headline a boisterous new event from the Bestival crew
A spectacular sunset, just before Grace Jones, as ordered in a covenant with arcane deities
Perhaps it was after Bestival 2008 that its organizer, Rob da Bank, made his pact with the ancient gods. That year the Robin Hill Country Park site was reduced to a cold, sleet-raked, tornado-blown mire. The event truly lived up to every overuse of the word "mud" the British media hurls about eagerly each festival season. It was then, presumably, that da Bank, together with his acolytes in necromancy, turned to the pagan arts to facilitate positive weather conditions for future events.
It was a piece of epic sorcery that's mostly held fast since.
The Bestival organizers forfeited their souls to nameless entities worshipped during the time of druids, but we are the beneficiaries. The rain-front that pushed across the UK on Sunday bypassed Common People, their latest extravaganza, completely. What a glorious day out everyone had instead. While I will happily tramp through mud, if necessary, a festival untroubled by British weather makes life easier.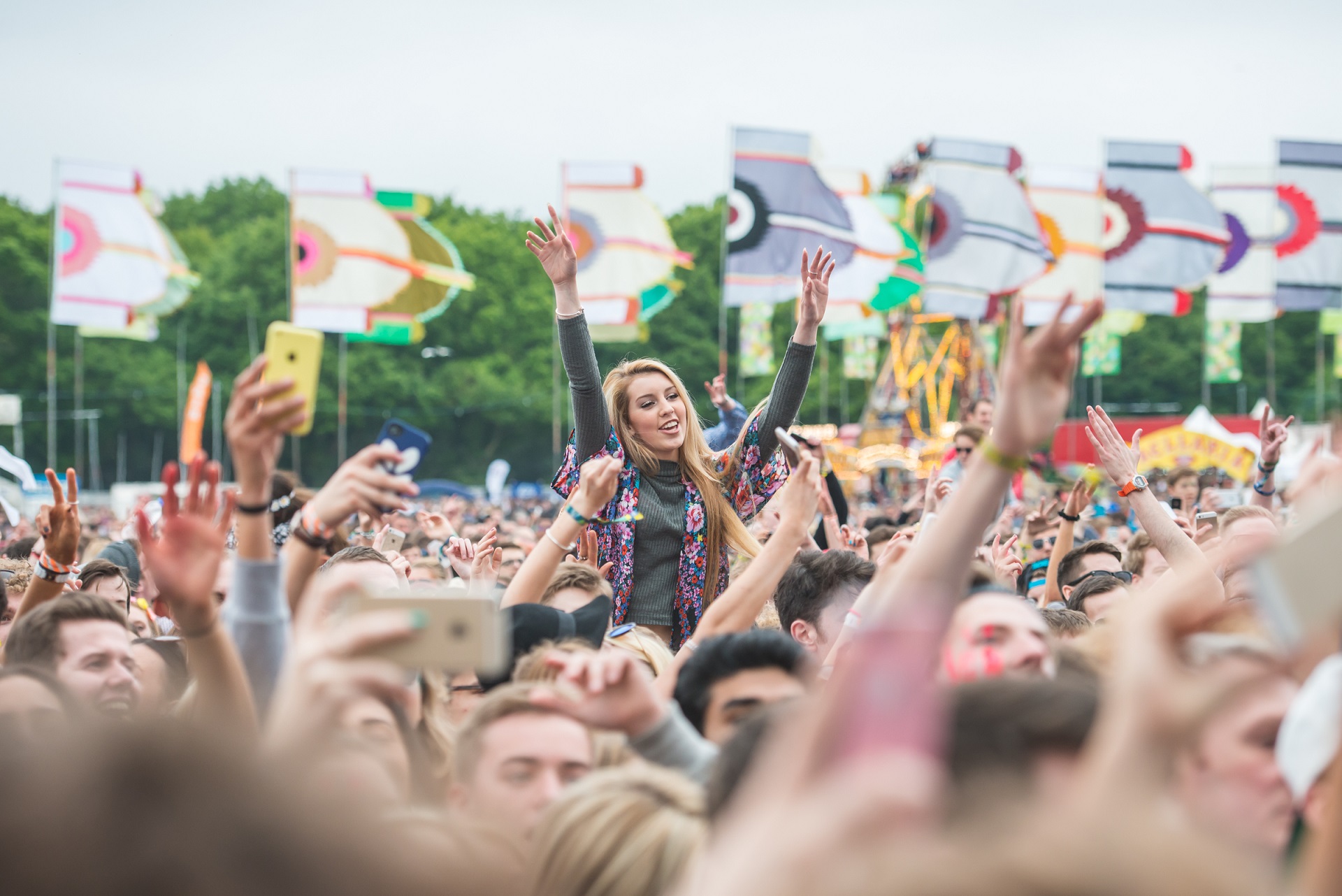 I attend with daughters aged 12 and 17, who immediately comment on arrival, "This is just like the whole Camp Bestival squashed into a smaller space." And they're right, but that's no bad thing. Southampton Common is a tract of open land, around a third of a mile long, surrounded by forest. Common People used it intelligently. At the northern end are the main stage and the Big Top dance tent, halfway across the site lie hordes of food stalls, as well as curiosities such as a sanctuary for knitters, announced by a caravan covered in a cosy, and a giant, multi-coloured, knit-patched Rastafarian lion's head. Then, at the far southern end, away from the noise, is a child-friendly section, where families mill about among giant swings and laid-on activities. I didn't explore these extensively as mine are grown, but it appeared to have the same rich attention to detail as the grown-up entertainments. That said, this is not the Arabella-at-Waitrose environ of Camp Bestival. Southampton's youth are out in force, and this place is not nearly as over-archingly middle-class.
This review focuses almost exclusively on the main stage, as that seemed to host the most exciting action. The Big Top boasted Chicago house don Derrick Carter as headliner and there was an Uncommon Stage, featuring acoustic acts, while the Day of the Dead Cocktail Bus also had a DJ line-up. There were a few tiny self-managed stages, ranging from the garage-pop of Capital FM, which had a Saturday night high-street vibe, to the tiny People's Front Room tent, where micro-acts performed to a lucky few sat in armchairs. There had already been, of course, a whole Saturday of Common People which peaked, according to multiple accounts, in a messily up-for-it crowd going mad to Fatboy Slim.
The first act we catch, on a warm cloudy afternoon, is Kitty, Daisy & Lewis, the British jump blues family band. The sisters. Kitty and Daisy Durham, in blue- and black-zipped, glittery catsuits, respectively, are strikingly feisty and sexy, and the band are precision-tuned, with their parents sitting in on double bass and guitar. Their new album, The Third, is, for my money, their first to stand entirely on its own merits rather than as an addendum to their endless touring. Their set draws extensively from it, with a guest appearance by Jamaican trumpet-player Tata, from the lilting skank of the contagious "Baby Bye Bye" sung by brother Lewis, to the horny throb of "No Action". Unfortunately, the band had technical problems, notably with microphones, which took from their lively, instrument-swapping performance.
Next up, as the first few ciders settled in, came Slaves (pictured left). I've missed the rise of this lot, a Kentish punk duo playing guitar and stand-up drum. With their shaved heads, well-toned bods, guitarist Laurie Vincent wearing a pink tee-shirt and white jeans, and their lurid fluorescent backdrop featuring two Bichon Frisé dogs, they look like an amalgam of Oi!-era skinhead and gay club subculture. Their music, though, sounds just like cast-off 1977 punk, with a tiny hint of grime/hip hop chat. It's a laugh, basically, with tunes that say "Cheer Up London" or the enjoyably silly "Feed the Mantaray", during which a roadie crowd-surfs dressed in a ratty mantaray costume. For those long enough in the tooth for such a comparison to mean anything, they remind more of the Toy Dolls than the Ruts. And the crowd loved them for it. The explicit politics and genuine bite of punk, however, are missing.
My daughters want to take phone-photos of the next band, Years & Years, to Instagram and Snapchat, and make their friends jealous. They both make it very clear they don't like the band themselves. It's just that lead singer Olly Alexander (pictured right) is a heartthrob among their peers. When he arrives onstage there's the only proper, massed fan-girl scream of the day. It's not something you often hear at festivals, that shrieking, but here it is. Years & Years won the BBC's Sound of 2015, implying they have something interesting to offer. Instead they ply rancid headphone flatulence like a boy band version of Hot Chip, only much, much worse. Airy, Autotune-style vocals treacle about coyly over sappy, forgettable pop-house. It's plastic – not in a positive, post-modern sense, just unimaginative, production-line drivel. They are, indeed, the sound of 2015, as is born out by their chart-topper "King", but this says more about contemporary mainstream tastes than acting as a benchmark of quality.
We leave their dreadfulness halfway through, seeking food. Suitably full of fish'n'chips (daughters) and chilli (me), I open a sneaked-in bottle of Jack Daniels in time for Band of Skulls. You have to sneak booze into these alcohol-from-the-bar-only events or, if you like a drink, as I do, you'd spent way too many tenners (especially if covering children's drinks too). I reckon I blew £60 over the course of the day, even with my illicit JD, so the Common People bars didn't do too badly off me (nor did the helter skelter at £2 a pop, but who doesn't like a bit of helter skelter action?).
Band of Skulls are local Southampton heroes, a three-piece whose music is in the tradition of White Stripes, Deap Vally, Black Keys et al. After the sonic fart of Years & Years they're a breath of fresh air, effortlessly ripping out squalls of blues-rock guitar, but they lack memorable songs, something I've found with their equally 3/5 albums. Well, except for one number, "I Know What I Am", with female bassist Emma Richardson vocally duetting with guitarist Russell Marsden (pictured above left). The "It's alright, it's OK" chorus is mighty fine, as is the driving guitar solo. They go down deservedly well.
The act my daughters have been waiting for all day are next. The festival has been punctuated by my oldest singing the opening notes of Clean Bandit's monster hit, "Rather Be", something she annoyingly continues to do at the start of every song when they play. They are everything Years & Years are not, a modern pop act, well-liked by actual, real, live young people, who blend contemporary, phone-friendly production with something more interesting. The virtuoso string-playing of Neil Amin-Smith and Grace Chatto is part of the Cambridge quartet's appeal but it's as much down to toothsome songwriting and a hint of post-dubstep dancefloor grit. Amin-Smith's chiselled good looks (approved by both daughters) undoubtedly help their sex appeal. His face has a suitably moody aspect until singer Elisabeth Troy (pictured above right) starts playfully sparring with him late in their set. Chatto, meanwhile, is the dynamo at the heart of the band, a likeable, bubbly presence in a black all-in-one who romps about the stage like her own hype-woman. Troy takes the vocal spots filled by Jess Glynne and others on the band's 2014 album, New Eyes, and doesn't appear to have aged a day since fronting early drum & bass tunes 20 years ago. She must well recall Robin S's 1990 pop-rave classic "Show Me Love" which they cover with aplomb. Combining classical and pop is almost impossible to do without sounding like pretentious arse, but Clean Bandit nail it in a set that, inevitably, culminates in "Rather Be", with one daughter on my shoulders and the other jumping about like a loon.
Clean Bandit are where Common People's Sunday peaks for many (the young, let's face it) but Grace Jones (pictured left) is their equal and, in terms of a show, their superior. Arriving as the sun sets beautifully, pink in a sky of scudding clouds, her set is a masterclass on teetering between improvised mania and choreographed showmanship. It has a heart of controlled funk and disco while Jones's stentorian tones are intact at 67, but the theatrical icing on her cake is as much Caesars Palace, Las Vegas, as Studio 54. There are costume changes galore, precarious headdresses, African masking, a voodoo male pole-dancer and strongman, a trip into the crowd on a security man's shoulders, theatrical demands for more wine, impressive hula-hooping stamina, a climactic tickertape spectacular, fireworks, and a killer final duo of "Pull Up to the Bumper" and "Slave to the Rhythm".
Much of her visual imagery looks like the very gods that da Bank's crew must have made their weather sacrifices to. Perhaps Jones is one of the said deities: I wouldn't put it past her. Whatever she is, ageless disco freak, mostly, she finished Common People in wild style. "I'd forgotten how much fun festivals are," said my youngest as we traipsed away into the forest night. She says this at the beginning of each summer. I feel the same way. The 2015 season has begun. Bring it on.
Halfway across the site is a sanctuary for knitters, announced by a caravan covered in a cosy, and a giant, multi-coloured, knit-patched Rastafarian lion's head
rating
Share this article