CD: Fairport Convention - Myths & Heroes |

reviews, news & interviews
CD: Fairport Convention - Myths & Heroes
CD: Fairport Convention - Myths & Heroes
Old school folk-rockers prove they can withstand the test of time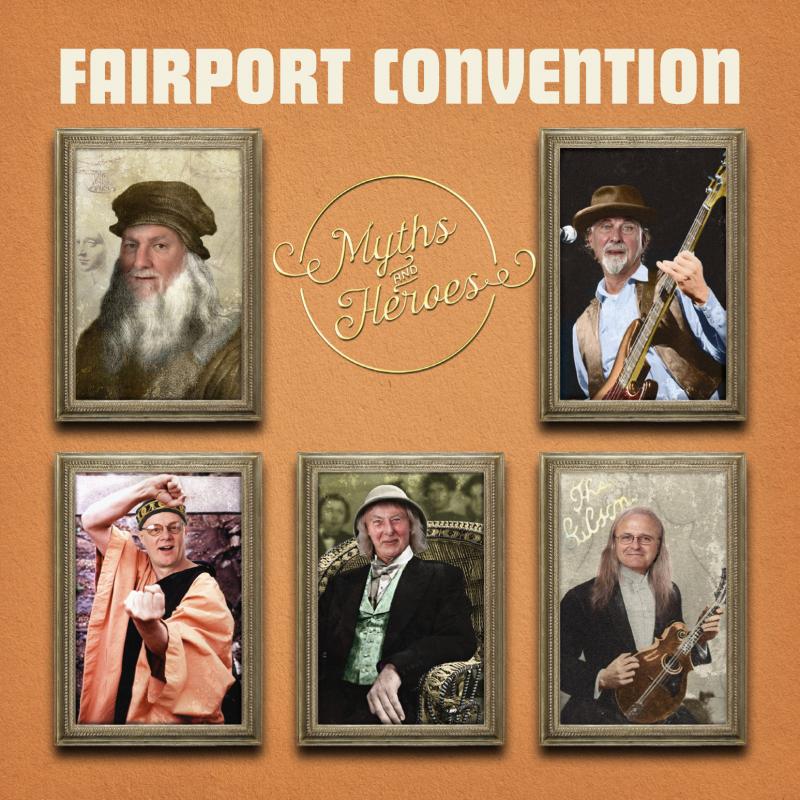 Folk-rock's founding fathers prove less adept at Photoshop
Fairport Convention might have been around for almost 50 years, but they still clearly know how to deliver timeless quality. Their new album, made up of all new tracks (a departure from the previous album By Popular Request which comprised re-recorded oldies-but-goodies) – some written by band member Chris Leslie with guest tracks by folk legend Ralph McTell and multi-faceted Anna Ryder, ties in with a UK tour running until the summer.
Myths & Heroes is well put together, a mixture of jaunty upbeat melodies, romantic fiddle, old school folk and a good old Celtic resonance. The album opener – "Myths & Heroes", is a contagious, buoyant track. It's written by Leslie, who also penned the rocky and romantic "Love At First Sight" and story-song "Grace And Favour", about the fabled lighthouse keeper's daughter Grace Darling, who helped rescue sailors from a shipwreck in 1838. A further demonstration of his poetic narrative talent comes with the mellifluous "Theodore's Song" about a watch-maker, heavier on the instrumental and with strong folk echoes.
But it's the lullaby-esque "John Condon" by Richard Laird, Sam Starrett and Tracey McRory that really tugs on the heart strings in terms of lyrics and composition. It's an elegiac piece about an Irish soldier – thought to be the youngest allied soldier killed in the First World War – who tragically died in service at the age of 14. It's heartbreakingly atmospheric, telling of "the waste of youth that lies forgotten" and "heroes who won't come home." The harmonies of McTell's Clear Water tells of history best left unwritten while Ryder's "Bring Me Back My Feathers" is full of traditional rustic folk sounds, with foot tapping rhythms, driving banjo and fiddle. The songs are interspersed with welcomed instrumental pieces such as the rushing, twanging strings and added brass of Ric Sanders' scintillating "The Gallivant" and the sweet tones of the album's final piece "Jonah's Oak" – a nod to Cropredy, where the Fairport Convention's annual festival takes place.

The quality and mix of the musicianship – Leslie's mandolin and fiddle, Ric Sanders' electric violin, Simon Nicol's characteristic guitar and vocals and bassist Dave Pegg's guitar work, (despite an injured tendon from an accident not being completely healed) combine with Gerry Conway's drums and percussion in a sound that is spirited, heartwarming and melodious. It's testament to Fairport's enduring talent that Myths & Heroes is iconic and at the same time fresh. They might be folk-rock's founding fathers, but there is something new to enjoy here in their most recent album.
Myths & Heroes is well put together, a mixture of jaunty upbeat melodies, romantic fiddle, old school folk and a good old Celtic resonance
rating
Explore topics
Share this article