Brighton Festival: Tindersticks, Brighton Dome |

reviews, news & interviews
Brighton Festival: Tindersticks, Brighton Dome
Brighton Festival: Tindersticks, Brighton Dome
Masters of melancholy fulfil their cinematic leanings with this poetic "cine-concert"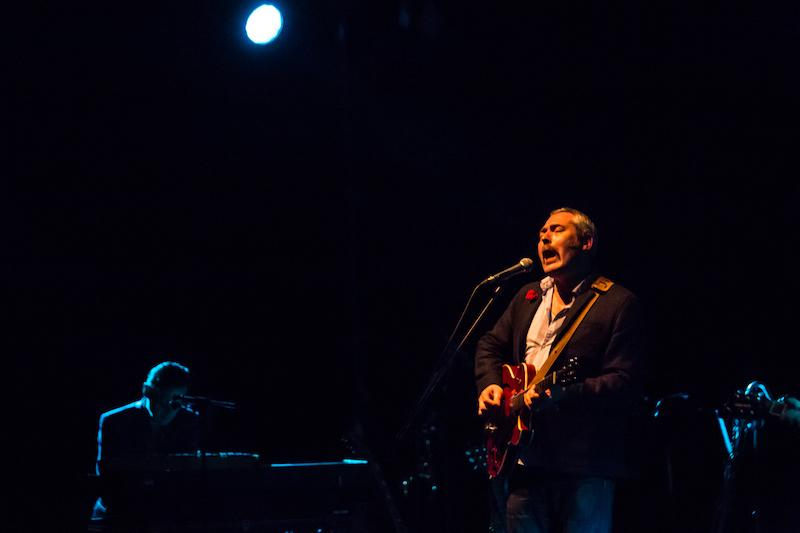 Tindersticks celebrate ten studio albums' worth of crooning at the moon in this cine-concert
Tindersticks certainly know how to instill a mood. Outside the Dome Concert Hall the start of the Brighton Festival is in full swing, with a proliferation of tents, parades and shiny happy tourists drinking in the sun. Inside, Stuart Staples is singing "don't let me suffer" in a wracked warble to a video of a lone woman floating naked in a distorted swimming pool.
Masters of all kinds of musical melancholy – creeping kinds, seething kinds, billowing kinds and above all achingly beautiful kinds – Tindersticks are currently touring their tenth studio album. Each song on The Waiting Room comes with its own film, made by various arty independent directors including Staples himself. For selected live shows they are playing the album through in full, with the accompanying films screened behind them.
You wonder what took them so long. The Nottingham band have recorded numerous film scores, and the studio albums have often felt just as cinematic. They deal committedly in morose lounge jazz, soul ballads and expansive, discordant instrumentals, played on guitars, organ and glockenspiel, sometimes brass, sometimes strings. But individual songs are as unpredictable as the weather. Tonight, with the addition of top jazz composer Julian Siegal on brass (turns out he's an old school friend of Staples'), you truly appreciate the range and invention in their arrangements.
Wracked warble wasn't quite right, by the way. Staples' extraordinary voice is more like moth-eaten velvet. Actually, make that a lugubrious sink-hole. Eeyore in a lounge suit? Chris Isaak with the damp setting in? No, still not quite it. But we can tell you that it's getting more impressive with age. The frontman's voice is also, happily for fans of his elegiac lyrics and narrative spoken-word numbers, getting more intelligible. You still can't quite tell if he's singing "open your eyes" or "open your thighs" on 2003 single My Oblivion (the album play-through is sandwiched between two sets of the band's greatest misses). But then that's a very Tindersticksy sort of ambiguity.
The 11 accompanying films range from the nostalgic to the foreboding, taking in speeding motorway scenes, a prosaic stroll through an airport for the afrobeat-tinged Help Yourself, and a panning shot over a rusty Ferris wheel for the instrumental Planting Holes – on which percussionist Earl Harvin rattles his drumstick in a suspended cooking pan. Hey Lucinda, recorded as a duet with the late Lhasa de Sela, plays out to a time-lapse film shot outside a dilapidated amusement park.
The films are richly poetic, the band's playing effortlessly sensual, the sound so pin-point you could hear cigarette ash drop onto a crumpled lapel. Tindersticks prove there are far more than 50 shades of grey.
Stuart Staples' voice is like moth-eaten velvet, and it's getting more impressive with age
rating
Explore topics
Share this article