Bookworm Babies, Royal Festival Hall Ballroom |

reviews, news & interviews
Bookworm Babies, Royal Festival Hall Ballroom
Bookworm Babies, Royal Festival Hall Ballroom
Can hip-hop appeal to a crowd half of whom can't speak yet?
Wednesday, 23 February 2011
Charlie Dark works a difficult crowd with words, gestures and beats
Rap audiences are not renowned for being easy to please – but it's a daring performer indeed who is willing to stand up and drop lyrics in front of some couple of hundred babies and toddlers. Yes, as television's Rastamouse has brought reggae culture to Ceebeebies viewers, so this week DJ, promoter, teacher and poet Charlie Dark has been breaking down the elements of hip-hop for those who are more pre-school than old-school.
The free event sounds like a recipe for the worthiest kind of (literally) down-with-the-kids bowdlerisation of a music scene, so it was with some trepidation I strapped my one-year-old into his carrier and made for the Royal Festival Hall.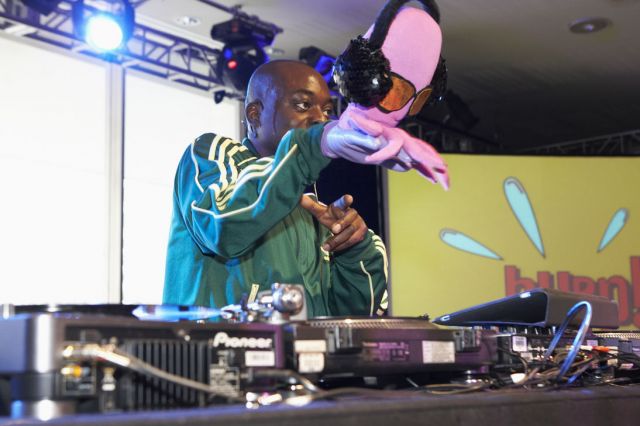 The audience area was adorned with party decorations and flashing disco lights, and immediately engaged the little ones. As the toddlers rolled, tumbled and rampaged around to a soundtrack of funk instrumentals, it became increasingly hard to imagine how any performer was going to manage to interrupt this cartoonish riot. Somehow, though, when Charlie Dark took the microphone, he more or less managed to command the room's attention, and just about kept the chaos in check.
From the off, it became clear that this wasn't a kids-TV-presenter version of rap, but a demonstration of the artform's first principles to show exactly where its basic appeal lies. Dark demonstrated how the rapper's hand gestures – so often lamely imitated and misunderstood by parodists – serve to extend the body in space, to command attention, and, as he explained, "to make you feel like a superhero". These amplifying gestures, the bodily stance of the breakdancer, the percussive syllables of rapper and beatboxer, the fluid hand movements of the DJ: all evolved in order to command rowdy audiences, and all have a base-level appeal that even a pre-verbal baby could (and in my boy's case did) clearly find fascinating.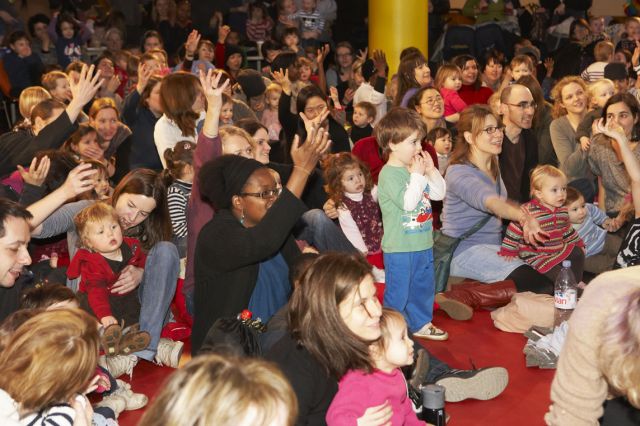 Dark used puppet characters including a blowfish beatboxer and an octopus DJ to conjure up an undersea world, getting the parents into call-and-response routines and even a few dance moves in order to keep a direct connection to the crowd. And for the most part it really came off, and with a robust sense of humour to boot. It's clearly a work in progress, the sort of untried activity that can only be developed in front of its intended audience, so it stumbled occasionally - particularly on a routine about mermaids and why mums are great - and began to lose some of the audience including my slightly sleepy companion by the final few minutes of the rap section. But nonetheless it was essentially a very successful experiment, and a great spectacle not just for kids, but for anyone interested in a step-by-step lesson in the basics of hip-hop culture's enduring appeal.