The Black Keys, Corn Exchange, Edinburgh |

reviews, news & interviews
The Black Keys, Corn Exchange, Edinburgh
The Black Keys, Corn Exchange, Edinburgh
Primitive US blues-rock duo reach the peak of their powers on UK tour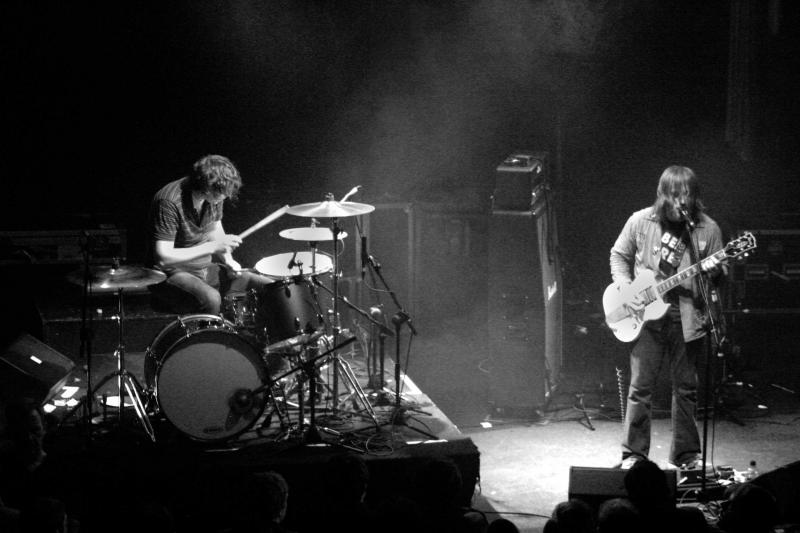 Pat Carney and Dan Auerbach: embracing their inner pop tarts
I last saw Dan Auerbach and Pat Carney's primitive garage blues duo a little under four years ago, touring their sixth album Attack & Release. Truth be told, I found them slightly heavy going. Big riffs, big drums, back-of-a-beer mat lyrics and not much else. Heard one, heard 'em all. My, but they've grown. Or, at least, their audience has.
After a decade's hard graft and eight albums, The Black Keys are suddenly a very big deal indeed. They play three sold-out nights at Alexandra Palace next week, while tickets for a forthcoming show at Madison Square Garden were snapped up within 15 minutes. Grammies, million-selling albums and mainstream radio play is now par for the course.
'Little Black Submarines' was a colossal detonation, like Led Zeppelin playing with industrial explosives
It's a slight mystery why this has happened now, because not all that much has changed. Their whole ethos remains somewhat austere and staunchly economical. Last night's Edinburgh concert was the second in a brief UK tour, and it was rammed to the rafters. The Corn Exchange is a dreadful venue, like one of the riverside meat-packing warehouses where bodies are disposed of in American gangster movies. Only less inviting. And with worse acoustics. But The Black Keys are a band built for business. They simply pummelled their way through.
There was little concession to their new found big league status. They clearly weren't here to put on a show. A bunch of bulbs and a couple of screens showing grainy black and white footage and retro-coloured patterns. That was it. "Let's keep this thing moving along," said Auerbach, and they did. The singer didn't say – or indeed do – very much. When he took off his shirt (fear not, he had on a striped T-shirt underneath) it carried the dramatic charge of a major scene change.
So thank goodness The Black Keys now have a set list crammed with great things like hooks and choruses and glitter and gold. They always made a pleasingly thuggish noise, but it used to be a rather thick, soupy thing from which distinct songs struggled to emerge. Not any more. New album El Camino, produced by Brian "Danger Mouse" Burton, sounds like a Greatest Hits album created by some killer mutation of The Clash, The Cramps, The Sweet, T. Rex and the best of Stax and Motown. "Run Right Back" cut loose like a runaway from Electric Warrior, right down to its brilliantly silly "finest exterior / She's so superior" lyric. "Dead and Gone" sounded like "London Calling" colliding with Motown; "Gold on the Ceiling" was monstrous glam rock. What fun it all was.
Auerbach's guitar and vocals and Carney's drums were augmented by a bass player and organist/guitarist who were introduced as "Gus" and "John", so let's call them that. They added a full-band punch to the newer material but, oddly, the dynamic range of the music seemed more compelling in the middle section, where the pair stripped back to become a duo again. You could see and feel them feeding off one another, Auerbach sliding back and forth across the floor to the foot of Carney's drum kit. Where before the music had been tight and taut, now it began stretching out, getting slow and spooky on "Girl is on My Mind" and hitting a delicious Sam & Dave soul groove on "I'll Be Your Man" from The Big Come Up.
The looser mood continued when "Gus" and "John" returned. After "Little Black Submarines" - a colossal detonation, like Led Zeppelin playing with industrial explosives - the soul influences really began to cut through. "Chop and Change" and "Nova Baby" were deliriously fun and funky, breakthrough single "Tighten Up" slinky and simply irresistible. This, clearly, was a band relishing the chance to embrace their inner pop tarts.
The only slight quibble? Every great Black Keys song is a short, sharp burst of energy, and I suspect their concerts might work best that way too. Sustaining a sense of drama over 90 minutes was a test, particularly when many of the newer songs lacked a little of the slick, contemporary, dancefloor-friendly sheen of El Camino.
But we're splitting hairs. The Black Keys aren't just a fantastic rock'n'roll band at the peak of their powers; they also happen to be writing tune after tune filled with pop-soul hooks you could hang your hat on. And after all, isn't that supposed to be how this thing works?
Watch The Black Keys perform "Gold on the Ceiling" on The David Letterman Show
There was little concession to their new found status. They clearly weren't here to put on a show
rating
Share this article