Beardyman, Old Market, Brighton |

reviews, news & interviews
Beardyman, Old Market, Brighton
Beardyman, Old Market, Brighton
Beatbox genius hits the south coast with his new show
Thursday, 22 October 2015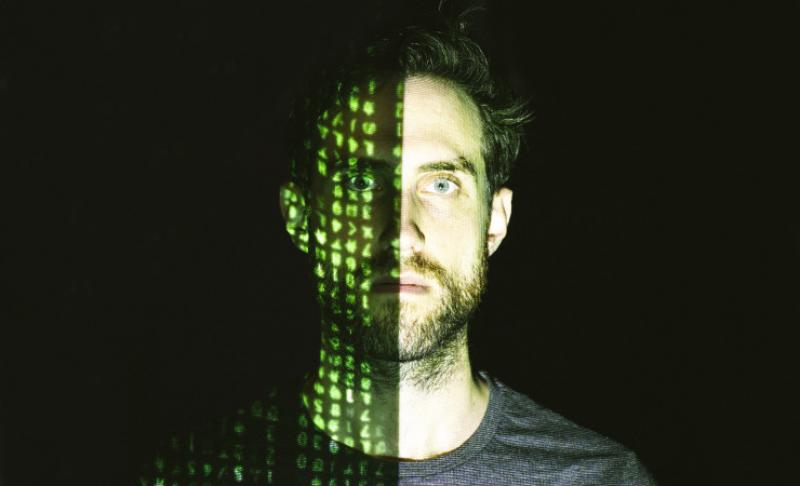 Light on beard, despite the name, but heavy on skills
Standing in front of a table filled with small consoles, Beardyman reaches into a blue bucket for an audience-suggested title to the next song he'll create live, from scratch, in front of us. "The Muppets on Trial" is what he ends up with.
Tapping speedily at the equipment
–
presumably his custom-designed Beardytron 5000 Mk II – he loops his own beatbox percussion and haunting soundscape noises into a backdrop, then starts a preposterous dialogue wherein he does an extended impression of Miss Piggy in court, relating how Kermit mistreats her. As the song goes on, she and Elmo from
Sesame Street
make a plan to rid themselves of Kermit once and for all. The music grows increasingly horror film sinister, while also riding a compulsive techno-house rhythm. It's very funny, but also redolent of a 1990s dance music micro-trend for disturbing subject matter, old school tunes such as Bam Bam's "Where's Your Child" or 4Hero's "Mr Kirk's Nightmare". Beardyman's juxtaposition is surreal and spot on.
The name of this show is One Album Per Hour and the idea is that Beardyman will take titles scribbled by us, the audience, on slips of paper before the show, and turn them into songs, their genres dictated by shouted suggestions from the capacity crowd. Tonight is part of the Brighton Comedy Festival, but it says much about his talents that he regularly helms proper rave-ups in festival dance tents. This is because 33-year-old Londoner Darren Foreman's act can turn beatboxing and cutting-edge technology to either end - laughter or dancing or, indeed, both at once.
There's a much-applauded, weirdly cathartic sequence based around David Cameron's indiscretions with a dead pig
The venue is seated and the show comes in two halves, each approximately half an hour. Beardyman, showing little in the way of beard and dressed down in a tee-shirt that says "Get Rich Or Try Sharing", has the stage persona of a haphazard stoner. This belies the fact he's as sharp as a scalpel and his ability to improvise and build music from the ground up is extraordinary.
During the first half, the titles veer towards the puerile and scatological and we end up with a junglist anthem about poodles and anuses, a superb Motown pastiche called "I Thought I Loved You But I Just Needed A Poo", a calypso number, replete with trumpet and piano, entitled "Square-Bottomed Ballbag", and an bawdy ode to bum-sex, "Starfish Troopers". In the second half, however, he ups his game and the buckets deliver titles to match. He starts by miming a mix between two vinyl records, acapella, complete with hiss and crackle, an amazing feat. Then there's "Blame is Lame" wherein he imagines and performs a street demo against "blaming people for anything", and a much-applauded, weirdly cathartic sequence based around David Cameron's indiscretions with a dead pig. But with "Polar Bear Anthem" he becomes truly inspired. He gives us a ridiculous martial Arctic national anthem followed by a parody of U2 in protest mode, replete with Bono squawking against polar bear injustice.
From there he bounds into, perhaps, the funniest moment of the night, wherein he distorts his voice into deep street hip hop tones and MCs "Original Hamster", dissing the newcomer to his cage. It's hard to top this, but he almost does with the Muppet number and an over-the-top Bhangra cut called "Love Hurts, Lust Cures". Then, after one last minute of gabber ("My Lovely Cat"), he disappears, leaving us laughing but, equally, awed by such a casually displayed supreme talent.
Overleaf: Watch full One Album Per Hour show at the Edinburgh Fringe 2015
During the first half, the titles veer towards the puerile and scatological and we end up with a junglist anthem about poodles and anuses
rating
Share this article