Appraising Billie Holiday's 'Fine and Mellow' - anatomy of a jazz masterpiece |

reviews, news & interviews
Appraising Billie Holiday's 'Fine and Mellow' - anatomy of a jazz masterpiece
Appraising Billie Holiday's 'Fine and Mellow' - anatomy of a jazz masterpiece
The making of a thrilling document about jazz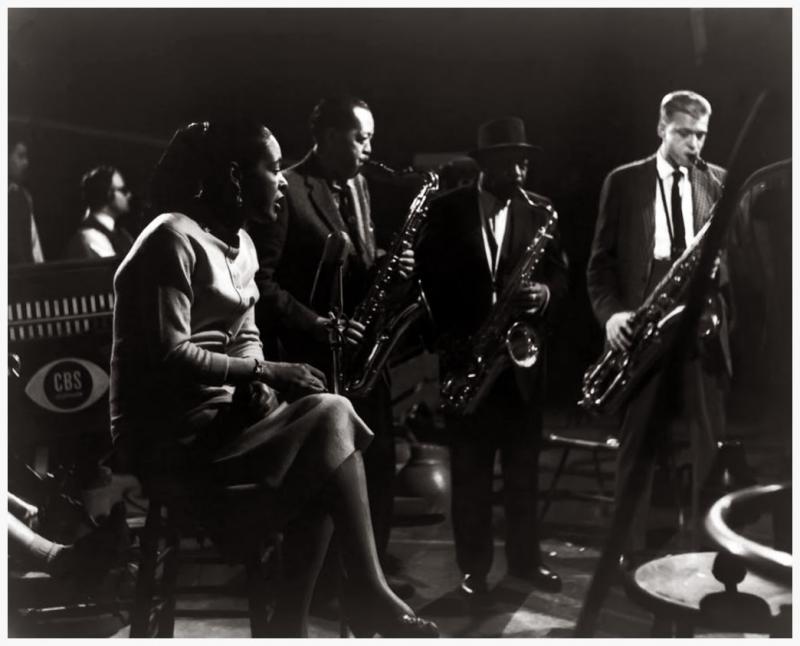 Billie and friends, 1957
On December 8th 1957 there was a heavy snowstorm in New York. Ten elderly jazz musicians struggled to make their way through the drifts to a television studio on 10th Avenue. One of them – the bass player – collapsed in the street, and died in hospital three weeks later. But the others got through because they needed to be there, they wanted to be there to support Billie Holiday, who'd been their close friend and inspiration for more than 30 years.
These legendary players had been assembled by producer Nat Hentoff, to create The Sound of Jazz for CBS Television: Ben Webster, Lester Young, Coleman Hawkins, Doc Cheatham, Roy Eldridge, and Gerry Mulligan. It was an unusual gathering, because although some of these soloists had played together in the 30s and 40s, they now only played solo in jazz clubs. But in 1957, popular music was in upheaval – new voices, new bands, new sounds.
In Billboard's Top 50 singles listing for that year, only one record by a jazz band was included alongside Elvis, Pat Boone and Paul Anka. That is Jimmy Dorsey's "So Rare". It's on YouTube today.
This vividly illustrates the way big dance bands were adapting to the new era, and new recording possibilities (45 and 33 rpm). The leader's solo is distinctly funky, and the rhythm section gives a swinging foretaste of what is to come.
So this CBS session has an historic significance, as the old guard's farewell shout. In the New York studio, the aged instrumentalists were grouped in a semi-circle around Billie Holiday who sat on a wooden stool. This was a clever device of the television director, allowing him to get camera shots of Billie during the solos. It was a jam session, so nobody dressed formally – two of the men wore hats. Billie wore a plain wool dress, her hair tied back in a ponytail. The live performance would feature just one song, written by Billie herself. "Fine and Mellow" is a 12-bar blues about love – the joys and tribulations. In the first verse, she sings:
"My man – he don't love me,
He treats me awful mean.
He's the lowest man that I've ever seen…"
In between the vocal choruses, her band takes turn to play solos. It's collaborative and competitive. Lester Young, Coleman Hawkins and Ben Webster are all playing the tenor saxophone, but each solo is distinctive. The saxophone becomes that player's voice. And Billie is completely wrapped up in each soloist in turn, she's following them, she's hanging on to every note. The solos are improvised, but what they're playing has become like a language that she understands.
She shows her enjoyment, her surprise, her nodding appreciation. Doc Cheatham said later: "You had to be exceptional to play for her. One wrong note, no matter how quiet or short – she would notice it She could let you know something with her eyes, like if the trumpet was too loud."
Several of the players who surround Billie on this occasion had in the past been engaged in what Roy Eldridge called 'a little light housekeeping' with her, so some of these verses will have a special meaning for them.
"Love will make you drink and gamble,
Make you stay out all night long
Love will make you do things that you know are wrong..."
Billie "romances" every musician that she sang with, is how Harry "Sweets" Edison once described it. He played trumpet in the Count Basie band when Billie was the vocalist.
The only white man in the 1957 ensemble is Gerry Mulligan (pictured right) who plays baritone saxophone, and there's a rhythmic gear shift when he takes his solo, playing the ballad in double time. He represents a new generation in jazz – he was hip to the bebop revolution that was then taking place on the West coast. He was only 30 years old. He's also taller than everyone else in the band, he looms over the old men.
Although the original sound-track is mono, the ensemble sound is beautifully realised, although the pianist (Mal Waldron) is inaudible. The saxophones combine to play a subtle accompaniment to the vocals, and the muted trumpet of Roy Eldridge adds some delicate decoration in between the vocal lines. He also plays the final driving instrumental chorus, taking the trumpet to its squealing top notes. For the coda, Billie fixes her eyes on the camera and with a wistful smile and shrug of the shoulders, she sings:
"Love is like a faucet – it turns off and on.
Love is like a faucet – it turns off and on.
Sometime when you think it's on, baby,
It has turned off and gone…"
This historic jam session was broadcast live on CBS television. This was before colour, of course, and also before the invention of magnetic videotape, So the only way to make a recording of live studio programmes was to point a film camera at a high definition monitor, and so to make a 35mm black and white film of the event, with synchronous sound. This was called a kinescope. Very poor quality. It was pioneered in the USA during the 1940s for the preservation, re-broadcasting and sale of television programmes. The grainy 7-minute film of Fine and Mellow has now found its way onto YouTube and has been viewed by millions.
In 2016 I was commissioned to make a radio programme, to mark Billie Holliday's 100th birthday. This was for BBC Radio 4 – not 2 or 3 – so the creative content and the narrative was as important as the music. I had the idea of "deconstructing" that historic CBS footage, taking it apart and then stitching it together again with additional commentary and analysis from today's jazz musicians and authorities. Saxophonist Andy Sheppard was to head the cast, and introduce the other contributors: trumpeter Guy Barker, singers Cleo Laine and her daughter Jacqui Dankworth, and Julia Blackburn, author of With Billie, a biography. Their voices identified the soloists on the old film and outlined the parts that they played in Billie's chaotic life and creative legacy.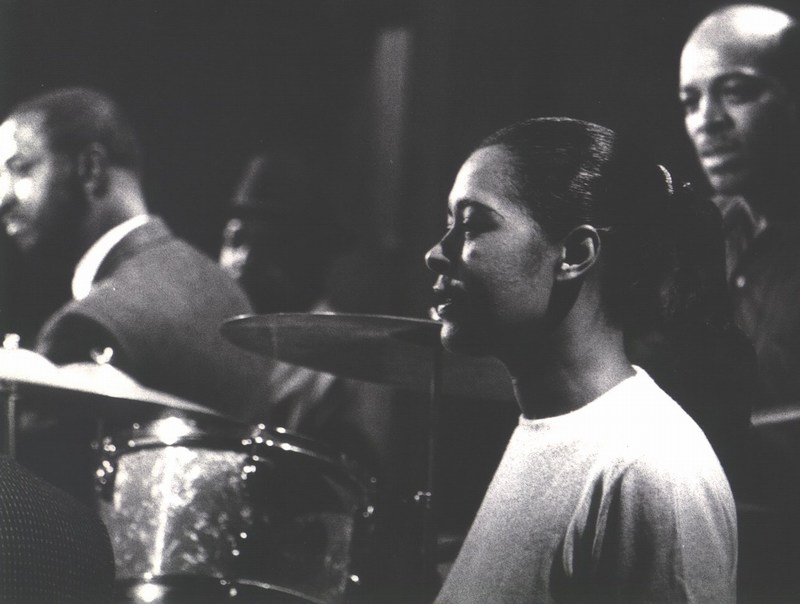 In the process, that original seven-minute session was extended to 27'30" for Radio 4, with some music sections repeated, some voices with music background, and some straight narrative. It was well received, with nice reviews in The Guardian and The Sunday Times. It was also played on BBC Sounds, and made available on the Radio Times online archive.
To complete the "deconstruction" process, I recently had the nice idea of adapting the radio voices to make a new sound-track that could then be laid back in synchronisation with the original film. A portrait of Billie, seen through the prism of that historic recording. It took a while to complete, but now the iconic Fine and Mellow session from 1957 has come full circle in 2023. This further – and final – adaptation runs for 18'10". The frozen images in this piece were all "grabbed" from the original 16mm kinescope, hence the dodgy focus. But they represent precious moments in popular cultural history.
Tony Staveacre's Appraising Billie Holiday's 'Fine and Mellow' is available at here on YouTube