Album: Tankus the Henge - Luna Park! |

reviews, news & interviews
Album: Tankus the Henge - Luna Park!
Album: Tankus the Henge - Luna Park!
Festival favourites' third album delivers an exuberant selection of stompers
Saturday, 28 November 2020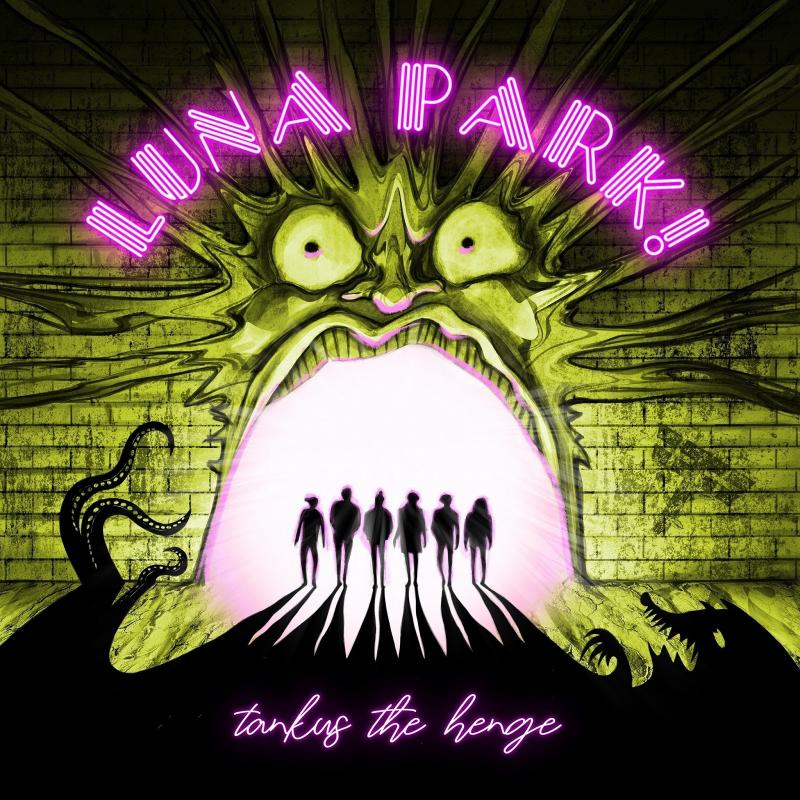 The droogs hit Disneyland in some alternate universe
Tankus the Henge are one of Britain's most energized, entertaining and spirit-raising live bands. If they were allowed to endlessly tour the nation, exempt from lockdown rules, they could eliminate the COVID blues, concert by ebullient concert. They have not, however, in their decade-plus history, achieved crossover success, despite their two previous albums being joyous festival-friendly romps.
For those who enjoy their sing-along burlesque, their latest is a welcome addition to the canon.
The qualification of the last sentence is important. Tankus the Henge are an acquired taste, their predilection for blunt major key joviality, gypsy jazz motifs and relentlessly upbeat brass divides listeners. This writer admits to being firmly in their camp, for underneath the big cabaret belters is often a poignant longing and a crafted lyricism. Luna Park! opener, the slow-stomping "God Oil Money" is a case in point; the giant chorus proclaims "Love is where we start/Love's where we end" yet the verses kick Brexit ideals into the dust.
Combining Sixties soul stylings and Madness fairground vibes with peculiar prog rock time signatures is another Tankus trick, but this belies the enigmatic, poetic melancholy of slower songs such as "Back to You" and "Glitterlung". Singer Jaz Delorean's voice grows more gravelly and characterful with age, and on the Stevie Wonder-channelling "(Livin' Like a) Pilgrim)" he's joined on the mic by multi-instrumentalist João Mello, whose George Michael-esque stylings lift the tune further.
From the Cab Calloway-ish piano theatre of "Worries" to the dusty circus tango of "Susie Sidewinder", the band revel in their usual style, but some cuts, such as the funk of "Sundance Kid", which sounds like The Blockheads, go out on a different limb. Upon occasion (notably "Fayaway"), it's Tankus-by-numbers, but most of Luna Park!, just like its predecessors, exhilarates, emanating bouncy musicality, matched by a raucous sense of (occasionally hammy!) drama.
Below: Watch the video for "God Oil Money" by Tankus the Henge