Album: Bab L'Bluz - Nayda |

reviews, news & interviews
Album: Bab L'Bluz - Nayda
Album: Bab L'Bluz - Nayda
Healing music for troubled times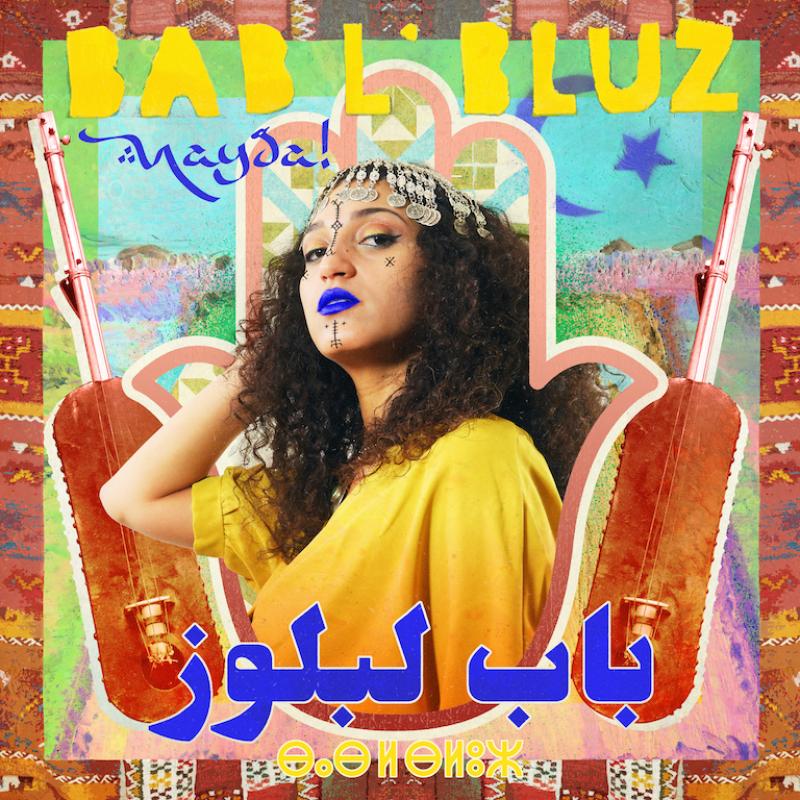 Yousra Mansour, lead vocalist of Bab L'Bluz
Bab L'Bluz are a Franco-Moroccan band, They're the latest in a succession of musicians - going back to the pioneers Nass El Ghiwane, and the recently departed Rachid Taha - to have created a vibrant fusion of traditional sounds from the Maghreb with the energy of
on theartsdesk">rock. They draw their inspiration from the trance music of the Gnawa brotherhoods, communities of musicians and healers whose music connects with West African origins, and inevitably reflects common roots with the American blues.
Yousra Mansour, the band's versatile and charismatic vocalist, breaks with a tradition in which men alone provide music for the Gnawa ceremony. She names Fairouz and Oumou Sangaré as influences, and Janis Joplin too. There's no doubt that she shares something of those great women's voices and attitude. She also plays the instruments sacred to the cult, the guembri and higher-pitched awisha, both cousins of the n'goni, and ancestors of the banjo. So much of the Maghreb's music is about healing: the heart and spirit of individuals but also the soul of the community. In the hands of Mansour and her fellow musicians, the Frenchmen Brice Bottin (guitar, guembri and percussions) and Jérôme Bartolome (percussion, flute), and percussionist Hafid Zouaoui, the Gnawa tradition is made contemporary through lyrics that criticize the corruption of government as well as praise the magical power of the moon, celebrate the creative power of Africa, and remind us of the transformative force of mystical love.
Gnawa music is instantly recognisable, from the pulsating, trance-inducing sounds of the guembri and the ear-and-heart-shattering clatter of large castanets known as krakebs, to the wailing choruses that help invoke the spirit world. Here it's married seamlessly, without ever sounding like a forced fusion, to a powerful rock aesthetic. The production, rich in reverb and distortion - though never in excess - makes the most of this intoxicating blend. This is a band, once we can get out to gigs again, that'll set your heart on fire and blow your troubles away.
This is a band, once we can get out to gigs again, that'll set your heart on fire
rating
Share this article