Just Cause 3/Tom Clancy's Rainbow Six: Siege |

reviews, news & interviews
Just Cause 3/Tom Clancy's Rainbow Six: Siege
Just Cause 3/Tom Clancy's Rainbow Six: Siege
An exotic carnival of chaos and destruction; and an edge-of-seat shooter calling for strategy and teamwork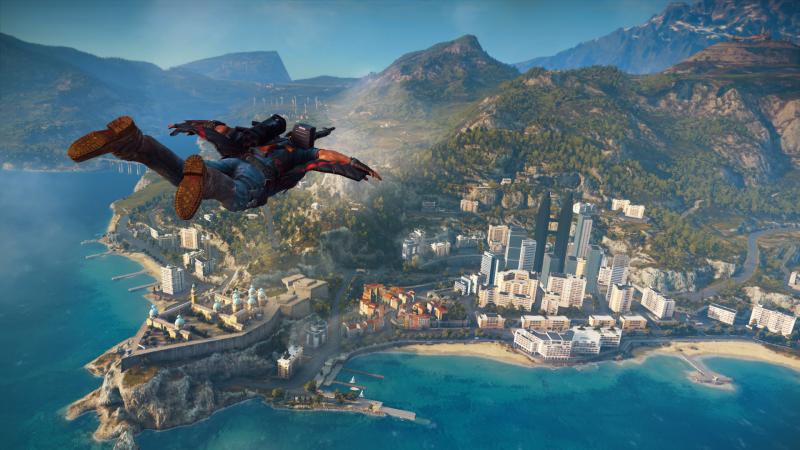 Just Cause 3: Death from above
Strap yourself into the wingsuit of freedom fighter Rico Rodriguez and launch into an explosive open world game boasting four hundred square miles of beautiful Mediterranean islands to explore. Your mission is to liberate your homeland, the fictional island republic of Medici that's crumbling under the brutal rule of General Di Ravello.
To aid your quest you have access to a massive arsenal of weapons, gadgets and vehicles, combined with the freedom to explore your environment from seabed to sky.
Just Cause 3 (★★★★) is a sandbox game where you choose the best course of action. Follow the story and set off on missions to take over oppressed settlements or simply fly around the beautiful landscape causing as much chaos and destruction as you can muster.
Getting peppered by a mini-gun-wielding helicopter pilot? Simply fire your trademark grapple hook, bash your way into the cockpit and assume control, or use the tethering feature and harness the pesky bird to a building. Need to get somewhere fast but lacking transport? Just find the nearest vantage point and fly like a bird using your built-in wingsuit. Getting a bit close to the ground? Your parachute will ensure a smooth landing.
Just Cause 3 is a non-stop action romp from the first crackle of AK47 fire. It doesn't take itself too seriously, and neither should you. For a start, you're virtually indestructible. You'll need to be a bullet-ridden sloth to turn up your toes; and jumping from a rooftop will rarely result in more than a raised heartbeat, before normal chaotic cavalier duties resume.
It's great to look at and cracking fun to play, but there's a lot of repetition behind all the big-bucks bangs and pyrotechnic porn. You'll run through the same mission-types again and again: locate settlement, liberate prisoners, destroy all propaganda targets (statues, billboards and PA systems) rinse, or in this case, reload and repeat. The story is a wafer-thin gameplay mechanic to keep you exploring far flung corners of the sprawling game world. And there's no online play so don't expect longevity through multiplayer.
But even with significant shortcomings Just Cause 3 is still an absolute blast. It's unapologetic, apocalyptic, ludicrously OTT action, set in a sun-kissed Mediterranean paradise, just the tonic to chase those winter blues away.
Just Cause 3 (Square Enix) is out now on Xbox One, PS4 and PC.
Tom Clancy's Rainbow Six: Siege (★★★★), the latest instalment in this long-running ultra-realistic tactical shooter series, once again pits you in the world of frontline counter terrorism. You lead a crack squad through a series of scenarios where the enemy transform their environments into strongholds, while Rainbow Six teams lead the assault to breach their position. Rappel through embassy windows, storm a hijacked plane, breach a terrorist hideout, all in a few missions' worth of work.
Trigger happy gamers should look at the run and gun Call of Duty end of the market – this gun game is all about strategy, planning and methodical thinking. And in a similar vein to the recently released Star Wars Battlefront, there's no real single player mode to speak of – bar a few training scenarios.
Tom Clancy's Rainbow Six: Siege show's its true colours online in 5 vs 5 team-based multiplayer where one side attacks and the other defends, typically either guarding hostages or a bomb. Both sides have the means to either fortify their positions with barbed wire and booby traps or aid their progress by using remote controlled drones and breaching charges.
Much of the gameplay relies on the competency of your teammates, this game demands communication via headsets and you won't be able to quickly co-ordinate a room sweeping attack without speaking to each other. But find yourself in a team of players wanting to get the most from the experience and Siege comes into its own, with tense and meaningful gunplay where death can come all too quickly – especially as there's no health replenishment.
Fortunately there's 20 specialist character classes to unlock, each possessing unique abilities such as a nifty range in gas grenades or thermite wall melting-charges. But you need to earn slowly accruing in-game currency to unlock each 'operator' or go down the cash-grabbing micro-transaction route; a contentious way of extracting more funds from customers who have already paid for a full price retail game.
But for those looking to have a bit more depth and context to their shooting sprees Tom Clancy's Rainbow Six: Siege does a decent job of providing the framework for a slice of quality gunplay, just make sure you partner up with equally straight shooters.