Makala review - capturing human spirit on film |

reviews, news & interviews
Makala review - capturing human spirit on film
Makala review - capturing human spirit on film
Striking camera work and purposeful storytelling shine in simple documentary
Saturday, 03 February 2018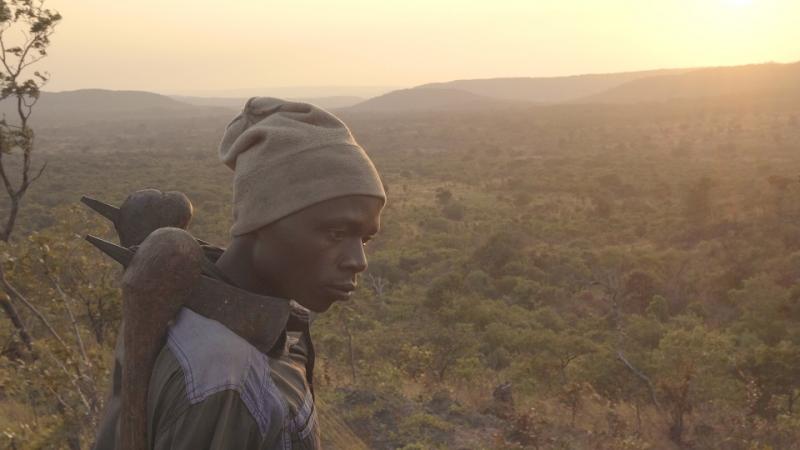 The landscapes of the Democratic Republic of Congo have never looked so beautiful
We follow Kabwita Kasongo on his morning routine, lingering over the shoulder as he treks through the village. A pastel sunrise greets vast landscapes, the morning breeze visible for miles around. He heads to a tree at the edge of a mountain, and begins a day's work chopping it down.
It's a stunning
opening sequence
which prepares you for the visceral journey ahead.
Kabwita is a charcoal salesman; a gruelling job which consists of chopping down a large tree, cutting it to pieces, burying the pieces, burning them, and then travelling 50 km on foot to sell at them at anywhere between 2,500 to 5,000 francs a bag. Makala (which is Swahili for charcoal) charts this journey from tree to bag. It's a dull, unrewarding routine, within which director Emmanuel Gras finds an epic everyman tale.
Kabwita himself is an incredibly driven yet humble man. He and his wife Lydie dream of building a large house, with fruit groves and palm trees. They're willing to sacrifice most of their lives to achieve it. Living off chargrilled rat in a small cinderblock hut, they find happiness in their family.
As Kabwita travels to town, dragging a bicycle overwhelmed by charcoal bags, you can see why he savours those precious moments. His beautiful village feels a world away from the dusty roads, filled with rattling traffic. For day and night, he conquers capsizing bikes, local gangs and uncompromising terrain, only to be lost in a sea of people sharing his plight. His daughter Divine lives in the town with his sister-in-law; he drops off some shoes for her, but leaves before seeing her because he can't face them both crying.
There are no theatrics in Makala – it takes a steady and purposeful pace – but the images caught are worthy of IMAX. It's completely immersive filmmaking. Steadycams float through the trees and crowds, effortlessly catching extreme angles. It's documentary footage that would've been impossible 15 years ago, allowing the camera to stay observational, while instantly adding a grandness to proceedings.
For such a simple story, the film rarely drags. Though some sequences go for 10 minutes without incident, everything is there for a reason. This does not feel like a collection of footage cut down in an editing suite – it is precise and streamlined storytelling. It's ambitious in its execution and beautiful to behold.
Whether you enjoy Makala rather depends on your relationship with film. It's a 90-minute subtitled documentary about a man selling charcoal; you don't even find out how much he sells. It's also an incredibly well made and thought-provoking film that challenges what it means to live. Depends what you want from your 90 minutes.
It's ambitious in its execution and beautiful to behold
rating
Share this article