The Hitchcock Players: Anny Ondra, Blackmail |

reviews, news & interviews
The Hitchcock Players: Anny Ondra, Blackmail
The Hitchcock Players: Anny Ondra, Blackmail
Her accent may have failed the RP, but there's no faulting the performance of Hitchcock's template blonde
Torn between conscience and the gallows: Anny Ondra in 'Blackmail'
Grace Kelly, Eva Marie Saint, Ingrid Bergman, Kim Novak, Tippi Hedren, Janet Leigh – these are only the best-known of that special breed, the Hitchcock blonde. For some reason, whether he wanted a femme fatale or a romantic accomplice or a tragic victim, Hitch liked them blonde, and preferably glacial.
Like so many of the great director's traits and predilections, one can trace the template for his heroine right back to his silent movies. In 1929 Hitch made two versions of Blackmail – it is at once his first talkie and his greatest silent, and in the Czech actress Anny Ondra it features his quintessential leading lady, in a typical dilemma.
Alice White is the petulant girlfriend of a police detective, whose roaming eye leads her to accompany an artist to his studio, where he attempts to rape her. Her self-defence involves a knife, its action masked by a drape in a scene that anticipates Psycho's shower. Ironically, her boyfriend is assigned to the case, and will have to contend both with Alice's guilt and the blackmailer lurking in the wings.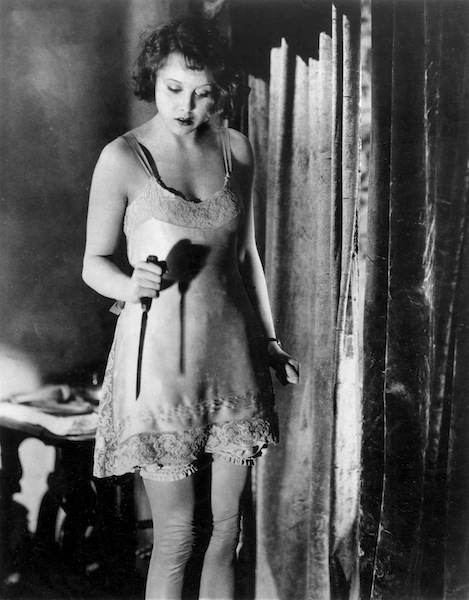 Much has been made of the fact that for his sound version the director enlisted another actress, Joan Barry, to speak Ondra's dialogue off camera, because his star's thick accent was deemed unacceptable. But the fact is that the silent version is the better film, and the most memorable sequence – the murder and its aftermath – involves no dialogue anyway. Moreover, Ondra has an extraordinarily expressive face, whether she's being saucy and mischievous as Alice sets her sights on a new man, near catatonic in the moments after the attack, terrified on her flight through London (seeing knives and outstretched hands at every turn) or torn between conscience and the fear of getting caught. She also happens to look very fetching in a tutu.
Ondra had earned her stripes on the Czech stage, then in German cinema, before starring in Hitchcock's The Manxman (also 1929) and Blackmail. Her career didn't end with the talkies, as had others, but she did have to return to the continent. Before that, she provided us with an indelible model for a figure we would come to see time and again in Hitchcock's work.
Watch Anny Ondra's sound test, with Hitchcock revealing his own fondness for the camera
As with so many of the great director's traits and predilections, one can trace the template for his ideal heroine right back to his silent movies
Explore topics
Share this article