Goltzius and the Pelican Company |

reviews, news & interviews
Goltzius and the Pelican Company
Goltzius and the Pelican Company
Peter Greenaway is back and, yes, he's as wonderfully perverse as ever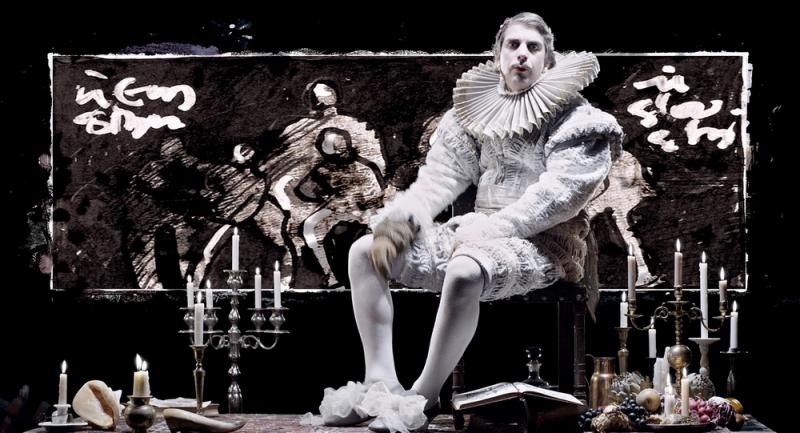 Ramsey Nasr is our cheeky narrator and protagonist Hendrik Goltzius in 'Goltzius and the Pelican Company'
Perhaps the most surprising - and certainly the most moving moment - of the 2014 British Academy Film Awards was the awarding of Outstanding British Contribution to Cinema to Peter Greenaway.
Surprising, not because this wasn't colossally deserved (and in keeping with tradition it was of course announced ahead of the event), but because our most idiosyncratic and subversive auteur has fallen out of fashion in recent years: a 2011 Time Out poll listing the "100 Best British Films" as chosen by industry experts, sadly saw not a single one of his works placed.
Furthermore, Greenaway hasn't made a film in the UK since 1989 - in part because of a lack of opportunities - and his latest, Goltzius and the Pelican Company has taken two years to reach us, after screening at the Netherlands and Rome Film Festivals in 2012. It's the second in a series focussing on Dutch Masters - following 2007's excellent, Rembrandt-themed Nightwatching - with a biopic of Hieronymus Bosch also planned. It's as playful, immaculately staged and outrageous as anything the man who trained as an artist has directed before - and if it doesn't consistently come off still makes quite the impression.
Goltzius and the Pelican Company tells the both ludicrously and wonderfully embellished story of Hendrik Goltzius (played exuberantly by Ramsey Nasr, the former Dutch Poet Laureate), a Dutch printmaker, draftsman and painter who was a famed engraver. It's 1590 and he travels to Alsace from The Hague with members of his Pelican Printing Company (pictured above right). His intention: to woo the apparently liberal Margrave (F Murray Abraham) in order to obtain funding for his printing press, allowing him to create a deluxe edition of the Old Testament, featuring frank illustrations of the erotic tales.
In order to sweeten the deal Goltzius will stage live enactments of six biblical stories for the court, penned by playwright Thomas Boethius (Giulio Berruti) and each demonstrating a particular sexual taboo - voyeurism, incest, adultery, paedophilia, prostitution, necrophilia. Strong stuff then. Although the proposal and displays of flesh are at first met with salacious glee from the Margrave and those that flank him, the plays quickly cause controversy and the hypocrisies of the court are exposed.
Greenaway's latest at first overwhelms with its bombardment of ideas, and with imagery that's characteristically rich in both artistry and parody and that features text and a variety of amusements (including the fact that the film takes place in a largely undisguised warehouse). Nasr looms large as our sometimes anachronistic narrator, addressing us directly and acting as a guide and educator, filling us in on the history of art and the various ways in which the biblical stories being depicted have been interpreted on canvas. What is at first a distraction from the plot, and a frustrating one - such plot as there is - ultimately turns out to be an enrichment.
Greenaway has described how Goltzius illustrates the tendency of every new visual technology to "gravitate towards erotica and pornography". As well as its relationship to Nightwatching, it revisits themes visible throughout Greenaway's work. It echoes his masterpiece The Draughtsman's Contract - which similarly saw an artist persecuted for getting too close to the truth - and features the sexual jealousy and violent death that pervades his oeuvre, most memorably (for me) in the films The Cook, the Thief, His Wife & Her Lover and his zoo-based absurdist tragedy A Zed & Two Noughts (which in its experiments with light was made in tribute to another Dutch Master, Johannes Vermeer).
It's a film that's proudly, thrillingly intelligent as well as being unrepentantly indulgent. If it's not quite vintage Greenaway and if it certainly won't make converts out of haters, there's still plenty here to excite and to remind us of the continuing importance and singular vision of this cinematic firebrand.
Overleaf: watch the trailer for Goltzius and the Pelican Company