Babyteeth review - teenage love and terminal illness in the Sydney suburbs |

reviews, news & interviews
Babyteeth review - teenage love and terminal illness in the Sydney suburbs
Babyteeth review - teenage love and terminal illness in the Sydney suburbs
Shannon Murphy's debut feature is packed with charismatic performances
Intimations of mortality: Eliza Scanlen as Milla
Babyteeth gets off to a terrific start. A semi-naked, manic Moses (Toby Wallace, full of scabby charisma) almost pushes 15-year-old Milla (Eliza Scanlen; Sharp Objects, Little Women) on to the Sydney train tracks as she waits on the platform in her school uniform, carrying her violin. It's a thunderclap: she's smitten.
The next scene is just as intriguing, with Ben Mendelsohn (
The Outsider
,
Bloodline
,
Animal Kingdom
) on fantastic form as Henry, a psychiatrist, eating a sandwich and having
sex
with Anna (Essie Davis;
The Babadook
,
True History of the Kelly Gang
) in his consulting room.
The fact that they are Milla's parents, and that Milla has terminal cancer, becomes clear a little later, after she brings Moses back for dinner, to the horror of Anna and Henry. Moses's mother, who trains bichon frises, has thrown him out – tough love, he's a druggie and prone to snitching any pills he can lay his hands on – though he still manages to break in to her house and use the dog clippers on Milla's hair. This is before she loses it all after chemo, when the wigs, one green, one glam and blonde, take centre stage.
Shannon Murphy's debut feature (she directed two episodes of the third series of Killing Eve) is full of extraordinary performances – Scanlen and Wallace are outstanding – but the initial brilliance and pace aren't sustained. Each scene (the script is adapted by Australian playwright and actress Rita Kalnejais from her play of the same name) is given a chapter heading: "Anna and Henry's Tuesday Appointment", "Nausea", "A Little Bit High", which gives an impression of structure, but can't conceal vagueness and meanderings.
But Ben Mendelsohn (pictured above) is a shining, utterly believable presence that takes every scene to another level, and the way he and Anna cope with their grief is very convincing. Anna is constantly popping pills – Zoloft, Xanax, Ativan, prescribed by Henry, who isn't averse to a "little bit of morphine" himself, which doesn't escape Moses's notice – but scenes with cod-Russian-accented Gidon (Eugene Gilfedder) as Milla's violin teacher, previously Anna's piano teacher and lover, veer on the hammy, and an odd sub-plot with a pregnant neighbour doesn't quite gel (would Henry really leave a patient lying on the couch in order to go next door and fix her lightbulb?)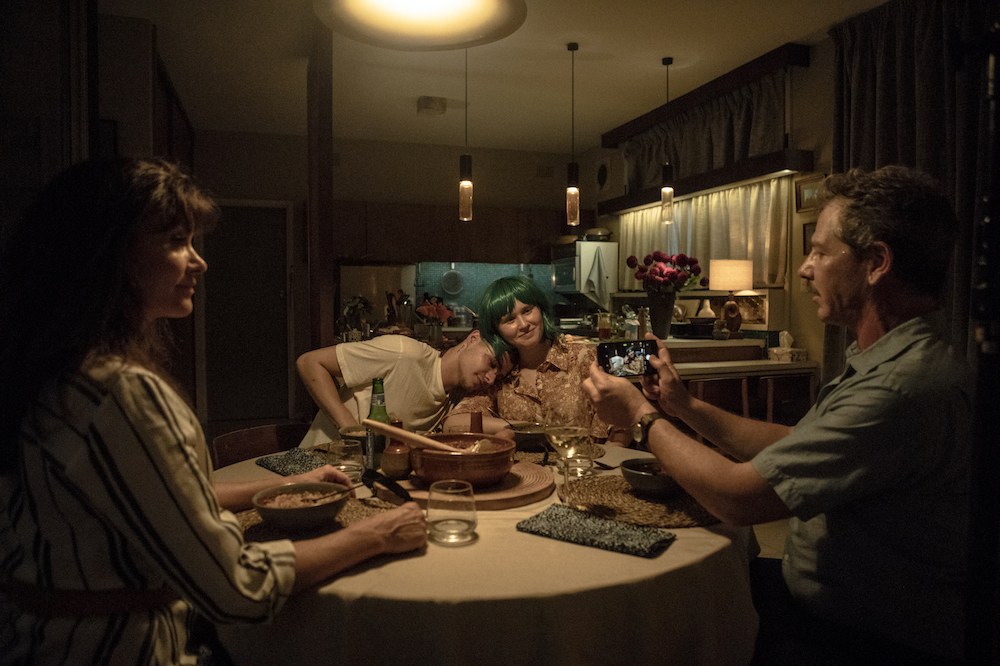 Still, Milla's obsession with the damaged, addicted Moses is electric, and the way he slowly gets ensconced (pictured above) in her parents' house, with its glass walls and luxuriant indoor-outdoor plantings, is fascinating. He's invited in, or actually bribed, by Henry: "She should have the world at her feet. I can write your prescriptions." "This is the worst possible parenting," muses Anna, as she looks out of the window at her daughter with 23-year-old Moses on top of her beside the pool, but you know it's their last shot at keeping her happy.
The dialogue is often charmingly unexpected, as when Moses whispers urgently to an insomniac Anna from his bed on the sofa, "What detergent do you use? These sheets smell so good," and when Anna tells Henry it's his "conjugal duty" to check the water pressure in the shower. The last scenes are heartbreaking, with Milla yearning to wear her new green dress and take Moses to the school formal (Australian for prom) but there's a lack of specificity about her illness, and a sentimentality about the final throes of her compromised relationship with Moses, that leave you wanting something more robust from this unusual coming-of-age movie.
Babyteeth is in cinemas from 14 August