Zeitung, Rosas, Sadler's Wells |

reviews, news & interviews
Zeitung, Rosas, Sadler's Wells
Zeitung, Rosas, Sadler's Wells
A newspaper full of stories from the Belgian choreographer is surprisingly charming
Friday, 11 September 2009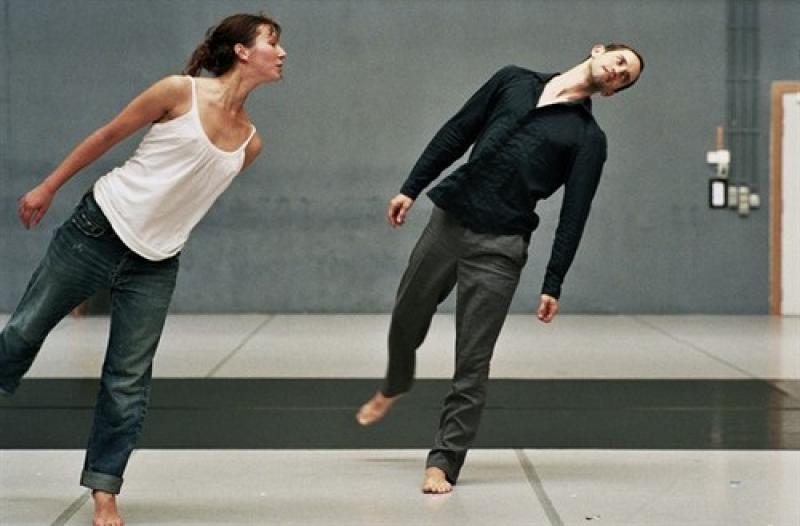 Zeitung: brave fragments that peter out - a drama of incompletedness
Having felt thoroughly racked by Anne Teresa De Keersmaeker's marathonian and bone-dry Rosas danst Rosas on Wednesday, I was hardly expecting charm and beguilement from the even longer Zeitung last night. But Zeitung is one of the most delightful and intelligent evenings about modern dance's volatile relationship with classical music that I've seen.
Twenty-five years separate the two and an aeon of difference in emotional generosity; Rosas danst Rosas looks like the piano scales and exercises before the sophisticated, expressive performance for nine dancers and pianist that is Zeitung (German for newspaper). A towering selection of Bach keyboard music is magnificently played on an on-stage grand by Alain Franco, who also manipulates the audio player next to him to feed in an almost seamless stream the musical dialogue between 18th-century keyboard regularity and the woozy string-saturated romanticism of early 20th-century Webern and Schoenberg.
These are both musics that affect one physically to listen to them, Bach with his steady, body-rocking logic and Webern with all that lush richness that you want to crush in your fingers and smell. De Keersmaeker shows with her dance that she loves this music as deeply as she loves dance language, but that love doesn't automatically produce union, and that this conflict can itself make some eloquent dance. So Zeitung is surprisingly human, as well as aesthetically absorbing.
The opening solo is a ravishing creation of spontaneous responses to Bach's Fuga ricercata, the mesmerising Elizaveta Penkova in a skinny white vest and jeans doing a darting elusive sort of dance of bending down, teetering backwards, distracted walking, of scant evident relationship to the Bach pulse, but which suddenly catches an upward swell with an arm or a happy whirl. The solo is so mercurial by comparison with the other women's that you have to wonder how much of it is this particular dancer's genius.
There is some inscrutable measuring business with strands of knitting wool that come straight from the tanztheater manual, but the joy is that so many stories are offered. I suppose the piece is called "Newspaper" for a reason. Three giggling men hop about like mad rabbits (shades of Pina Bausch, De Keersmaeker's spiritual mother); a couple knot slowly together on the floor and sleep, then he leaves her to wake up alone; a spastic man's trembling, ataxic dance to a smooth, polished fugue is uncomfortably strange, even more when he crashes into another man, who himself becomes ataxic.
There are half-cock, tentative ensembles with Schoenberg and Webern which carry a charge of real human perplexity, brave fragments that peter out - a drama of incompletedness, as if De Keersmaeker is asking us how much we want choreography to subtly take up residence inside the skin of some kinds of music, rather than just sticking to it obviously here and there.
If music and dance love each other why are they so incompatible? Why can they forget each other so easily? This absorbing and beautifully romantic work culminates with a woman post-coitally dressed in knickers under a man's jacket, having a private little dance in the moonlight to the summer night's lushness of Webern's Im Sommerwind. The music fades away and she carries on noodling until she realises it's gone, then looks up into the ceiling as if utterly bereft. Perfect.